Ariana Grande Teased A Snippet Of New Music & Fans Are Already Obsessed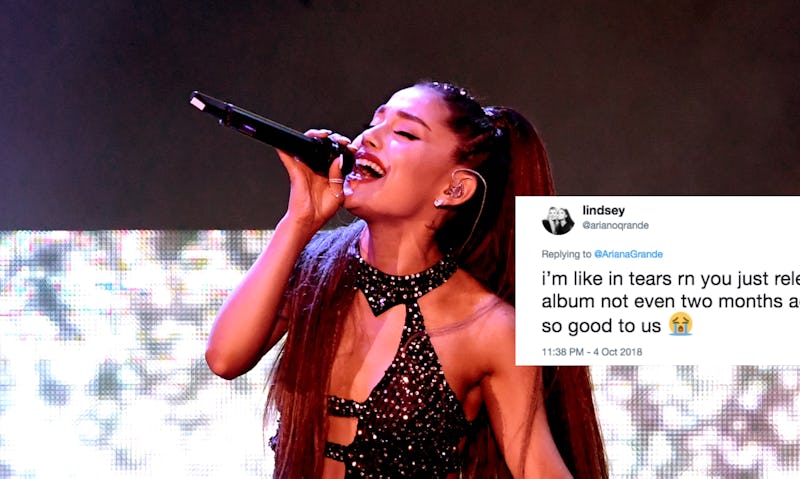 Kevin Winter/Getty Images Entertainment/Getty Images; arianoqrande/Twitter
With so much going on in Ariana Grande's life, you might not expect her to find time to produce more music. Yet after hinting that she was back in the studio, Grande teased a new song on social media. She posted a 45-second-long snippet on her Twitter and Instagram accounts on Thursday night, Oct. 4 — less than two months since she released her album Sweetener.
Based on her social media posts, Grande was seemingly inspired to get back to the studio after having a difficult emotional time lately. So fans are delighted that they not only have new music from Grande to look forward to, but that she is channeling her pain into doing something that brings her happiness.
While Grande has had a lot to celebrate recently with the release of Sweetener on Aug. 17 and her engagement to Pete Davidson, she's been dealing with heartbreak as well. Her former boyfriend of two years, Mac Miller, died in September from an alleged overdose, and lyrics on Sweetener seemed to address the attack at her concert in Manchester, England. She reportedly canceled her performance on the Saturday Night Live premiere due to "emotional reasons," so it feels really significant that Grande is making music right now. She wrote on Twitter on Oct. 1 that "music is the best medicine," and just three days later, she posted the clip of this potential new song.
Grande apparently already referenced that she's working on her fifth studio album ("AG5") in a now-deleted tweet. But it doesn't matter right now if this song lands on a full-length album — because this snippet is thrilling all on its own.
She posted the clip with the words, "tell me how good it feels to be needed," which are prominently featured in the song. And because the internet is a wondrous place, the lyrics have already been mostly figured out. The verse goes:
"Passionate but I don't give no f*cks
I admit that I'm a little messed up
But I can hide it when I'm all dressed up
I'm obsessed with being loved too hard
Good at overthinking with my heart
How you even think it got this far (this far)?"
And she sings in the chorus:
"And I can be needy, way too damn needy
I can be needy, tell me how good it feels to be needed
I can be needy, so hard to please me
I know it feels so good to be needed"
Based on these lyrics, people have already theorized that the track is called "Needy." That title would be a good tie-in to her 2016 song "Greedy" off Dangerous Woman. But Grande hasn't confirmed anything since posting the clip. She did add to her Instagram story. But it only shows that her friend Courtney Chipolone may have been in the studio with her and both their IG Stories show that they're spending some time with Grande's dogs.
Still, fans are already assuming that "Needy" is a sign that Grande will be going in a more R&B direction for her fifth album ...
... while others are more living in the moment of this glorious release.
Some fans have even chosen to see this song as a possible sign that Grande could tour with two albums in 2019, which would be extremely epic.
Yet, not all the reactions to "Needy" have been super optimistic. While the reactions to this potential new song have mostly been positive, not everyone knows how to feel. After all, people are still loving on Sweetener.
Then, there's the fact that when Grande has teased music before, it hasn't always led to what fans wanted. For instance, one person tweeted how she teased music before and then took a break from social media.
On Dec. 31, Grande shared some music and then didn't return to social media until April 17. So it's a valid concern, especially since Grande had mentioned stepping back from Instagram and Twitter in July, but hasn't really stuck with it. (Of course, if she does need a break though, that's more than understandable.)
Fans have also noted how she has a habit of scrapping music when it's in progress. So fans may never hear the full version of this snippet if Grande moves on from it.
But at the end of the day, Grande's fans just want her to be happy and making music clearly does that.
So whether this new song ends up becoming a part of her fifth studio album or is never heard again, fans can take comfort knowing that Grande is doing something that brings her joy. And that's certainly worth singing along to.