Why Ariana Grande Probably Isn't Planning Any Surprise AMAs Performance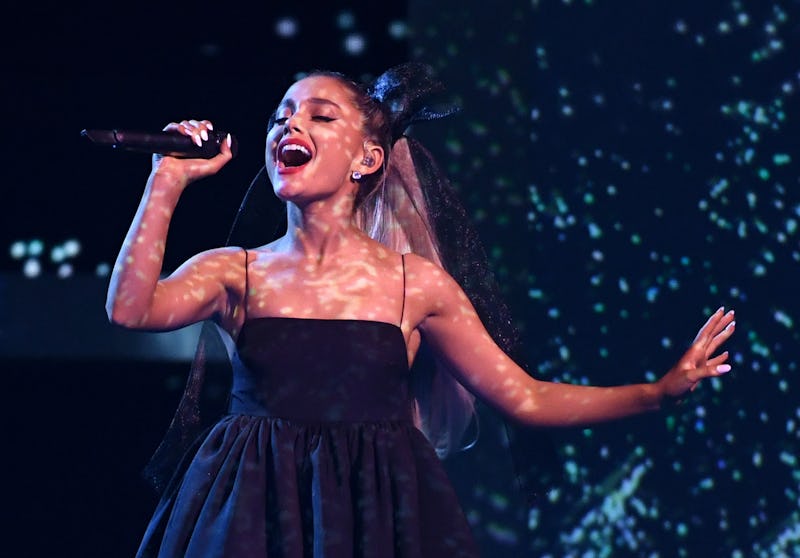 Ethan Miller/Getty Images Entertainment/Getty Images
Ariana Grande can slay a live, televised performance — perhaps better than most. So naturally, as the American Music Awards approach, interest among her fans is especially piqued, as they wonder if she's got anything up her sleeves that night. There's no doubt she'd deliver a show-stopping ballad, but for a variety of reasons, it's still unclear if Ariana Grande will be at the 2018 AMAs.
First of all, Grande isn't actually nominated this year for any awards except the "Favorite Social Artist," though that's also because her album was released past the deadline for a nomination. She's also not listed on the AMAs official website among performers who will be taking the stage — instead, artists like Ella Mai, Dua Lipa, Ciara, Missy Elliot, Twenty One Pilots, and several others have been announced by the awards show. So, any potential absence wouldn't be that odd, considering it looks right now as though she'd be strictly a guest with no onstage responsibilities.
It sounds like lately, Grande is taking some time to care for her own wellbeing, as she should, so if she doesn't show up at the AMAs, it's completely understandable. She was reportedly slated to appear as the musical guest during Saturday Night Live's season premiere, but SNL creator Lorne Michaels said, according to USA today, that she pulled out for "emotional reasons." Kanye West replaced her.
She's had a tumultuous time lately, to say the least. Though she hasn't publicly spoken about it other than through Instagram posts, she's still reeling from the death of her ex-boyfriend, rapper Mac Miller, who died unexpectedly last month. And that blow came shortly after the one-year anniversary of another event that's shaped Grande's life: The 2017 bombing at her concert in Manchester, which left 22 dead, according to the New York Times.
The stress of these tragedies would undoubtedly explain her reluctance to step back onstage so soon, especially in a nationally televised capacity like Saturday Night Live.S he and fiancé Pete Davidson of SNL also skipped the Emmy Awards last month, despite his show's nominations, for likely the same reasons, as reported by People at the time.
"Given the events of the past couple of years, Ariana is going to take some much needed time to heal and mend," Grande's representatives told People magazine in a statement last month. "She will be staying close to home and using this period to spend time with her loved ones and work on new music without deadline. She thanks her fans for their understanding."
Grande has remained active on social media in the weeks following Miller's death, so it's not as if she's pulled out of public life, but if she's not feeling like stepping out on a red carpet or taking the AMAs stage, that makes sense. She has teased that she's back in the studio, though — a cryptic Instagram post showed her positioned behind a microphone.
If a new album is on the way after Grande's recent string of huge successes, the latest of which was her 2018 album Sweetener, it certainly seems likely that next year's AMAs could have a much larger Ariana Grande presence, and that's something we can all have look forward to.