Ariana Grande Shared Yet Another Pete Davidson Appreciation Post That'll Make You "Awww"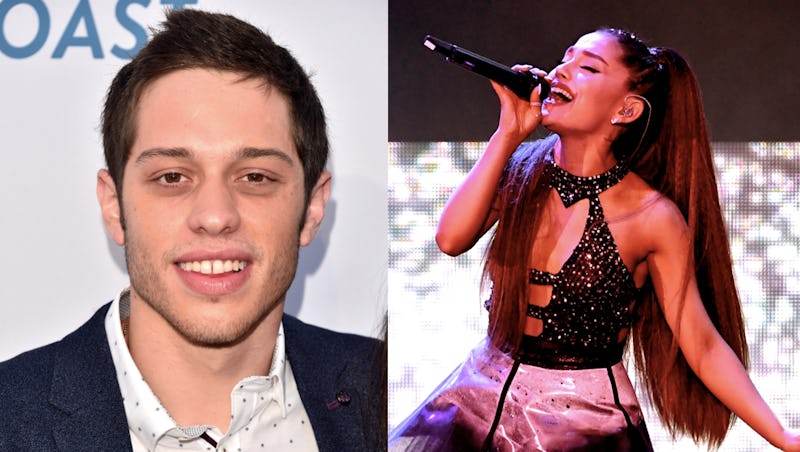 Alberto E. Rodriguez/Getty Images Entertainment/Getty Images; Kevin Winter/Getty Images Entertainment/Getty Images
It's been over a month since their engagement news broke, and on Sunday, Ariana Grande shared a Pete Davidson appreciation post on social media. It wasn't the first time she posted about her fiancé this week, and Davidson has shared quite a few sweet relationship updates as well. It's clear from their recent social media activity that this couple is very much in love, and they don't show any signs of stopping letting fans know all about it.
On her Instagram Story, Grande continued to be Davidson's biggest supporter. Her most recent message featured two black-and-white pictures of the comedian laughing. "pete davidson appreciation post," she wrote. "thank you for making me the happiest human being alive i will love u forever n then some can't wait for every day."
This also isn't the only time the singer mentioned being Davidson's biggest fan either. In June, Grande joked about turning her account into Pete Davidson fan account. The singer shared a photo with the comedian, captioning it, "i am but a pete davidson update acc stay tuned for more (pete follows / comments sumtimes)."
Overall, it's been a major week for Grande's career, with "No Tears Left To Cry" climbing to the No. 1 spot on the Billboard Music Charts. On Friday, she dropped a new single called "God Is A Woman," and released a new music video a few hours later. Davidson took the opportunity to promote his fiancé's new music, sharing a post-dental surgery picture on Instagram, captioned, "GIAW music video and my wisdom teeth are out now."
After the music video premiered, Grande was able to share some behind the scenes footage from the shoot. In the Instagram video, Davidson stood next to the singer's family and friends, looking completely mesmerized. Grande captioned the video, "omg now that the songs out i can show u this whole clip sjsksksjsjs that face." It might be a major week for her music, but fans received plenty of relationship updates as well.
The exact timeline of Davidson and Grande's relationship is unclear, but the couple has been active on social media since news of their romance broke in May. In fact, they made their relationship official on Instagram, with the SNL comedian sharing a picture with Grande in matching Harry Potter robes, captioning it, "the chamber of secrets has been opened ..."
Around the same time, Grande also confirmed the news on her account. The singer shared her first pic cuddling with Davidson, captioning it, "i thought u into my life. woah ! look at my mind."
In June, the couple's whirlwind romance got even more interesting. Engagement rumors started when Grande was spotted wearing a diamond ring during a performance at the HeartRadio and 102.7 KIIS FM's Wango Tango concert in Los Angeles, and to fans surprise, Davidson later confirmed the news on an appearance The Tonight Show Starring Jimmy Fallon. According to People, the couple never intended to keep the proposal a secret. "It's a recent engagement. They're just two people who found love quickly and make each other happy all the time," an unnamed source claimed to the publication. "It's nothing they've been hiding."
The engagement isn't the only commitment the couple has made to each other. Davidson has Grande's initials tattooed on his thumb, and the Dangerous Woman bunny ears on his neck. The singer has several tattoo tributes to Davidson as well. According to Vanity Fair, she revealed her most recent ink reading "Pete" on her ring finger on June 15, visible below the engagement ring.
On Saturday, the SNL star revealed he'd gifted his father's FDNY pendant to Grande. Davidson's father was a firefighter, and passed away during the Sept. 11, 2001 terrorist attack in New York City. His father's badge number was 8418, which both stars reportedly have a tattoo of. When a fan posted a negative commented on Davidson's picture of Grande wearing the pendant, he responded: "For ur information that's not just some girl, that's my fiancé. She's the greatest person I know. I gave it to her because she has my heart and that is the most precious thing I own. My dad would be so happy and love her so much."
Ever since going public, Grande and Davidson have been open about their romance on social media. The two have been particularly active this week, and the singer's most recent picture and message to Davidson on Sunday is just another reminder that this couple won't stop showing their love for each other online.