Ariana Grande Responds To Pete Davidson's Reported Manchester Bombing Joke That Had Fans Furious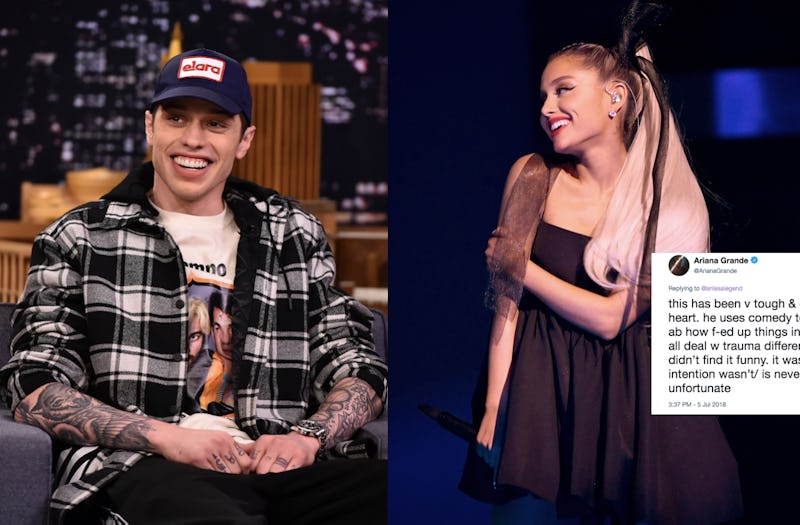 Theo Wargo/Getty Images Entertainment/Getty Images; Kevin Winter/Getty Images Entertainment/Getty Images; Ariana Grande/Twitter
Ariana Grande and Pete Davidson are one of 2018's cutest celebrity couples. But after reports surfaced that Davidson may have made a joke about the Manchester bombing in 2017, some fans weren't happy with the news. On Thursday, Ariana Grande addressed Pete Davidson's reported Manchester bombing joke on Twitter, and it's clear that she's not taking the situation lightly.
Grande decided to respond to a fan's tweet this week, suggesting that she shouldn't be dating Davidson after the joke. "I respect Ariana and I want her to be happy and everything, but she was just broken after the Manchester bombing, so I don't know why she is still with Pete, like yeah he made that joke a while ago, but like it's not funny, it's just rude. This is my opinion," the fan tweeted on Wednesday.
The "No Tears Left to Cry" singer responded to the tweet on Thursday, and it's clear she's thought about the issue a lot. She wrote in her tweet,
"this has been v tough & conflicting on my heart. he uses comedy to help ppl feel better ab how f-ed up things in this world are. we all deal w trauma differently. I of course didn't find it funny. it was months ago & his intention wasn't/ is never malicious but it was unfortunate"
Grande then added in a second tweet that she respects her fans' opinions.
As Grande pointed out, the joke reportedly happened before she and Davidson started dating. According to the Daily Mirror, Davidson told the Manchester bombing joke in 2017. The outlet reported that the joke included a line about Grande knowing how famous she is, since "Britney Spears didn't have a terrorist attack at her concert."
One woman, Charlotte Hodgson, who lost her daughter Olivia Campbell-Hardy in the attack, which left 22 people dead after an Ariana Grande concert, told the Daily Mirror that joking about the tragedy was "disgusting."
"For anyone to joke about this situation is disgusting, and I think he should publicly apologize for it," Hodgson told the Daily Mirror. "We don't need jokes about it, there have been plenty around, and it's heartbreaking to hear every day."
Still, Hodgson's reaction doesn't necessarily reflect the opinion of everyone who was at the event, including Grande. Based on her tweet, it sounds like Grande has thought about it, and decided that Davidson wasn't trying to be insensitive to the victims with his reported joke. Instead, she sees the Saturday Night Live star's reported comments as an attempt to use comedy to address tragic events, something he does frequently. (Davidson has also brought up his father's death in the Sept. 11, 2001 terrorist attacks during comedy routines.) But, while Grande appears to understand Davidson's intentions with this alleged joke, it's clear that she didn't think it was necessarily successful, as she noted she "didn't find it funny" in her tweet.
And while Grande may not share the same feelings as other people about the reported joke, it seems like she'll always carry the Manchester events with her in her heart. Grande has a bee tattoo in honor of the Manchester attack's victims, since the "worker bee" is a symbol of Manchester. Grande also met with families who were affected by the attack and organized the One Love Manchester concert directly following the events in an effort to raise money for those affected.
As for Davidson's stance on the reported joke from last year, Metro reports that a rep for the comedian said on the subject,
"He is a comedian. No subject is off limits and that includes jokes about his father and 9/11."
It doesn't sound like the reported joke will have a lasting impact on Grande and Davidson's future together. The newly engaged couple recently moved into a new apartment, and based on their Instagram posts, it looks like they are still a happy couple who are very much in love. No doubt, this is one joke Davidson won't be repeating in the future.