Ariana Grande's Latest Tweets Put Her Difficult Year In Perspective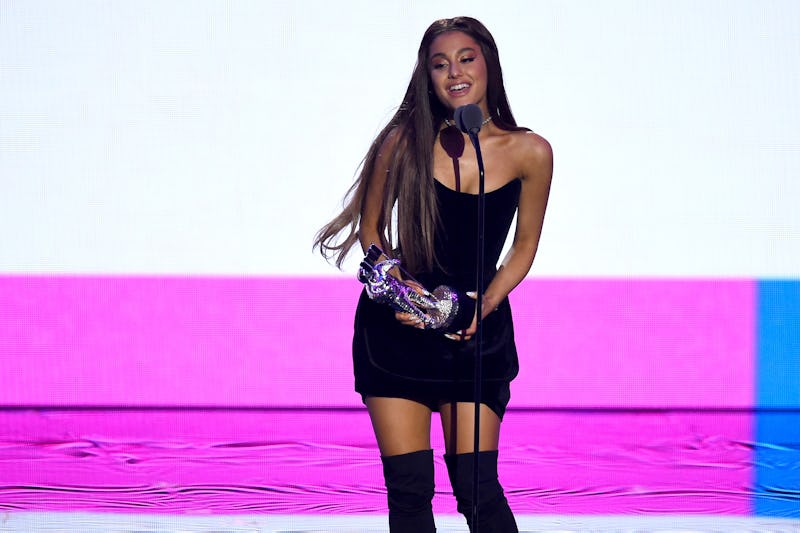 Theo Wargo/Getty Images Entertainment/Getty Images
Ariana Grande is ascending. In spite of the personal difficulties these last few months have thrown at her, it seems like she's doing her best to rise above the madness — and discover previously uncharted professional successes in the meanwhile. Which brings us to Ariana Grande's latest tweets about her difficult year, shared candidly with the likes of her 58 million followers throughout the morning and early afternoon on Sunday, Nov. 11.
Has everyone taken a peek at these celebratory morsels of pride (and gratitude, let's not forget) dispensed out into cyberspace by way of Grande's Twitter account? If not, fans will definitely want to check them out, especially if you're in the mood for some uplifting messages and hard-earned words of wisdom from the ultra fierce, and exceedingly real, "Thank U, Next" singer. Who, by the way, could very possibly snag her very first No. 1 hit on Billboard's Hot 100 chart next week, courtesy of that very anthem. (But it's not official 'til it's official, as they say. So Arianators will just have to wait this one out.)
"What an interesting, challenging, painful and yet beautiful and exciting chapter of life," the "Breathin" singer wrote, starting off perhaps the most articulate installment in Sunday morning's gratitude-laden tweet train. But Grande isn't dwelling on those challenging and painful bits too much. In fact, echoing the overall tenor of "Thank U, Next" — Grande's latest banger, released Nov. 3, which also nods to the singer's emotional growth and budding peace of mind — her tweet went on to express a certain serenity about life's circumstances, good and bad:
"when it rains it pours but i'm embracing all of it. i'm excited for whatever else the universe has in store for me. she's growing n she's grateful."
Unfortunately, Grande's fans know that weather analogy rang true for her these last couple of months, largely with regard to the star's personal relationships. In September, her recent ex and friend, Mac Miller, passed away unexpectedly at just 26. Then, not much more than a month later, Grande and Pete Davidson broke up after having gotten engaged this past summer.
So, obviously, there's been a lot for Grande to deal with. But, after taking a very understandable step back from the spotlight following Miller's death (and again, briefly, when reports of her and Davidson's split first started to circulate), the star proved she's literally not letting anything bring her down with "Thank U Next." Grande's resilient new track doles out post-relationship insights like nobody's business, while explicitly referencing both Davidson and Miller, in addition to some of her other significant exes.
Just the fact Grande did that should really warrant a victory dance or two (or three or four). Seriously, can you imagine losing a loved one, breaking off an engagement, and then promptly turning around a triumphant hit song addressing all of it? In another tweet shared Sunday, Grande thanked her producers, AKA her "best friends who have helped [her] turn the literal sourest of lemons into the sweetest pink *ss lemonade ever."
Who else thinks there's an early-stage proverb somewhere in there? Or — perhaps more likely — another surprise banger, maybe? Regardless, seeing Grande take a few tweets to celebrate her well-deserved triumphs — personal and professional — feels meaningful enough all on its own.