Ariana's 'Pump Rules' Throne Is The Star Of A Photo Series That Fans NEED To See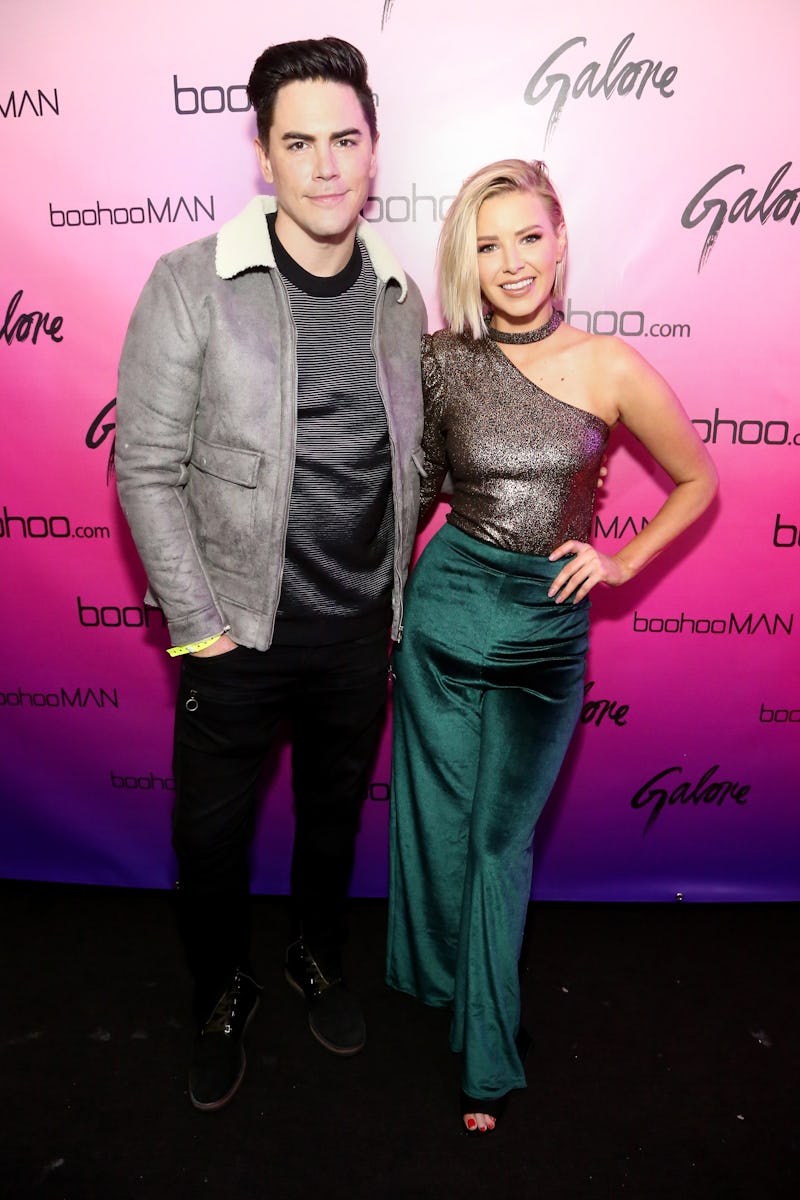 Tommaso Boddi/Getty Images Entertainment/Getty Images
Give a SURver a throne, a few hours, and a camera, and she'll give you an art installation that, just like Kristen Doute's green dress, belongs in a museum. After her kings and queens-themed birthday party drew to a close last June, Ariana Madix took her rented throne around Los Angeles, snapped some pictures, and waited for the perfect moment to unveil the images. And that perfect moment being, of course, the day the throne made its Vanderpump Rules (production manager: Jennifer Kaiser) debut. What a glorious photo dump it was.
On Monday's episode of the Real Housewives of Beverly Hills spinoff, two members of the Sexy Unique Kingdom facilitated what has become one of the show's many great annual traditions: Ariana and Stassi Schroeder's dueling birthday parties. This year, Stassi threw a death-themed fête, whereas Ariana opted to go for a more royal vibe at her event. Both parties included costumes, elaborate props, and enough alcohol to fill the wave pool at Hurricane Harbor, but that's about it for the similarities. While the get-togethers had a few key details in common, there were some elements that ensured these were very different get-togethers: Their guest lists did not overlap; unlike Stassi's party, Ariana's celebration did not end with the host scampering away from the venue in a drunken rage; unlike Stassi's party, Ariana's celebration didn't include a ranch dressing fountain; and unlike Stassi's party, Ariana's celebration did feature a royal throne.
And that brings us to Ariana's photo series. After her birthday party, Ariana her boyfriend Tom Sandoval, her brother Jeremy Madix, and her friend Bradley Kearns schlepped that chair all over Los Angeles and posed for pics.
"What do you do when you have a throne and a mini van, and you have to return them the next day?" Ariana wrote in the photo's caption. The answer: You haul that throne on over to the Grove, to Hollywood Blvd., to CVS, and so on. You go on a tour of Hollywood, give that throne memories that'll last a lifetime, and take pictures that should be turned into a wall calendar.
There are few things as beautiful as a theme party on a Bravo reality program. Watching Bravolebrities causing a scene is one thing, but watching them cause a scene while they're sheathed in ridiculous costumes? That's next-level entertainment. Whether it's an '80s bunco party where everyone screams at each other in a private room of a restaurant, a '70s roller skating party where everyone screams at each other a nondescript event space, or a hoedown where everyone screams at each other on a giant plot of dirt, a theme party usually brings the TV gold. (Also? Shoutout to The Real Housewives of Orange County for constantly raising the theme party bar.) So when Pump Rules offered two theme parties in one episode, it really was an embarrassment of riches.
There are few things as beautiful as a theme party on a Bravo reality program, and Ariana's throne photo series may very well be one of those things. The mere idea of these four noble souls lugging this throne to several different spots around L.A., setting up the camera over and over again, waiting for passersby to clear out, and getting each shot just right is exhausting. And what do you know? This presumably stressful, presumably tedious, and certainly impressive endeavor sure paid off.
The only thing this expedition is missing is a Bravo camera crew. Don't act like you wouldn't love to watch them carry that enormous chair into a CVS, almost bump into customers who are just trying to make their way to the deodorant aisle, and argue about which aisle would make the best backdrop. Like Stassi ditching her party's bar tab and caterwauling down a Hollywood sidewalk with a bullet wound painted on her forehead, Ariana's throne photo series really is something SUR-blime.