These Photos Of Lauren Burnham's Bachelorette Party Are Filled With 'Bachelor' Alums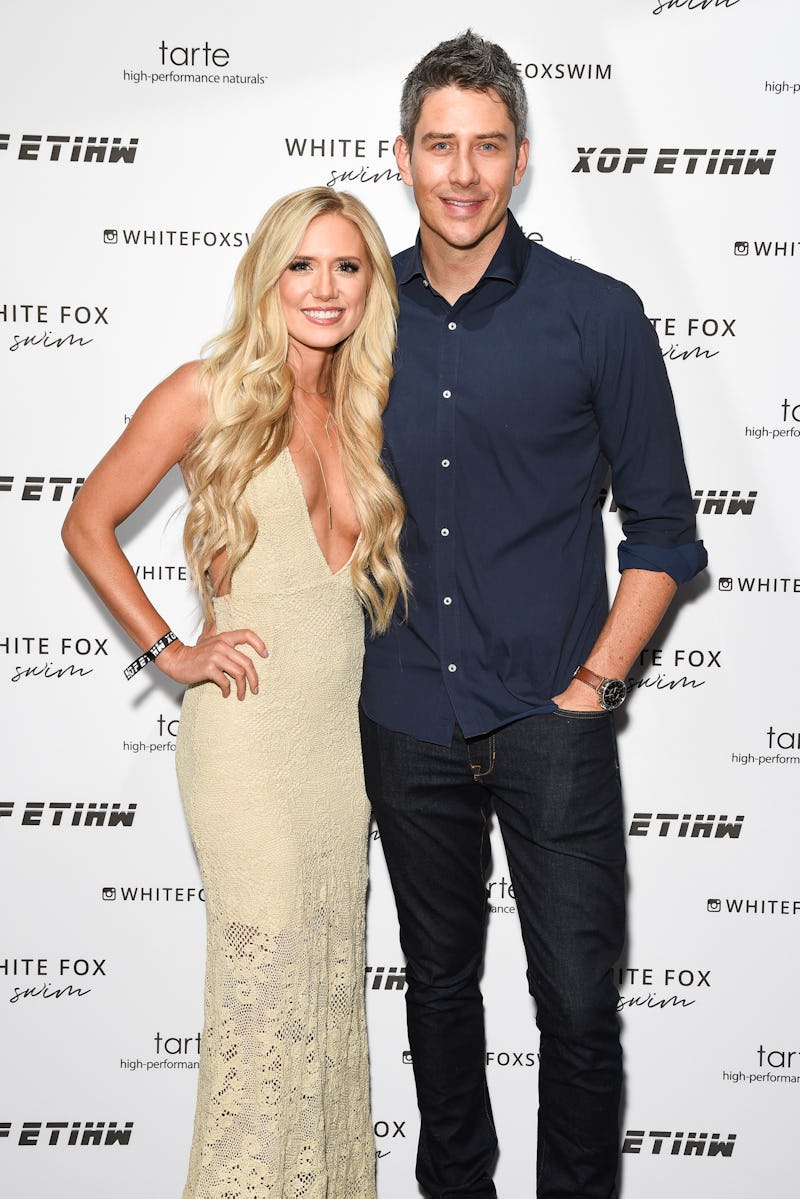 Presley Ann/Getty Images Entertainment/Getty Images
What a week it has been for the couple that almost did not end up together on the The Bachelor Season 22. The Bachelor's Lauren Burnham and Arie Luyendyk Jr.'s bachelorette party has them partying it up in Las Vegas right now with a bunch of their Bachelor co-stars, and yes, the Bachelor Nation stars have already posted a bunch Instagram Stories. Lauren's bachelorette extravaganza guest list includes former Bachelor contestants Marikh Mathias, Maquel Cooper, Seinne Fleming, Jacqueline Trumbull, and Jenna Cooper, because she is here to make friends, too.
"Wait just a darn second," you murmur to yourself. "Don't bachelor and bachelorette parties traditionally happen shortly before the actual wedding date? Does this mean Arie and Lauren's wedding is almost here? Wow, time flies, doesn't it?" Yes, time did fly right on by us, and Arie and Lauren's wedding date is on the horizon. As they announced earlier this year, they are set to tie the knot on Jan. 12, 2019 at Haiku Mill in Maui.
Anyway, let's get to the IG Stories. Lauren's bachelorette party seems so to be off to a solid start. There are balloons, baked goods, cigars for Arie, Ariana Grande, and a hotel map— you know, all of the essentials.
If you've ever been to any of the labyrinthian resorts on the Strip, you know how easy it is to get so turned around that you end up at the top of the Eiffel Tower at Paris Paris with a Fat Tuesday blended drink in hand when you were just trying to find a bathroom in the Bellagio casino. Well, it looks like Arie will not be getting lost this weekend.
With the help of that map of the Venetian, Arie will steer everyone in the right direction.
What's a party without some balloons?
And what have we here? Ah, more balloons.
So many balloons.
How about that song choice, eh? It looks like Maquel is so grateful for her ex... who she met on a popular dating competition show and is getting married to one of her good friends who she also met on that aforementioned dating competition show. Life really is a rich tapestry.
Maquel, Marikh, Jenna, and Jacqueline are already there.
And Seinne is on her way.
Lauren and Arie sure do have a lot to celebrate. On Wednesday, Nov. 14, Us Weekly revealed the pair is expecting their first child. Lauren shared with the publication,
"I kind of had a feeling that I might be pregnant. So my friend insisted on bringing a pregnancy test over. Arie came out with the test in his hand and tears in his eyes. He was like, 'You're pregnant!'"
They told Us that they were not trying to get pregnant, but they are "so excited." Arie said, "It's going to be a whole new chapter in our lives." He went on to say on Instagram,
"Nothing compares, absolutely nothing compares to the moment you find out you're going to be a dad! We cried, we laughed and it really was such a special moment for us, we're so freakin' happy!"
Congrats, Larie. May that map of the Venetian help guide you to a freakin' happy weekend.