Arie & Lauren "Officially Fled The Country" Post-'Bachelor' & They're Really Living It Up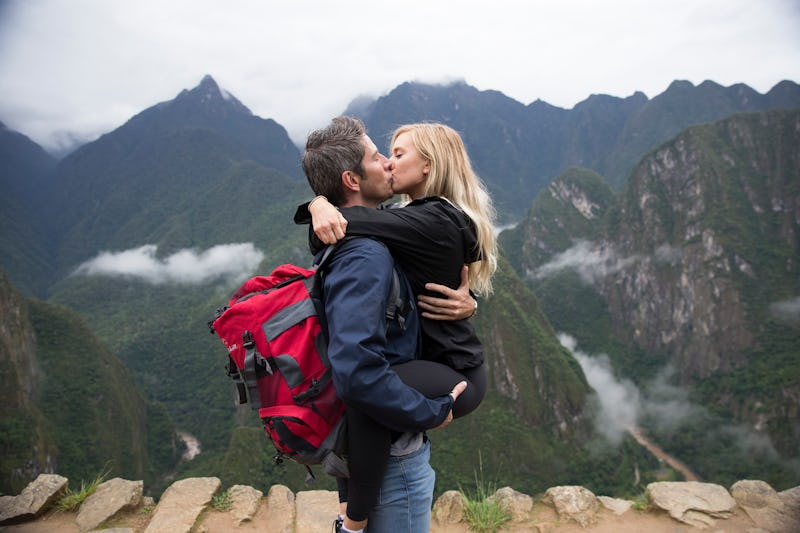 ABC/Paul Hebert
After that extremely controversial two-part Bachelor finale, it's not at all surprising that Bachelor Arie Luyendyk Jr. and his fiancée Lauren Burnham are on vacation in Iceland. It's no surprise Arie would want to escape the country after all of the backlash he received when he dumped previous fiancée Becca Kufrin, so he could get engaged to original runner-up Lauren. Aside from a vacation being a perfectly logical move to make after finishing up all of the Bachelor finale press, the Iceland trip shouldn't be too surprising to anyone who tuned into the finale.
During part two of the After the Finale Rose special, Arie told host Chris Harrison that their next move was "to get out of the country for a little bit, and then Lauren's going to move to Arizona." Fans and critics alike came hard at Arie for that finale switcheroo and many people have cast doubt on Arie and Lauren's relationship, but the post-show life is going well for the newly engaged couple. It looks like these two are just letting all of the scrutiny roll off their backs and they are enjoying their time together on vacation.
When Arie's family met his final two women in the finale episode, they loved both Becca and Lauren, but Arie's mom, Mieke Luyendyk, admitted, "I love Lauren — but I think Becca would be better for your future." So, what does she think about her son's change of heart? Arie revealed that Mama Luyendyk is more than thrilled about his and Lauren's relationship when he shared a photo from the Iceland trip.
Arie Instagrammed a cute photo from the vacation with a breathtaking view, but the sweetest part of the post is the caption: "Posted this because I sent this to my mom and she said she's never seen me happier. So much beauty here in Iceland including this one." Clearly, she is on board with having Lauren as her future daughter-in-law.
The two got a lot of flak for their perceived lack of personality during the season, but they are sharing a lot more of who they are and their senses of humor on their social media accounts. Arie shared a bunch of other photos from the trip on Twitter and joked, "Officially fled the country."
Lauren is not an active tweeter and she hasn't shared any photos or videos on her Instagram page yet, but she did give a glimpse at the vacation in her Instagram story. With such amazing surroundings, it makes sense that the couple would want to document the vacation. Lauren poked fun at Arie's dedication to getting a good photo, while creating solid Instagram content herself. She shared a picture of Arie using an actual camera (gasp!) and crouching down to get the perfect shot. Lauren captioned it with "dem angles."
Arie returned the favor and joked about Lauren documenting their vacation on Instagram when he shared a photo of her recording a video with the caption "#tourist."
Lauren showed off her silly side working it with a fun pose on a rock for a photo that Arie shared:
Aside from sharing some humor and scenic landscapes, the duo did share some cute, romantic photos from Iceland. Lauren kissed a smiling Arie on the cheek for a snap that he shared. He even added a heart emoji to the image for emphasis. These two are enjoying their trip and each other and have no problem sharing that with the world.
Lauren and Arie had the biggest smiles in this photo that is sure to get his mother's approval, as well:
Arie and Lauren's love story did not have the easiest start. They began dating while he was also dating 28 other women and the finale was rocky (to put it mildly). These two are putting those difficulties behind them, focusing on each other, and enjoying their lives now that the season is over and they are allowed to been seen in public together.