There Is Now An Entire Couture Gown Made Of Funko Pop Dolls & It's Kind Of Incredible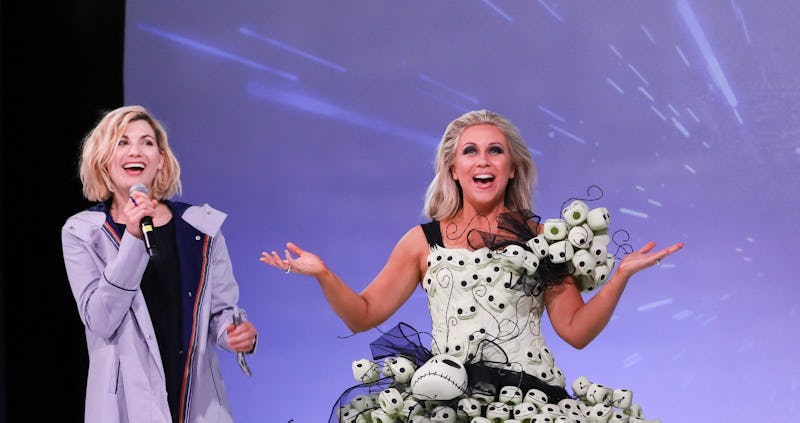 Mark Edwards, courtesy of Her Universe
It was just two short years ago that Her Universe boss Ashley Eckstein wowed the crowd (and the internet) at her annual San Diego Comic-Con fashion show. Not only did she come out in a gown inspired by her fan favorite Star Wars: The Clone Wars character Ashoka, but she commissioned said couture gown to be made out of one of the most beloved toys in history: Legos. The dress made a splash and even since then, the expectations surrounding her yearly gown have been sky high. And at Comic-Con 2018, Eckstein's Funko Pop doll dress raised those stakes even higher.
Where as the Ashoka dress broke ground as the first ever wearable Lego dress ("There've been Lego sculptures but [my dress] could walk," specifies Eckstein), the Funko pop one is truly a first — which is exactly what she was aiming for after the first one went viral. "After Lego, I was so inspired to use unconventional materials so, I was like what can I do next? What will be the first of its kind?" she says when we speak the day after her 2018 fashion show. "And there's no better thing other than Lego than Funko Pops. I mean Funko Pops are the hottest thing, they have been for the past several years and I looked at it as a challenge."
The first piece of the puzzle was obviously getting Andrew MacLaine, Eckstein's frequent collaborator and the designer behind The Lego Dress, on board. "I called him up, and I said, 'Hey Andrew, do you wanna make my dress again?' and I made sure he said 'yes' before I told him what it was," she says with a playful laugh. "He was like, 'How are we gonna do that?' And I said, 'I don't know but I have full faith in you that you'll figure it out.'"
And figure it out they did. "It was just one of those things where the stars aligned," she says. With the help of the company behind the wildly popular dolls, Eckstein and MacLaine were able to obtain the exorbitant number of Jack Skellington Pop heads needed to bring the dress together and properly honor the 25th anniversary of The Nightmare Before Christmas (one of Eckstein's favorite movies and a fan-favorite among Her Universe customers). The dress, Eckstein says was originally supposed to be made out of 1000 Funko Pop heads, came to full fruition with a total of 500 Funkos, but it still clocks in at a weight of 40 whole pounds. "Yeah, it was heavy," Eckstein sighs.
Of course, with a dress that weighty, things got a little complicated behind the scenes, or as Eckstein puts it: "it was actually kind of chaos." The original plan was to spare her legs the chore of carrying the heavy dress around throughout the hours-long fashion show by having her switch into Her Universe's new Doctor Who coat, which debuted at the show, before introducing the night's surprise guest, Jodie Whittaker (the new Doctor, ICYMI). Only Whittaker had a last minute request that made Eckstein want to tough it out.
"She got there a little early and we were talking backstage and she was like, 'I've never walked the runway before,'" recounts Eckstein, the shock still written across her face. Whittaker asked if she could walk the runway for the first time in her life, Eckstein gleefully agreed, and it was only moments before Whittaker was wishing she had her Doctor costume and screwdriver — the exact outfit Eckstein was planning to wear. "Literally, as the show was happening, we changed up the whole show. I decided to stay in my gown, let Jodie wear her costume, and just pretend that she was a model that we forgot," she explains. "Since it was even better to have her wearing the costume, I just decided to keep my gown all night."
Now that she's mastered walking around stage (for twice as long as she intended to) dripping with Funkos, Eckstein has her sights set on next year, where she says she plans to attempt the dress she's always wanted to try to create. "There's one gown — and I'm not gonna say because I don't wanna jinx it — that I've been trying to make for the past three years. I haven't been able to make it yet, but I think next year is gonna be the year," she says, with her signature fangirl sparkle in her eyes before trailing off. She's so excited, she becomes temporarily speechless. "It's gonna take a year to make it. That will be the ultimate if I can do it. It involves a lot of technology," she offers as the one and only hint she's willing to share... for now.
And considering that Eckstein continually blurs the boundaries between fashion, fandom, and what acceptable dress-making materials are, I'm pretty certain that whatever she has in mind, it's going to be epic.