Ashley I. Has Opinions About Wells & Sarah Hyland's Relationship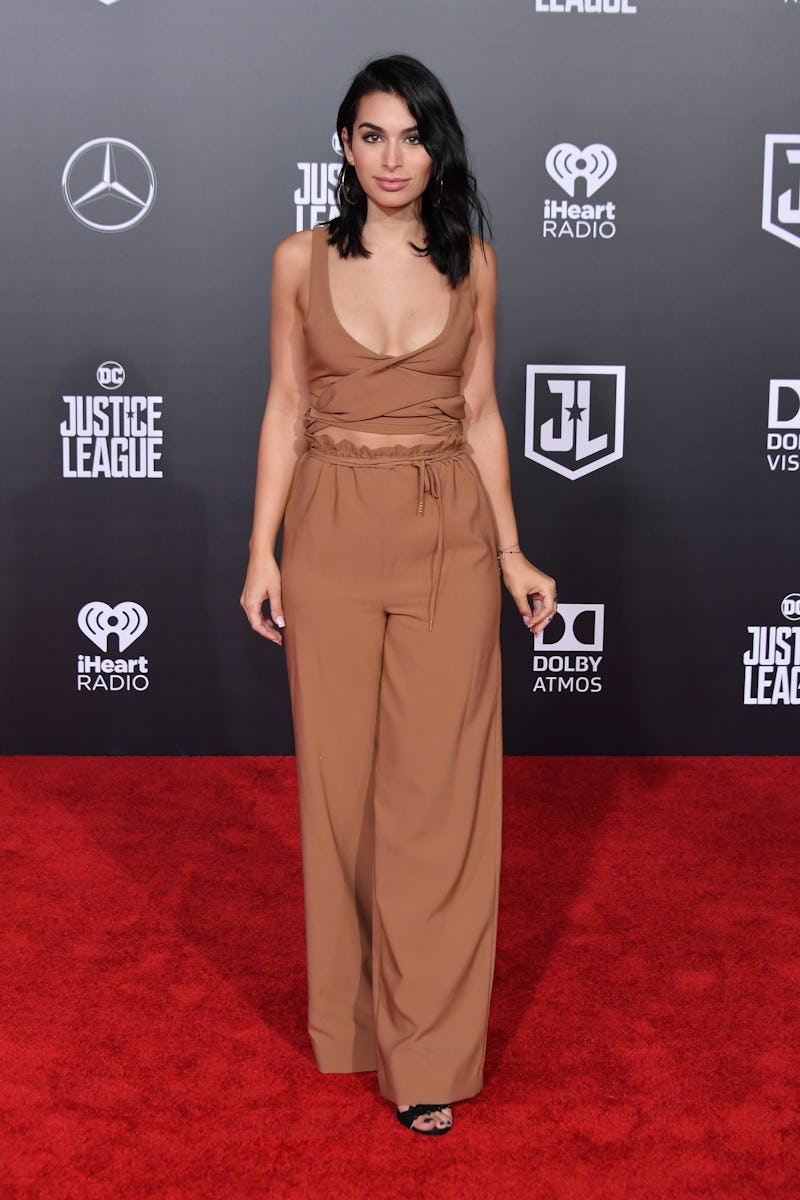 Neilson Barnard/Getty Images Entertainment/Getty Images
Love is in the air for a reality TV personality and a sitcom star, and one of their colleagues has some thoughts on the pairing. When Us Weekly asked Bachelor alum Ashley Iaconetti about Wells Adams and Sarah Hyland's relationship at the Justice League premiere on Monday night, she confirmed that they've been dating "for a while." Oh, and she also talked about FaceTiming with the guy she had a brief thing with on Bachelor in Paradise Season 3 and his new girlfriend.
She said,
"I think they are really public about it. I'm surprised about that. But I've known it's been going on for a while and I think they both really like each other so that's cool."
On a recent episode of The Morning Breath, Adams sort of talked about his current situation with the Modern Family actor. While he didn't come right out and declare anything as unambiguous as, "We're dating and we don't care who knows it," that sentiment was lodged in the subtext. When hosts Claudia Oshry Soffer and Jackie Oshry asked about Hyland, the Bachelor in Paradise bartender replied, "To be fair, if you really want to know anything, just look at my social media."
Adams revealed that they met on the information superhighway, but didn't share much beyond that. However, some of his Bachelor Nation compatriots have gone on to spill some more details. On a recent episode of The Ben & Ashley I. Almost Famous Podcast, Ben Higgins and Iaconetti talked about the couple connecting on social media. According to Iaconetti, Hyland was the one who got the ball rolling on what would develop into a romantic relationship with the former Bachelorette contestant. Yes, those adorable tweets that Wells and Hyland exchanged over the summer
Adams and Hyland sparked speculation that something was up right when they wore coordinating Stranger Things costumes to a Halloween party. Adams dressed up like Eleven, Hyland dressed up like Dustin, the two took some pics together, and the demadog was out of the bag.
The two are not just Halloween 2017 serious. They also happen to be Halloween 2018 serious. Adams told The Morning Breath,
"We did talk about next year's [costume], and we have a really good [plan] … I don't know if I want to [say what it is] … [People] totally will copy it … It's definitely in the vein of two things that we love dearly. And gender bending happens again."
Yes, they're already plotting out what they're going to wear on All Hallows' Eve next year. It sounds like they're in it for the long haul. Or at the very least, they're in it for the candy haul.
Though Iaconetti hasn't spent time with Adams and Hyland together, she did share that she's virtually hung out with the couple via FaceTime. She said that they seem "head over heels," adding that "they are really making [the long distance relationship] work."
Oh, and Iaconetti also called the coupling "weird." She explained,
"It's one of the first collision couples. You know I think a lot of the girls have dated athletes in the past but acting plus Bachelor, not really."
Not to split hairs, but Adams and Hyland aren't exactly part of some first wave of actor/Bachelor pairings. (Never forget the stories that Courtney Robertson included in her memoir. Oh, and never forget about Jake Pavelka and Kristin Chenoweth. There are probably more examples, but those are the first that come to mind.) However, actor/Bachelor pairings really aren't a super common thing, so it is fair of Iaconetti to say this coupling a bit of an anomaly.
Is this a surprising twosome? Yeah. Are they cute together? Duh. And is it nice of Iaconetti to take on the role of WellRah's unofficial spokesperson? Obviously.