Ashley I. & Dean Might Have The Cutest 'Bachelor' Friendship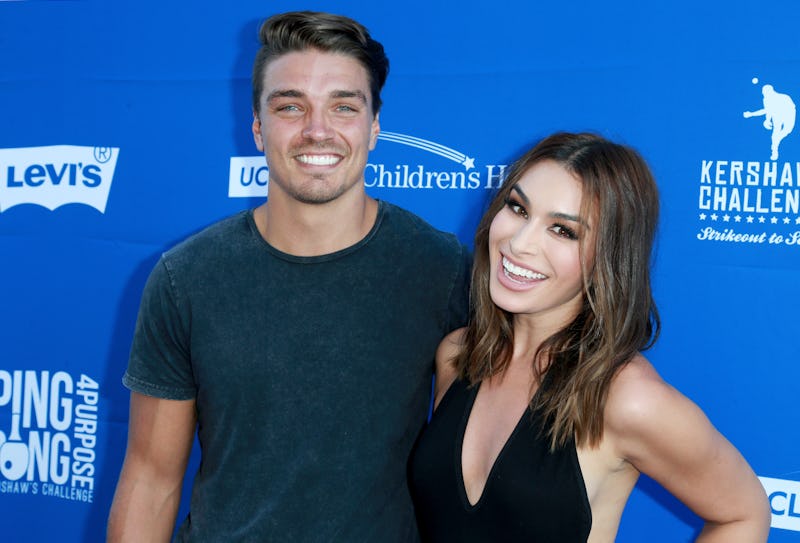 Leon Bennett/Getty Images Entertainment/Getty Images
Even with its premise, The Bachelor is not known for producing lasting relationships. But while the love matches don't always stick, this franchise has produced some solid best friendships. For instance, Bachelor Winter Games stars Ashley Iaconetti and Dean Unglert have become close friends thanks to their experiences in the reality TV franchise.
They both looked for love on TV, moved to Los Angeles, and started their own podcasts, so it was only a matter of time before these two became friends. Plus, it seems like almost everyone in the Bachelor family ends up meeting at some point. It was just inevitable.
If anyone is going to understand the ups and downs of dating on The Bachelor, The Bachelorette, or Bachelor in Paradise, it's someone else who's also gone through those unique experiences. Even before Ashley and Dean were cast for Winter Games, they hit it off and became close friends. These two have gone on trips together with other Bachelor alums, and they even coordinated their Halloween costumes last year.
The premiere of The Bachelor Winter Games is only a short time away (Tuesday. Feb. 13), but so much happened between these two before the show even filmed. Check out these pics of Ashley and Dean to see that a lasting relationship can really come from this show — even if it's a friendship.
Supporting The Humane Society
Loyal social media followers are well-aware that Dean has a dog obsession. Dean and Ashley merged their love of animals and their social influence as reality stars with this Instagram post. Both Dean and Ashley encouraged their followers to adopt dogs instead of shopping for one. Ashley shared, "I got word this week that the @ochumanesociety didn't have enough photos of their dogs and not enough reach online, so Dean and I went down to OC to help show off these beauties!"
Podcasting Together
Dean has been a guest on the show that Ashley hosts with former Bachelor star Ben Higgins called the Ben & Ashley I Almost Famous Podcast. Dean has even filled in for Ben as a guest host, which makes sense since he and Ashley have such a solid rapport. Now, they both have their own iHeartRadio podcasts. Dean's podcast is called Help! I Suck At Dating With Dean Unglert. Maybe he was influenced by his experiences on Ashley's show to start his own?
Vacationing With Fellow Bachelor Alums
Dean and Ashley vacationed in Tahoe with Jared Haibon, Becca Tilley, Ben Higgins, and Luke Pell. Dean joked, "Collectively, we're all pretty bad at relationships." At least they all excel at reality TV.
Giving Shout-outs
Yes, this is a cute photo, but it's the caption that really makes this a great post. Dean wrote, "Grateful to have a friend like @ashley_iaconetti."
Playing Ping Pong With Bachelor Alums
The good friends hung out with Becca Tilley and former couple Nick Viall and Vanessa Grimaldi at Dodgers stadium. In her own Instagram post of a photo with Ashley and Dean, Becca revealed that the Bachelor alums were there for ping pong tournament. Becca wrote, "One of us lost in the first round in the ping pong tournament. It wasn't me and it wasn't Ash."
Supporting Dean When His Hometown Date Aired
Dean's Hometown date on Rachel Lindsay's season of The Bachelorette was very emotional. Dean reunited with his estranged father, professed his love for Rachel, and got sent home that week. His friend Ashley gave him some public support when the episode aired with a sweet Instagram post.
Supporting Dean During A Rough BiP Season
Ashley killed two birds with one stone: She promoted these sunglasses and gave her friend a hug and some support during a tough Bachelor in Paradise season, thanks to his infamous love triangle with Kristina Schulman and Danielle Lombard. Ashley wrote, "Everybody makes mistakes. Everybody has those days. Giving my little @deanie_babies a hug in my @diffeyewear. He made some bad moves in Paradise, but few people can make me smile and laugh like he does. He's one of the warmest people I've ever met."
Eating Pizza With Luke Pell
This photo is the ideal hangout for any Bachelor fan/pizza lover. Ashley and Dean sharing pizza with Luke Pell looks like a solid time.
Coordinating Halloween Costumes
These two coordinated their Halloween costumes to channel the iconic Titanic couple Rose and Jack.
Promoting Each Other's Work
Like the good friend that she is, Ashley encouraged her followers to listen to Dean's podcast.
Hanging With Peter Kraus
This is the ultimate two-on-one date, even though they're all just friends. Ashley, Dean, and Peter Kraus hung out in Las Vegas at a dinner that almost any Bachelor fan would want to crash.
Ashley and Dean have proven that it really is possible to find a solid relationship thanks to The Bachelor. Hopefully, their best friendship will be showcased even more The Bachelor Winter Games.