Asia Argento Released A Statement Regarding The Sexual Assault Allegations Against Her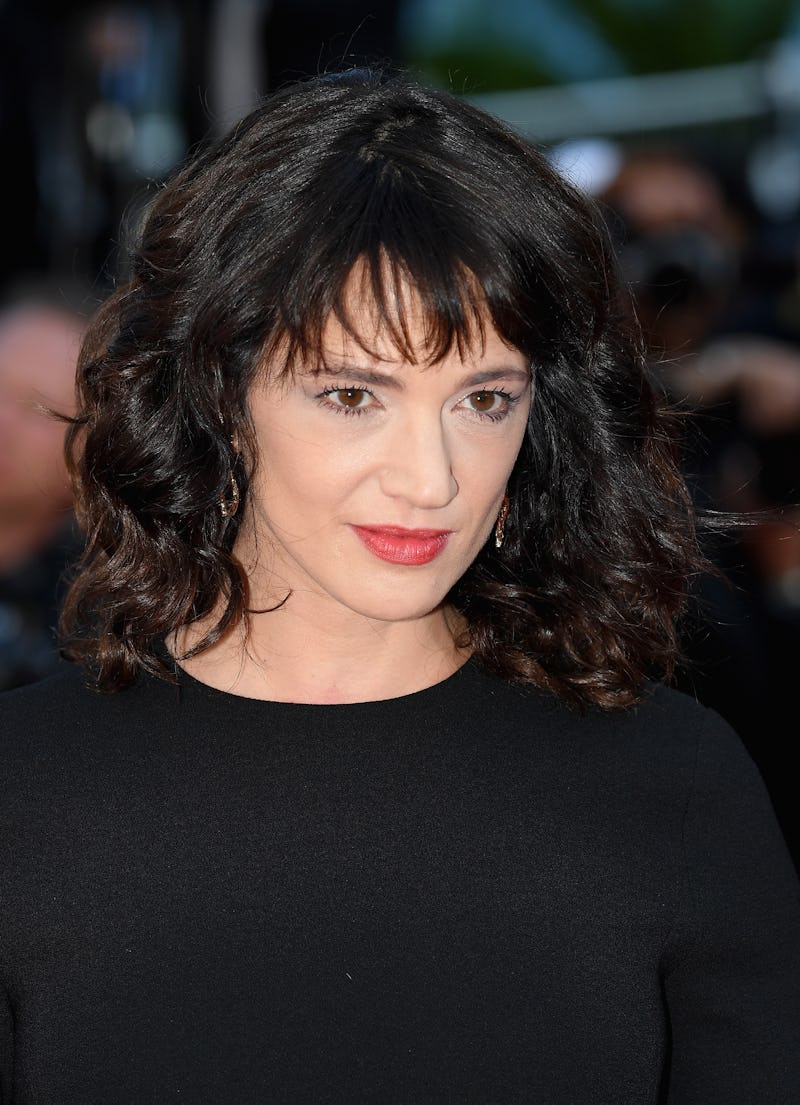 Pascal Le Segretain/Getty Images Entertainment/Getty Images
Following a recent report published by the New York Times on Aug. 19, which contained allegations against Asia Argento, the actor has come forward to share her side of the story. On Tuesday, Aug. 21, Asia Argento released a statement, in which she denied claims that she had sexually assaulted actor Jimmy Bennett, according to a tweet from Huffington Post journalist, Yashar Ali. (Bustle reached out to Bennett's lawyer for comment about the claims in Argento's statement, but did not receive an immediate response. Bustle previously reached out to Argento's rep about the situation, but did not hear back.)
UPDATE: On Wednesday, Aug. 22, Bennett released a statement to The Hollywood Reporter, which read:
"I did not initially speak out about my story because I chose to handle it in private with the person who wronged me. My trauma resurfaced as she came out as a victim herself. I have not made a public statement in the past days and hours because I was ashamed and afraid to be part of the public narrative. I was underage when the event took place, and I tried to seek justice in a way that made sense to me at the time because I was not ready to deal with the ramifications of my story becoming public. At the time I believed there was still a stigma to being in the situation as a male in our society. I didn't think that people would understand the event that took place from the eyes of a teenage boy. I have had to overcome many adversities in my life, and this is another that I will deal with, in time. I would like to move past this event in my life, and today I choose to move forward, no longer in silence."
EARLIER: According to Ali's tweet, Argento began her statement with, "I strongly deny and oppose the contents of the New York Times article dated 20 August 2018, as circulated also in national and international news." Argento continued to deny the claims reported by the Times, which also alleged she paid Bennett $380,000 after the alleged assault. She wrote, "I am deeply shocked and hurt by having read news that is absolutely false. I have never had any sexual relationship with Bennett."
In her statement, she also claims she and late boyfriend, Anthony Bourdain, did pay Bennett after he allegedly "made an exorbitant request of money from me." She claims she and Bourdain dealt with the matter privately to avoid any "negative publicity" from Bennett. She wrote, "We decided to deal compassionately with Bennett's demand for help and give it to him. Anthony personally undertook to help Bennett economically, upon the condition that we would no longer suffer any further intrusions in our life." Her statement ended by reaffirming her opposition to "such false allegations."
As mentioned, these allegations were first reported by the Times in a piece published on Sunday. Bennett, a musician and actor who starred alongside Argento in the 2004 film The Heart Is Deceitful Above All Things, alleged that she had sexually assaulted him in May 2013 when he was 17 and she was 37, according to court documents obtained by the Times. Bennett's lawyer explained to the publication that the alleged assault was on his mind in light of the #MeToo movement, which Argento has been a major figure in.
"His feelings about that day were brought to the forefront recently when Ms. Argento took the spotlight as one of the many victims of Harvey Weinstein," Bennett's lawyer told the Times. The publication went on to report that Argento paid Bennett $380,000 over the course of a year and a half.
At the time of the report's original publication, neither Argento nor her lawyer responded to the claims. However, a lawyer for Bennett told the Times, "In the coming days, Jimmy will continue doing what he has been doing over the past months and years, focusing on his music."
This news came as a shock to many within the #MeToo movement, of which Argento has been a vocal supporter, according to The Daily Beast. These new allegations even prompted a lengthy Twitter response from the movement's founder, Tarana Burke, on Aug. 20. She wrote, at the beginning of her Twitter thread:
"I've said repeatedly that the #metooMVMT is for all of us, including these brave young men who are now coming forward. It will continue to be jarring when we hear the names of some of our faves connected to sexual violence unless we shift from talking about individuals and begin to talk about power."
Burke's statement is an important one to keep in mind, especially as the conversation surrounding the #MeToo movement continues to develop in light of every new report on the subject.
If you or someone you know has been sexually assaulted, call the National Sexual Assault Telephone Hotline at 800-656-HOPE (4673) or visit online.rainn.org.