Leslie Jones Has The Mantra That Every 'Game of Thrones' Fan Needs During This Excrutiating Two-Year Wait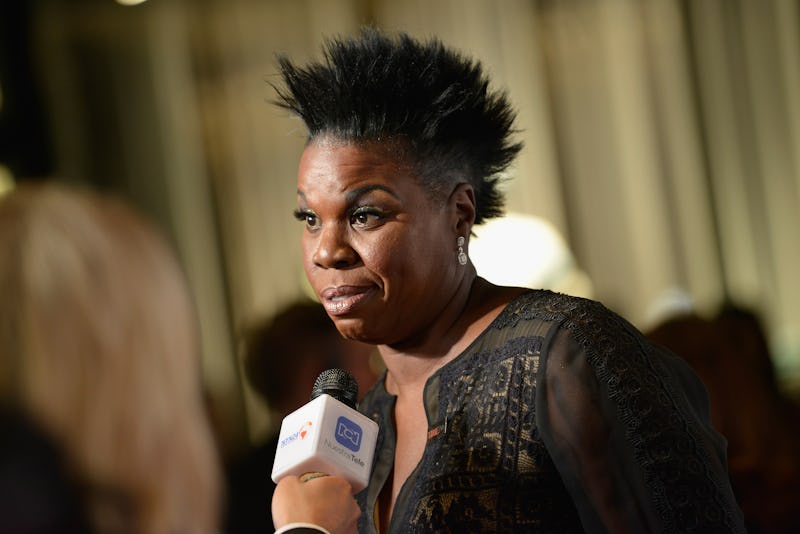 Ben Gabbe/Getty Images Entertainment/Getty Images
Winter is definitely here for Game Of Thrones fans, but one of the show's famous devotees feels confident that we'll all make it through this long hiatus. Leslie Jones soothed Game Of Thrones fans at the Emmys, and her mantra will definitely be repeated often during the wait for Season 8. "We'll be OK," Jones, a nominee for Outstanding Supporting Actress In A Comedy Series for her work on Saturday Night Live, told E!'s Jason Kennedy. "Westworld is coming."
HBO has not announced a precise premiere date for the eighth and final season of Game Of Thrones, but fans have been warned not to expect it until sometime in 2019. That means it could be a year and a half to two years before the battle for the Iron Throne picks back up again. And especially after a shortened season like Season 7, that hiatus feels especially cruel. But prestige TV watchers like Jones are used to waiting for quality content.
"I know you're a huge Game Of Thrones fan, and it's not on the air for a while now," Kennedy asked Jones on the red carpet, after covering the standard Emmy questions. "How are you coping? What are we doing in the meantime now?"
Jones put on a brave face and gave the E! cameras and the fans watching at home some wise words of comfort. "We're getting through it. You know, me and the fans, we're getting through it," the actor said. "We'll be OK. Westworld is coming, so."
Jones may have been expecting the question, considering how openly she wears her Thrones love on her sleeve. Her live tweets of the episodes are legendary, and she even popped by Late Night With Seth Meyers to bring her signature enthusiasm and color commentary to his watch party. She got a little surprise in the form of Conleth Hill in character as Lord Varys. Watching Jones grill him was pretty cathartic. Who wouldn't want some time alone with one of their GOT faves?
Jones' comment about Westworld is encouraging, and not just as a reminder that yes, there are other good things on TV besides Game Of Thrones, even though you may feel bereft about its long break. With that red carpet plug, Jones could be previewing some upcoming Westworld content of her own that ought to help tide you over. HBO has confirmed that that show will be back for Season in spring of 2018, and a tantalizing teaser trailer premiered at San Diego Comic-Con earlier this summer. Here's hoping that Meyers invites Jones back to his couch for a group watch of the chilling fantasy series, perhaps with a special appearance by Delores or The Man In Black. I'd love to know what Jones would like to say to them.
And of course, there's also more of Emmy nominee Leslie Jones in Saturday Night Live to look forward too. She'll be back with the rest of the cast later this fall with the season premiere. The long-running sketch series' take on a tumultuous 2016-2017 earned it multiple nominations, including matching ones for Jones' co-stars Vanessa Bayer and Kate McKinnon. Her 2017 nod is the first for Jones, who uploaded her ecstatic reaction to McKinnon's 2016 win, which Kennedy was more than happy to replay for her on the red carpet.
Jones is becoming known as much for her unabashed love and appreciation for things (like McKinnon's win and GOT) as much as she is for her comedy. And if Game Of Thrones's biggest and most vocal fan can find the silver lining in this long hiatus, the rest of us can too.