Please God No — 'Bachelor' Fans Think Peter's Season Has A Luke P.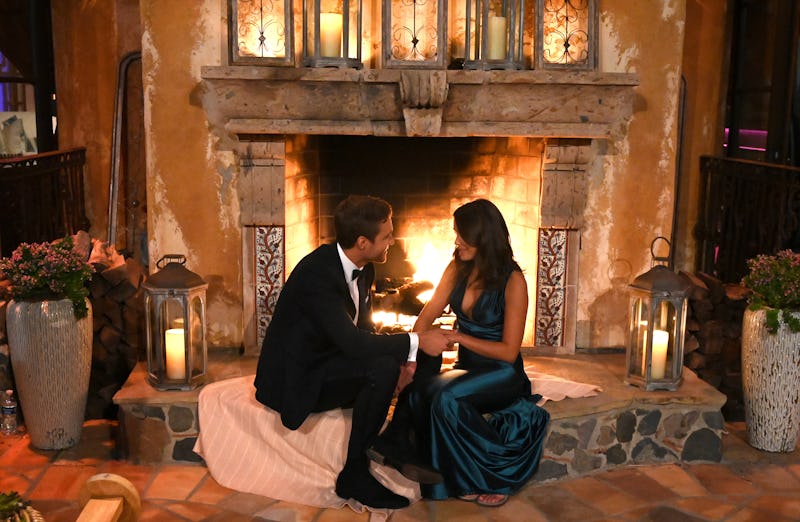 John Fleenor/ ABC
Peter's Bachelor season seems to have already found its villain, and comparisons to the last reigning villain haven't been far behind. Fans are now likening Hannah Ann to Luke P., and please God, let's hope it's premature. Yes, they both received the first impression rose while earning the ire from their fellow contestants, but will we really have to endure another exhausting season of Luke's toxic, ego-centric drama? Hannah Ann may have stolen Peter not once, not twice, but three times, but she's not quite on the level of Luke's gas-lighting.
Unlike Hannah Ann, Luke P. came off as conceited from the get-go, bragging subtly in his intro package about how much sex he used to have in college before finding religion. He was the first contestant to grab Hannah to talk after her cocktail party toast, and he swooped in again after Hannah said she wanted to be alone to comfort her when she sent Scott — the first guy with a girlfriend — home. But while his behavior raised a lot of red flags, Hannah felt an instant attraction to him and rewarded him with the first impression rose.
Hannah Ann also demonstrated some potential problematic behavior during Peter's first cocktail party. She claimed she didn't want to be involved in the drama after stealing him from two other women — an action that landed her at the top of this season's potential villain list. She also claimed that she never goes after what she wants, but within the next breath proclaimed, "When I have my eye on something, like Peter, I'm gonna go after it." Sure, Jan.
Hannah and Luke also share Southern hometowns, Christian beliefs, and some notably big eyes. Hannah even said, "I'm in love," after meeting Peter, giving flashbacks of Luke's premature declaration of love on The Bachelorette. To be fair, her jokingly swooning over Peter is nowhere near the same as Luke saying he was falling in love with Hannah during his first group date. So let's not get ahead of ourselves and proclaim Hannah the next Luke, especially when his behavior on the Bachelor franchise is something that should please, for everyone, be left in 2019.
While he had given off plenty of warning signs, it took Luke some time to truly reveal to Hannah how angry, jealous, and masochistic he could be. She gave him a number of chances and even pissed off many of her other contestants in the process. But once he attempted to dictate what she could do with her body, she sent him packing. It was a big moment for Hannah Brown and the series, but Bachelor Nation really doesn't deserve a Luke P. 2.0.
Some fans are already thinking that Luke P. and Hannah Ann would make the ideal couple. But so far, Hannah Ann's antics are within the boundaries of a budding generic Bachelor villain and nothing more.