Here's What Blake From 'The Bachelorette' Had To Say About Garrett's Instagram Controversy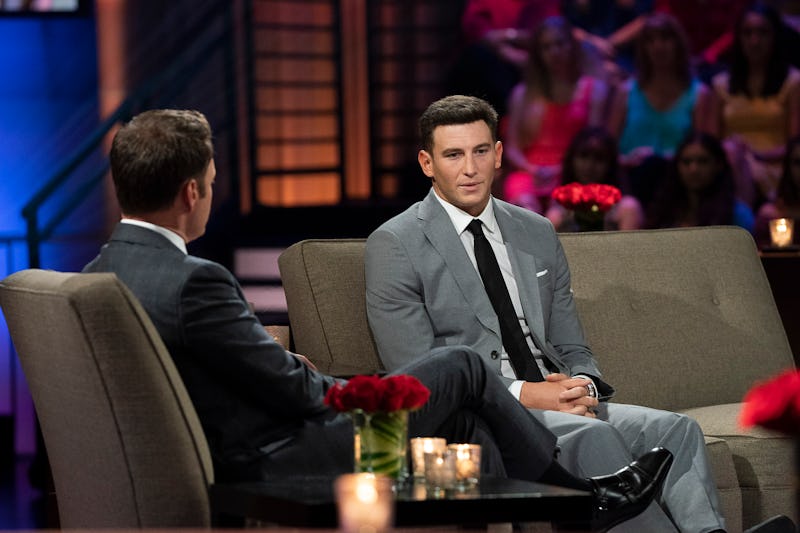 Paul Hebert/ABC
On this season of The Bachelorette, the controversy surrounding Garrett Yrigoyen's social media activity was on a lot of fans' minds, even as he received Becca Kufrin's final rose. And now, Becca's runner-up is speaking out about it. While talking to Us Weekly, Blake Horstmann commented on Garrett's Instagram likes, and while it sounds like it's not something he condones, he also made sure to point out that Garrett's Instagram activity doesn't measure up to the man he got to know while filming The Bachelorette.
Earlier this year, fans discovered that Garrett had been double-tapping on Instagram posts that were offensive for multiple reasons. The topics of these posts spanned transphobia, sexism, and false claims that a Parkland shooting victim was a "crisis actor," and obviously, it was upsetting that someone seemingly supporting those beliefs would be cast on the show, especially considering that Becca's views have always seemed far more progressive. Then, in May, Garrett apologized for the likes, confirming that they had come from him, creating a new Instagram account and promising his followers that he was "taking steps to grow, become more educated, and be a better version of myself."
But a lot of people are still talking about Garrett's likes, and now, Blake has weighed in.
"That's not the Garrett I knew in the house," Blake said during a conference call on Tuesday, Us Weekly reported. "I'm sure he will learn from all of this and I trust Becca, I trust her decision and I trust her character."
And so far, it truly does seem like this is something Becca is working past, as she mentioned on After The Final Rose, so it makes sense that Blake's leaving the ball in Becca's court to decide that Garrett is still the man for her after the controversy. He also added that he hasn't talked to Garrett since The Bachelorette, and for now, he's just giving the newly engaged couple a chance to enjoy their relationship now that they're able to take it public.
"Maybe there will be a time in the future, but as of now, no. I'll let them have their moment," Blake added.
In another conference call earlier this week, Garrett opened up yet again about the Instagram situation, reaffirming that the likes are not reflective of his true beliefs, echoing what he told Variety in an interview on Tuesday. According to Us Weekly, Garrett said:
"I just issued that apology on my Instagram and I stand by everything I said on there. I'm just trying to grow and be a better person. I know I've made some mistakes and I recognized those mistakes and I'm just trying to be better and move forward, but I apology and I'm sorry to anyone that I hurt or offended… I don't believe David Hogg is a crisis actor, no, I don't."
He also added that now, he's "starting to read the posts now and going from there," rather than mindlessly liking images, which honestly is probably for the best.
Blake's right — at this point, it's all on Becca to decide what she is and isn't OK with in her relationship, and hopefully, Garrett truly has learned his lesson. What we need in the world is more tolerance, not less.