How Cailee Spaeny Got Into The Disturbing Headspace Of Her Complex 'El Royale' Character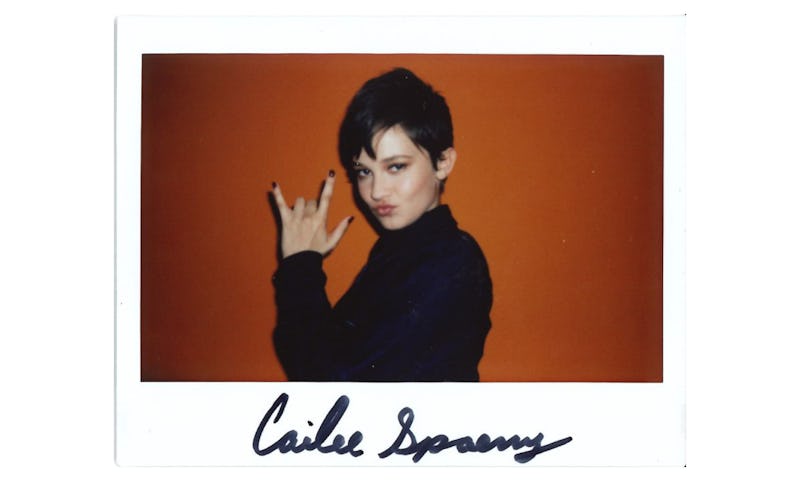 When celebrities hang out with Bustle editors, we want to give them the chance to leave their mark. Literally. So we hand them a pen, a piece of paper, a few questions, and ask them to get creative. The rest is up to them. This time, Bad Times at the El Royale star Cailee Spaeny is leaving her mark in the Bustle Booth.
Almost no one is who they seem to be at the El Royale hotel, which straddles the border between California and Nevada and is the site of many shady deeds in Drew Goddard's new thriller. And that includes Cailee Spaeny's character, Rose. The 21-year-old actor tells me that, especially in this early stage of her Hollywood career, she's excited by any role that she's not sure she can pull off. As the layers of what's really going on inside the walls of this hotel are peeled back, so is the truth of how this seemingly innocent girl came to be there. And that backstory gave Spaeny a difficult task. Spoilers ahead!
"I watched a lot of cult documentaries," she says, explaining how she got into the headspace of Rose, a.k.a. Boots, a young follower of the Charles Manson-like Billie Lee (Chris Hemsworth). "I spent every night before filming watching a cult documentary, which wasn't the happiest thing to do on my time off."
Marathoning docs about Jonestown and Manson is disturbing research, but Rose is in a disturbing situation. It was essential for Spaeny to understand why someone would fall into a cult with such violent aspirations. The key was her character's vulnerability and need to feel like a part of something. "She believed in it wholeheartedly, that she was doing the right thing, and she was in love" the actor says. "And I think we can all relate to just trying to find your people."
But making Bad Times wasn't all hard work. Spaeny and the rest of the ensemble cast had the luxury of two filmmaking rarities: firstly, that eerie hotel set was fully built and walkable, making everything that happened on it feel all the more organic.
"I would go in there a couple minutes early and just walk around the whole thing, and the details were impeccable," she recalls. "And we had actual rain machines, and the fire in the movie was actually real. So the acting came easily. It was just a giant playground."
The second gift to the actors was that the movie was shot chronologically, which is hardly ever true. For Spaeny, this meant that she went on the emotional journey along with her character and was able to show how the complications of her sisterly bond with Dakota Johnson's Emily develop over time.
The younger actor's first major film role was in Pacific Rim Uprising, which just came out earlier this year. So there's still some trepidation about what each new working environment is going to be like. Spaeny recalls the nerves she felt walking into rehearsal for Bad Times, which immediately disappeared when Johnson spotted her and "took [her] in." She also speaks fondly of how Jeff Bridges (Father Flynn) displayed "that perfect balance of having fun and taking it seriously," and the big brotherly show business advice Hemsworth imparted during some "heart-to-hearts."
An upcoming film added even more huge names to the list of those Spaeny's worked with in her breakout year. In the December release On The Basis Of Sex, the actor plays Jane Ginsburg, the daughter of Supreme Court Justice Ruth Bader Ginsburg. Felicity Jones and Armie Hammer star as young versions of Ruth and her husband Martin in the biopic about the trailblazing judge, and frequent The Leftovers and Shameless director Mimi Leder helmed the ship. Leder is the first female director Spaeny has worked with, and she believes her point of view makes all the difference in this film.
"I think men can try to understand what it's like to be a woman but you can never truly grasp what it feels like being in those moments of being scared or feeling like you don't have a voice," she explains. "The Harvey Weinstein thing broke while we were in the middle of filming, so that was a crazy experience, and just a huge wake up call [that] we really need to be making this movie. So it was very emotional and powerful and a great bonding experience for the women on set."
While Spaeny didn't have the opportunity to meet the real Jane, she says that the production frequently sent "family photos" over to the Ginsburgs, and that the family was extremely involved in the film. Their participation made the work feel personal. "We were really just doing it for Ruth," she says.
But acting in this film and doing the research it required also had the side effect of awakening Spaeny politically. She calls ahead the morning that she visits to ask if we're able to pull up the live results of the Senate vote to advance Supreme Court nominee Brett Kavanaugh to final confirmation, and the mood in the room drops a few degrees when the numbers come in. It's a stark reminder that the fight continues.
"I dove into [politics] headfirst, and I'm still trying to learn," she says. "But I definitely have a fire that lit inside me after doing that film, which I'm so grateful for."