Barack Obama's Favorite Book Of 2018 Is Seriously SO Adorable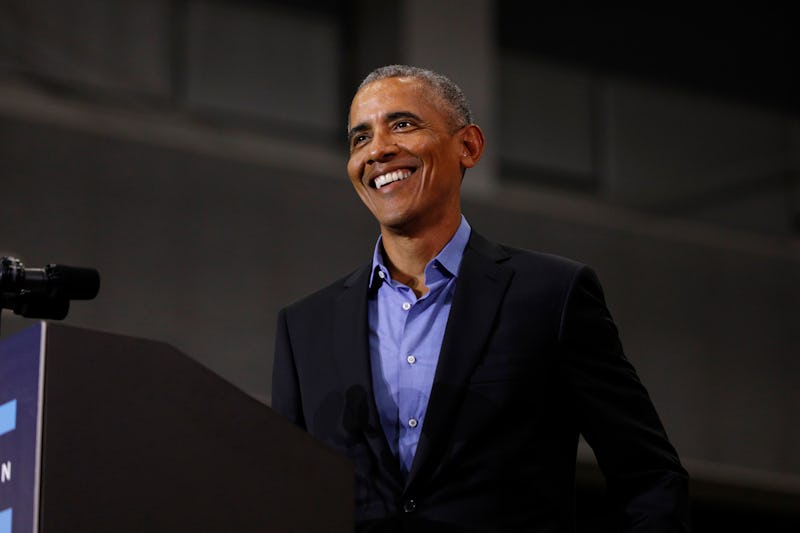 Bill Pugliano/Getty Images News/Getty Images
In a Friday Instagram post, Barack Obama recommended 11 new books on his end-of-year favorites list, which included the former POTUS's favorite songs, movies, and books of 2018. President Obama's favorite books list also included 18 titles that were mentioned on previous lists throughout the year, such as his summer reading list, which was inspired by his post-presidency trip to Africa. His favorite title? Of course, it's Becoming by Michelle Obama, the best-selling book of 2018.
Many of the 11 new books on President Obama's end-of-year list have gotten a lot of attention in 2018. Lisa Halliday's Asymmetry and Tommy Orange's There There were among the year's hot debut novels. The Largesse of the Sea Maiden was the highly anticipated new collection of short fiction from Jesus' Son author Denis Johnson, who sadly passed away in 2017 at the age of 67. Also present on the list is another short-story collection, Florida, whose author, Lauren Groff, also wrote Barack Obama's favorite book of 2015, Fates and Furies.
As you might expect from Barack Obama, this list contains a lot of nonfiction titles in addition to the fantastic works of fiction mentioned above. Among Obama's favorite nonfiction books of the year are biographies of Grand Slam champion Arthur Ashe, Jr. and American abolitionist Frederick Douglass.
Here are the 11 new books on Barack Obama's end-of-year favorites list.