Barbra Streisand Cloned Her Late Dog & This May Be The Most Unexpected News You Hear Today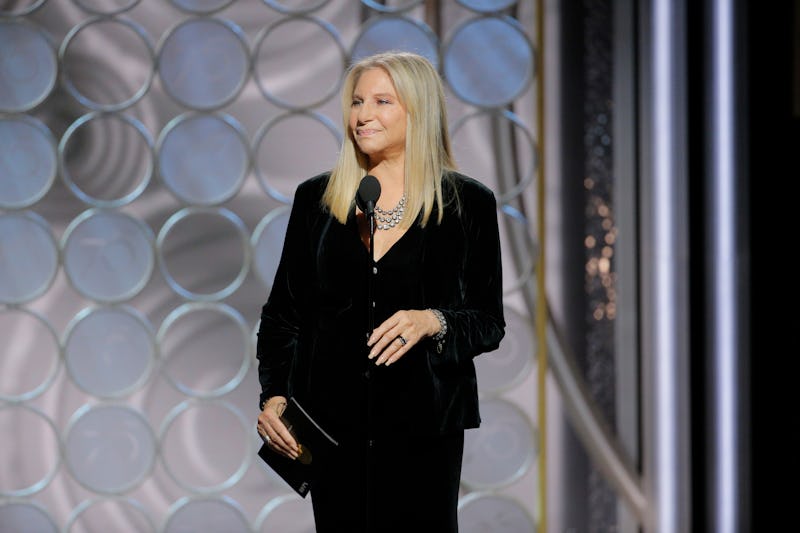 Handout/Getty Images Entertainment/Getty Images
Barbra Streisand is featured on Variety's cover this week. And while the far-ranging interview includes candid statements about topics like Harvey Weinstein, President Trump, and sexism in Hollywood, people are latching onto a very specific detail from the story. Apparently, Streisand cloned her late dog Samanta, resulting in the two dogs she currently owns.
The two-time Oscar winner was photographed with her three dogs for the magazine. And if two of the dogs, Miss Violet and Miss Scarlett, look especially alike, it's not a coincidence. Miss Violet and Miss Scarlett reportedly share DNA with Streisand's late dog Samantha, who passed away last year at age 14. Variety refers to Streisand's third dog, Miss Fanny, as a "distant cousin" of the late Samantha, a phrase Streisand herself has also used on Instagram.
So how, exactly, did the "cloning" process happen? Streisand explained to the magazine that cells were removed from Samantha's stomach and mouth while she was still alive. Those cells were then passed on to Miss Violet and Miss Scarlett.
It looks like Streisand has a sense of humor about her nontraditional pets, too. Apparently, the singer and actor suggested to Variety that the photo of her and the dogs be titled "Send in the Clones." If that wasn't funny enough, it's also pretty clever why Streisand named the pets Miss Scarlett and Miss Violet. In conjunction with their names, the dogs wear shades of red and purple so the actor can tell the Coton de Tulears apart, which might just be the only downside of having two animals cloned from the same dog.
Still, it sounds like Streisand is waiting to see if Miss Scarlett and Miss Violet resemble Samantha in more than just looks. She told Variety,
"They have different personalities. I'm waiting for them to get older so I can see if they have her [Samantha's] brown eyes and seriousness."
And while the new dogs may look quite similar to Samantha, it looks like they'll never replace Streisand's original pup in her heart. Last May, Streisand shared a heartbreaking photo of herself holding Samantha and remembering her 14 years of life. She captioned the photo,
"Jason took this pic of me holding Sammie on Mother's Day. This is the last time my picture was taken with my beloved girl Samantha. May she rest in peace. We cherish every moment of the 14 years we had with her. May 2003 - May 2017."
In a November interview with the Associated Press, Streisand compared Samantha's death to "losing a child," adding that the late dog "was at every performance" she gave. Streisand also shared a sweet photo of the late dog on Instagram last November. "Missing my girl Samantha. Look at those eyes... the depth in them. Her Mom xo," she wrote.
Over the course of the Variety interview, Streisand also called Harvey Weinstein "a boorish guy," adding that she wasn't aware of his alleged assault and harassment. (Weinstein has repeatedly denied the allegations against him.) Streisand also shared her experience facing sexism as a movie director — the whole interview is worth a read. The fact that she cloned her dog is interesting, for sure, but it's also worth remembering how far Hollywood still has to go ahead of the Academy Awards this weekend.
Pet cloning is an expensive process, so most of us don't have the option of reviving late pets. But it looks like Streisand found a unique way to keep Samantha's spirit with her, even after she passed away. Samantha may be gone, but at least Streisand has her other dogs to keep her company through the good and the bad.