Becca Just Defended Tia With A Lengthy, Sweet Statement That 'Bachelor' Nation Should Read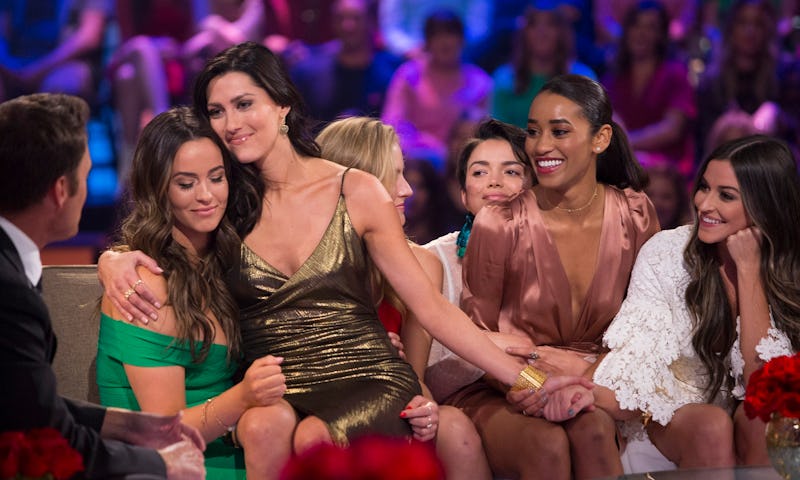 ABC/Paul Hebert
Controversy shook Bachelor Nation again Monday night, when Tia Booth admitted that she still has feelings for Bachelorette contestant Colton Underwood. The admission prompted serious upset from fans who were excited to see things really heating up between him and Becca Kufrin. But, judging by Becca's statement defending Tia to Bachelorette fans, it sounds like this season's Bachelorette isn't hanging onto any lasting bitterness. Suffice to say, fans still feeling some type of way about the whole Colton-Tia situation probably ought to give this one a read.
And, just so everyone's on the same page from the get-go: Yes, Becca and Tia are still friends. The Bachelorette made that patently clear in a lengthy message to fans via her Instagram story Tuesday afternoon, July 17. "To those who have been bashing Tia, please take a moment to reflect on how it would feel if someone said such hurtful things to you or a friend of yours," Becca wrote, kickstarting the statement.
After reading through the remainder of Becca's especially sincere (and delightfully no-nonsense) message in defense of her friend, it seems she couldn't have penned a more appropriate opening line. Anyone wondering why should look no further than the statement's proximate string of paragraphs. In a move characteristic of the famously down-to-earth Bachelorette, they're all about the merits of friendship — and why fans really need to stop judging hers.
"Tia and I went on a TV show for the chance at love that would be portrayed to the world, but that doesn't mean we signed up for others to make such harsh judgements based upon what is shown in only two hours," Becca continued, adding that fans "spewing hatred" without actually getting to know any of the parties involved in the situation in the first place really isn't fair. "Everyone is entitled to their own opinion but that shouldn't allow for people to vocalize such hatred when it's not warranted," she wrote.
Residents of #BachelorNation who've paid a visit to pretty much any one of the current Bachelorette's social media platforms over the last 18 hours or so have likely seen those hurtful comments Becca's referring to in Tuesday's statement. But for those who haven't, much of the fan-fueled backlash directed at Tia basically amounts to a question of whether or not she's a "real friend" to Becca. As evidenced by the slew of Tia-related gripes on Twitter Monday night, it sounds like at least a sizable chunk of Becca's followers were pretty adamant in their belief that she's not.
In fact, even after Becca defended Tia on Twitter for the first time following Monday night's Bachelorette episode, the fan-fueled backlash continued to pour in. "REAL FRIENDS DON'T DO THAT TO ONE ANOTHER," one Twitter user wrote, pretty obviously referring to Tia's conversation with Becca during Monday's show, in which the Bachelor alum finally came clean about her feelings for Colton.
But, much like Becca said in Tuesday's statement, those fans don't actually know Tia. So how can they possibly know if she's a "real friend" to Becca? Fortunately, the latter portion of the Bachelorette's most recent statement seemed to set the record straight on that front. Singing her friend's praises, Becca's statement continued with a little glimpse into all those reasons why Tia definitely isn't the wily man-stealer the internet's been making her out to be. "Tia is a kind, strong, upfront, funny, spunky and caring woman," Becca wrote in the statement, adding that Tia has a "huge heart" and "if anyone sat down with her for three minutes they would realize that."
Responding to Becca's comments in a follow-up message via her own Instagram story Tuesday afternoon, Kendall Long (the Bachelor alum who vied for Arie's heart earlier this year alongside both Becca and Tia) pointed out what seems to be the most important takeaway from all of this, in just a handful of words. She said,
"The main reason why I love all the girls on the Bachelor season is because they're all supporting each other. We're all women supporting women. And regardless of the dramas that may happen, we all have each others' best interests in mind."
While Bachelor Nation might not know these women personally (much as we'd love that), it's not incredibly difficult to believe that Kendall's claims are true. After all, fans have listened to Becca talk about how much she loves her BFF Tia time and time again, on the show as well as in real-life. And if Becca's statement urging the internet to back off her pal is any indication, it seems fans should trust that, when it comes to her relationships — romantic, platonic, or somewhere in-between — this Bachelorette knows what she's doing.