Benefit Brought Back Its Most Popular Brow Product & Twitter Is Freaking Out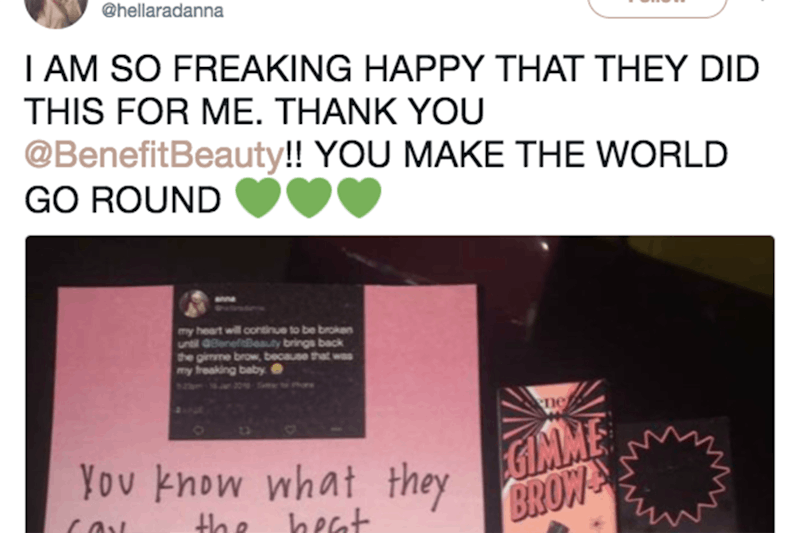 @hellaradanna/Twitter
Benefit Cosmetics has built a reputation as a brand that'll do just about anything for its customers. That's how the company got its start after all — Benetint, the first product they ever created, was brought to life in 1976 as a request from an exotic dancer who wanted her nipples to look more flushed while she performed. Though the requests they receive now aren't always as risqué, the brand often responds directly to requests on social media, sometimes delivering new products based solely on customer asks. Most recently, Benefit Cosmetics decided to surprise their Gimme Brow superfans with the brand new reformulation before anyone else in the entire world had the chance to try it, beauty influencers and beauty editors included. Needless to say, these fans were nothing short of shook.
In case you missed the news, Benefit's most popular brow product, a volumizing eyebrow gel called Gimme Brow, is finally making its comeback on March 13 after it was voluntarily recalled by the company in October 2017. While Benefit's customers took to social media to share their excitement on March 7, it was a drastically different tone from all of their tweets about the recall over the past few months. "My heart will continue to be broken until @BenefitBeauty brings back the gimme brow, because that was my freaking baby. 😭," tweeted @hellaradanna in January. She wasn't alone. According to Benefit, hundreds of fans voiced their desperate cries on social media, begging them to bring back their beloved brow product.
Benefit knew just how devastated these customers were, so to make up for Gimme Brow's months-long absence, they decided to reach out to these super fans with a little surprise: the brand new Gimme Brow+ in their mailbox, before the rest of the world could get their hands on it.
Here are all of the seriously sad tweets fans sent out about Gimme Brow's recall and their reactions when they unexpectedly received the product on their doorsteps.
1. The Dwindling Emergency Stash
On Jan. 19, Lizzie Navarro used an impatient Homer Simpson GIF to express her anxiety about Gimme Brow being gone from her life for so long.
Benefit's surprise package couldn't have come at a more perfect time, it appears. How sweet!
2. No Good Dupes
Brittanee Kwan tried her hardest to find a good dupe for Gimme Brow, but much to her disappointment, everything she tried was "trash" in comparison.
Kwan is beyond stoked she no longer has to settle for inadequate alternatives.
3. The Makeup Struggle Is Real
Life is really, really hard without your favorite eyebrow gel. Just ask Jess, who shared this distressed tweet last December.
There's no official word on how long Jess waited to start using her Gimme Brow+ again, but we're going to guess it was somewhere around 30 seconds after sending this tweet.
4. Life Ruiner
There are different stages of grieving and sometimes sadness can turn into anger, like it did for Chelsea Feliccia in late January.
It looks like Feliccia has forgiven Benefit Cosmetics and they are back in a happy relationship again. Phew!
5. You're A Heartbreaker
How could you take Anna's baby away, Benefit?! The tweet she sent out on Jan. 15 was a tad bit dramatic, but if you've had a bad brow day, you get it.
Let bygones by bygones.
6. Suffer No More
On Jan. 7, Kayla Meloy shared that she just about had it with the recall. She needed more Gimme Brow in her life, stat.
Rejoice — the suffering is over!
7. Goodbye Happy Days
Hope you didn't have to interact with T Ann on Oct. 26, 2017 — she was not in a good mood.
We are all T Ann, "screaming" with joy after experiencing such a devastating makeup loss.
8. All Of The Teary-Eyed Emojis
Syd just about had it with having to wait months for Gimme Brow to come back. She needed it back in her life like, yesterday.
Hooray for happy brows!