Bernie Sanders Apologized After A 2016 Staffer Claimed His Advisor Forcibly Kissed Her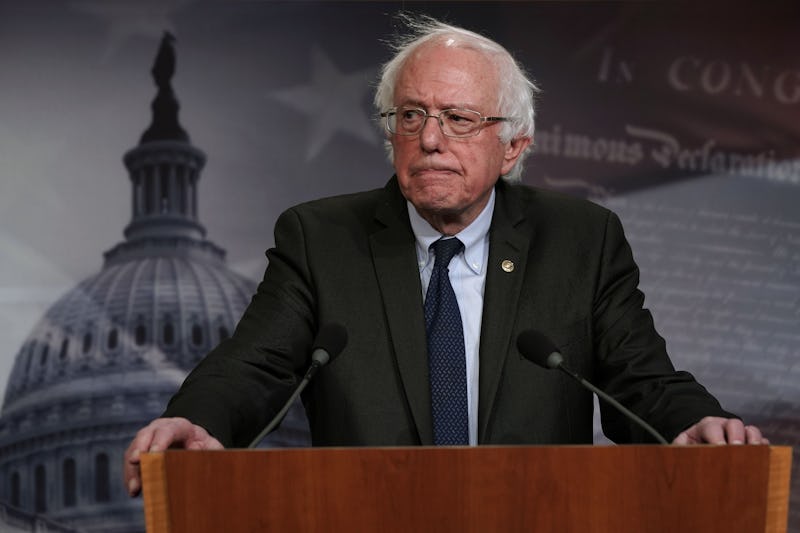 Alex Wong/Getty Images News/Getty Images
On Thursday, for the second time, Vermont Sen. Bernie Sanders apologized for any sexual harassment that employees of his 2016 presidential campaign allegedly engaged in, acknowledging in a statement that "our standards and safeguards were inadequate." The statement comes a day after Robert Becker, one of Sanders' 2016 advisers, was accused of forcibly kissing a subordinate during the campaign.
Bustle has reached out to Becker, who has denied the allegations, for comment.
"It now appears that as part of our campaign there were some women who were harassed or mistreated," Sanders wrote in a statement posted to Twitter. "I thank them, from the bottom of my heart, for speaking out. What they experienced was absolutely unacceptable and certainly not what a progressive campaign, or any campaign, should be about."
The accusation against Becker came a week after separate reports of sexual harassment, pay inequity, and general sexism on the Sanders campaign. In his apology Thursday, Sanders addressed those who were "harassed or mistreated" on his campaign, but he did not specifically address the allegations against Becker.
"To the women in that campaign who were harassed or mistreated, I apologize," Sanders, who is widely believed to be weighing a 2020 presidential bid, wrote.
Shortly before the new year, over two dozen people who worked on Sanders' 2016 campaign signed a letter to his office regarding "sexual violence and harassment" in the campaign. Several of those allegations were subsequently detailed in a New York Times report; former Sanders campaign workers said that they were sexually harassed during the campaign, and that their superiors didn't treat the reports seriously or take any action to address them.
Former employees of the campaign also say that women were in many cases paid less than their male counterparts, though they also say these pay disparities were rectified when brought to the attention of higher-ups on the campaign.
In his statement Thursday, Sanders said that his team implemented policies in 2018 to protect employees. "During my recent 2018 senate re-election campaign we established some of the strongest sexual harassment policies in the country," Sanders wrote. "They included training on the issue for all employees and an opportunity for any women who believed she was harassed to call an independent human resources firm, separate from the campaign, to voice her concerns."
During the 2016 campaign, Becker was Sanders' Iowa state director, and later his deputy national field director in Michigan, New York and California, Politico reports. CNBC reported in December that Becker had traveled to South Carolina to meet with potential staffers for a possible Sanders 2020 bid, though according to Politico, he isn't on Sanders' payroll.
Sanders' campaign committee, Friends of Bernie Sanders, said in a statement Thursday that if the Vermont senator runs for president in 2020, Becker won't be part of his campaign.
"To be clear: no one who committed sexual harassment in 2016 would be back if there were a 2020 campaign," the committee told Politico, adding that Becker's alleged behavior is "deplorable and fundamentally unacceptable."