You Can Now Buy Super Cute CBD Marshmallows To Sprinkle On Your Hot Chocolate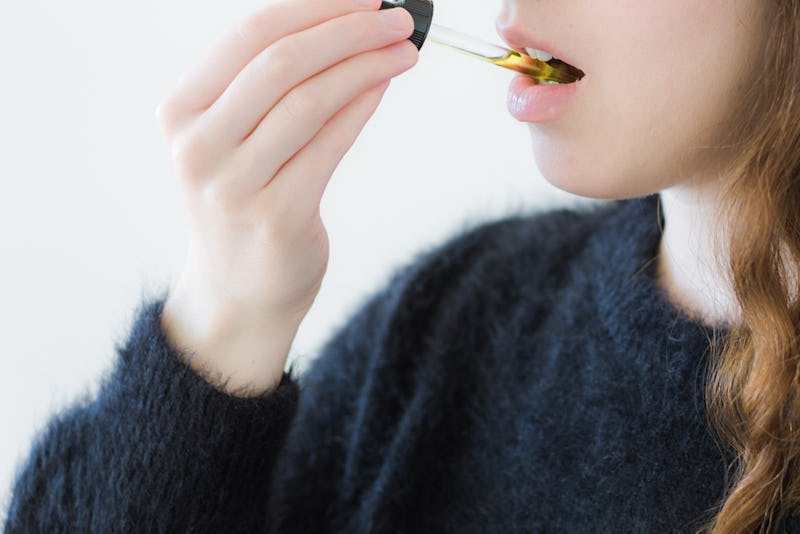 Shutterstock
Fans of more natural ways to treat aches, pains, mental health issues, and well — just about anything, might well have read up on the medicinal properties of CBD. The buzz ingredient of the moment, CBD has in the past has met some skepticism due to it being derived from cannabis plants. However, it is now legal to buy CBD in the UK. And with so many options out there, the question is: which are the best CBD oil products available in the UK?
Cannabidiol, or CBD, is one of 104 chemical compounds found in the marijuana plant. CBD does not contain the main psychoactive substance found in cannabis, tetrahydrocannabinol or THC as it is more commonly known. So in layman's terms, it doesn't get you stoned but it does purport to contain some of the medicinal compounds of the plant. These compounds have been used for a long time, according to a 2017 study by Rutgers, The State University of New Jersey, it may well have been used up to 5,000. Babe, as Bustle reports, even Queen Victoria used to use medical marijuana.
After much debate it has become legal to use CBD oil and products in the UK as there is some evidence to suggest it can help alleviate the symptoms of certain medical conditions. A report by the World Health Organisation in 2017 found that CBD has can help treat the symptoms of for conditions including Alzheimers and Parkinson's disease as well as helping with physical pain, anxiety, and depression.
Multi beneficial and from a natural source? What's not to like?