Beth's Fate In 'This Is Us' Season 3 Has Been Revealed & It's Pretty Exciting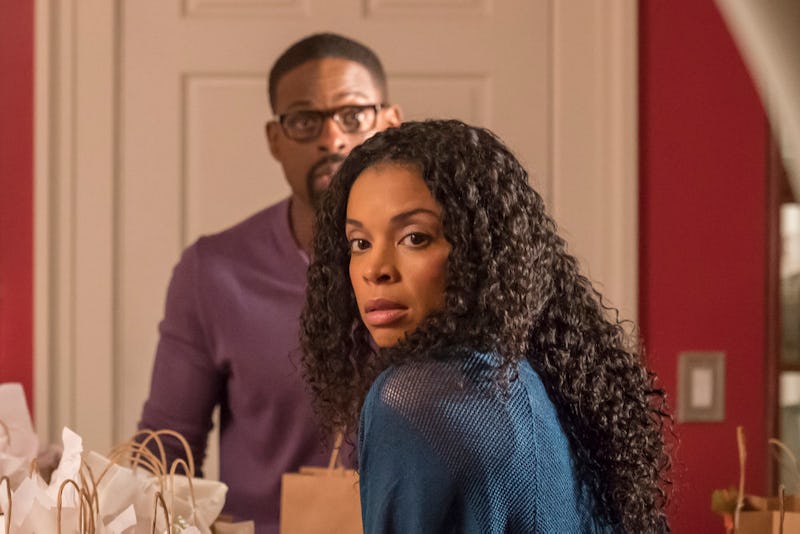 Ron Batzdorff/NBC
As viewers patiently await the return of This Is Us, news that Beth Pearson will survive Season 3 is a reveal that all fans can get behind. Actor Susan Kelechi Watson, who plays Randall Pearson's hilarious and level-headed wife on the beloved series, promised that her character will make it until the end of the upcoming season of the show. In a recent interview with Entertainment Weekly, the actor revealed that the she had a conversation with the series' creator Dan Fogelman and he assured her that "they're not going to kill Beth."
Fans were left in a cloud of mystery following the show's Season 2 finale when an ending scene sparked speculation about the fate of one the show's female characters. The scene featured Randall telling his adult daughter that it's time "to go see her," to which Tess apprehensively replies that she isn't prepared to handle the moment that lies ahead. The cryptic dialogue, which offered absolutely no indication about who Tess and Randall might have been speaking of, left viewers scrambling to make sense of the conversation. While many surmised that Kate, Rebecca, Annie, and Deja could all meet the criteria of being the "her" in question, it seemed more likely that the scenario would be about either Beth or Deja, given that they are both a large part of Tess and Randall's storyline. Though it's unclear what exactly is taking place in the scene, one of the many theories was the idea that Randall and Tess were about to visit Beth at the hospital or cemetery, according to EW.
Watson explained to the outlet that the thought of Beth dying in the upcoming season had never even crossed her mind until fans began sharing their thoughts on social media. She said,
"I didn't know that I was going to die. It didn't even cross my mind, so when I saw people tweeting about it, writing articles about it, I was like, 'Oh, they're kidding!' My first thought was, 'Oh, this is hilarious." And then people really took it seriously."
Even Watson's mother was convinced that her daughter's character would be meeting her end on the upcoming season. "My mom was like, 'I'm not going to watch this show next season,' I was like, 'Why?' She's like, 'Because they're going to kill you, and I don't like it,'" Watson recounted. Fortunately, Watson revealed she went straight to the man in charge to assure her mother that she could, in fact, continue watching the series. "And I was like, 'Mom, they're not going to kill me!' Dan and I spoke about it — they're not going to kill Beth. She's going to survive. It feels good to know."
Back in February of this year, Sterling K. Brown, who plays Beth's husband Randall on the show, reassured Bustle that catching a glimpse of an older version Beth is, in fact, a possibility in the upcoming season. Another clue fans believed pointed to Beth's end came from a photo of older Randall in a hospital room on Instagram. The Emmy Award winning actor explained that the chatter about Beth's death is "just a rumor."
He went on to say that the photo was just a makeup test for older Randall, which happened to be taken on the same day Mandy Moore and Milo Ventimiglia were shooting hospital scenes for the Super Bowl episode. "So the only reason the picture was taken in a hospital was for that reason, so no one needs to worry about Beth," he told Bustle.
In an April interview with the LA Times, Watson shared that fans will soon learn more about Beth and her background. "That's something we're going to learn about in Season 3 — that she has a Jamaican background," Watson revealed. "Seeing how that plays into her life, who does she go to for advice and help outside of the Pearson clan...she's like a slow-peeling onion," she added.
No doubt parts of Beth's Season 3 storyline will follow the This Is Us tradition of making audiences sob. Beth might not be dead on This Is Us, but she's still definitely going to make you cry.