This Pic Of Blue Ivy & Beyoncé Shows Just How Excited They Were About 'A Wrinkle In Time'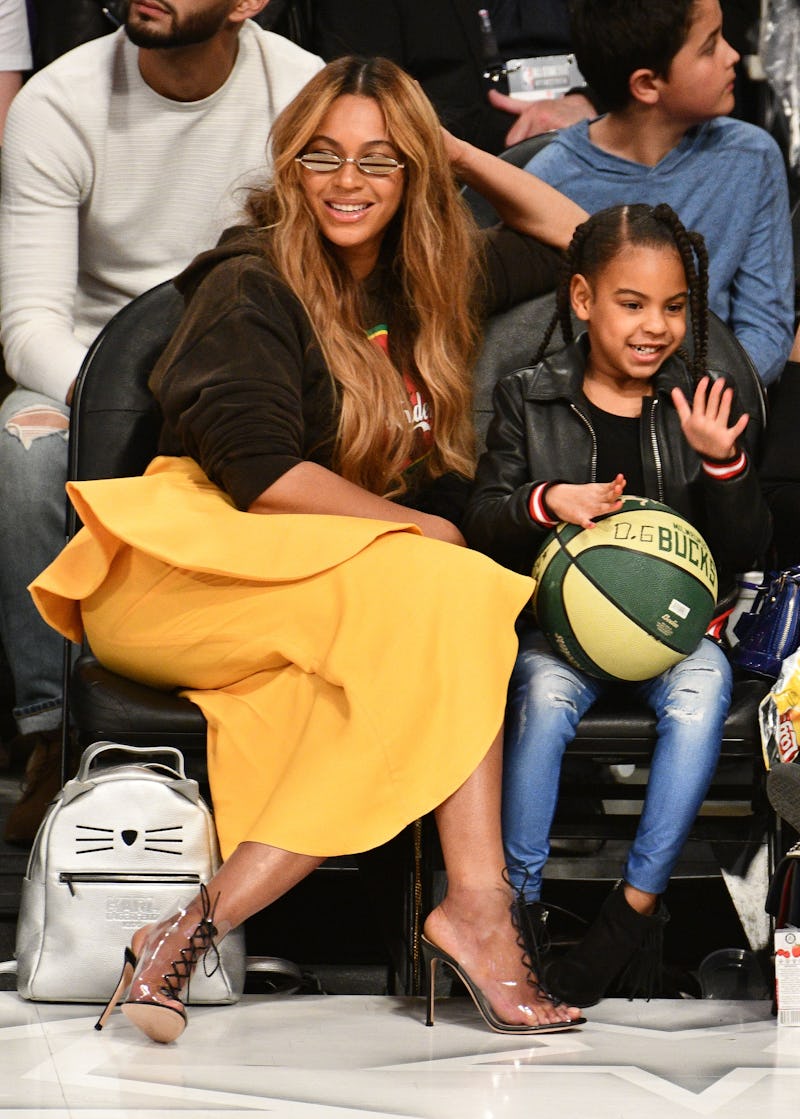 Allen Berezovsky/Getty Images Entertainment/Getty Images
Mother-daughter time is always exciting, but Beyoncé and Blue Ivy Carter were literally jumping with joy when they spent a night out together. Beyoncé and her daughter went to see A Wrinkle In Time together, and because they are who they are, this was no ordinary movie date. They attended the film's first public screening at El Capitan Theatre in Los Angeles on Feb. 26, where the cast was also in attendance. A Wrinkle In Time will be released everywhere on March 9, but Beyoncé and her daughter were part of the first group of people who got to see the movie, which so importantly features a diverse cast and a biracial character in the lead role.
As Entertainment Tonight reported, Beyoncé and Blue didn't actually walk the blue carpet at the premiere — which is a missed opportunity because of Blue's name alone — but Bey still stunned in the photos she shared on Instagram of herself in a short white floral dress. (And if you scroll through her Instagram gallery below, you can see her and Blue jumping around.) Beyoncé has a working relationship with the director of A Wrinkle In Time, Ava DuVernay, since DuVernay was at the helm of JAY-Z's "Family Feud" music video, which featured Beyoncé, Blue, and A Wrinkle In Time stars Mindy Kaling and Storm Reid.
So, perhaps it wasn't surprising that Beyoncé's photos of the premiere on her website showed that JAY-Z was also in attendance — perhaps he took the photos of Bey and Blue. (As twins Rumi and Sir are only 8 months old, they must have stayed home.) But since the movie is about a daughter's search for her father, A Wrinkle In Time is perfect for a kid to see with either or — in the case of Blue Ivy — both of her parents.
Beyond A Wrinkle In Time being a kid-friendly Disney movie based on a beloved children's book by Madeleine L'Engle, there's another reason this movie is so meaningful for girls — particularly, girls of color — to see. DuVernay cast Reid, an African-American actor, in the lead role of Meg. Months before the premiere, Reid told Entertainment Weekly, "It means everything to be a girl of color and play Meg Murry." The 14-year-old continued:
"It's just surreal because I get to empower other little African-American girls around the world and say that you can be a superhero and you rock and you can conquer the world and you are beautiful just the way you are and your flaws are nothing and you're awesome. It feels really good to be able to inspire not only little girls [but] everyone."
Blue is one of those little girls who Reid gets to inspire through her role. And, just like Queen Bey did in her Instagram post about the premiere, Reid appeared to do a little twirl about A Wrinkle In Time, too.
Another connection that Beyoncé's family has to the movie is the fact that star Oprah Winfrey mentioned her character was channeling the music icon's style. Oprah has previously stated to news outlets like Vanity Fair that her character Mrs. Which is a cross between Maya Angelou and Glinda the Good Witch from The Wizard Of Oz. But on the carpet at the premiere, she told Entertainment Tonight that Mrs. Which looks like "Beyoncé's aunt."
In response to Nancy O'Dell's question on Mrs. Which's costumes, Oprah said, "It's a whole lot to put on, but when I did the whole scene out in the middle of the grasses and the golden grasses, I thought, 'I am a relative of Beyoncé — a distant relative of Beyoncé.'" So it was only right that Mrs. Which's niece — and grandniece — were there to see the film's premiere.
While it's rare that people have the opportunity to do as Beyoncé does, plenty of parents will surely follow her lead and take their kids to see A Wrinkle In Time once it's out on March 9. Sure, you might not know the director and A-list cast personally, but DuVernay's world of representation is essential for everyone — not just young girls of color — to see.