Ava DuVernay's Behind-The-Scenes Tweets From JAY-Z's Video Will Make You Love It Even More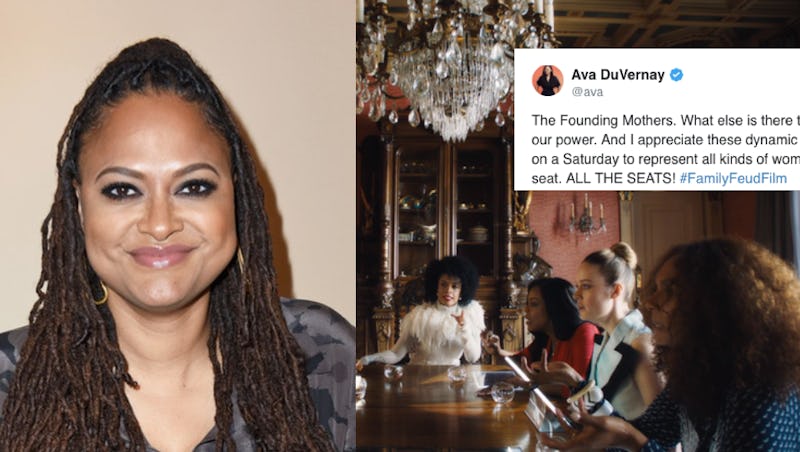 Vivien Killilea/Getty Images Entertainment/Getty Images; TIDAL; Ava DuVernay/Twitter
JAY-Z recruited some of the biggest names in Hollywood like Jessica Chastain, Thandie Newton, Rosario Dawson, and Michael B. Jordan to help carry out his vision for his star-studded music video for "Family Feud," but the rapper struck gold in getting Ava DuVernay to fill the director's seat. The 8-minute video made its debut on TIDAL on Friday and shortly after, DuVernay tweeted about "Family Feud," giving fans a deeper look into the meaning behind a few of the moments that are getting the most attention.
"Family Feud" sees JAY-Z, Beyonce, and Blue Ivy starring in some scenes inspired by The Godfather, but that's not before viewers are delighted with a few cameos from some of Hollywood's power players. Stars like David Oyelowo (Selma), Brie Larson (Marvel's Captain Marvel), Omari Hardwick (Power), Rashida Jones (Parks and Recreation), and plenty more made appearances in the short film, sparking lots of conversation on social media.
Shortly after "Family Feud" premiered on the streaming service, director DuVernay took to Twitter to share some behind-the-scenes photos from the video's production, going into detail about what the scenes meant to her and the story itself. She also thanked JAY-Z, calling the collaboration a "pleasure and an honor."
She starts off the thread by explaining that the video's very first scene — set in the year 2444 and featuring Michael B. Jordan (Black Panther), Trevante Rhodes (Moonlight), and Thandie Newton (Westworld) — focuses on the "errors" that occur within families.
"All families hurt each other. Mistakes are made. Expectations unmet. Jealousies fester," the tweet reads.
Given her explanation, the scene's theme has a bit of a correlation to the rumors of JAY-Z's infidelity that Beyonce originally sparked when she released Lemonade back in 2016. Jay later confirmed he cheated on Beyoncé in an interview with New York Times' T Magazine in November.
DuVernay follows that insight up by mentioning the next scene that features Hardwick sitting alongside Chastain and Irene Bedard (The Mist, Pocahontas). The director starts off her tweet by teasing what the scene is about before deciding against it and writing that the scene can be left up to the viewer's own interpretation instead.
Though the Selma director is willing to let the viewers decide what the scene is actually about, she does still detail what that scene in particular means to her. According to her tweet, Hardwick and Bedard live in a futuristic society in which they serve as co-presidents of the United States. DuVernay makes a note about how important it is that, not only are both parts of the duo people of color, but one of them also happens to be a Native-American woman.
"We had fun dreaming this up. This country will not stay the same. #ChangeIsComing," she wrote.
The next scene takes a leap back in time — with Hardwick's voice from the previous scene still narrating in the background — to a moment in 2148 involving Oyelowo and Emayatzy Corinealdi, who both starred in the DuVernay's 2012 film Middle of Nowhere. The characters, Brian and Ruby, are "back and reincarnated as keepers of the peace."
DuVernay also enlisted the help of A Wrinkle in Time's leading lady Storm Reid and America Ferrera to bring to life a war scene set in 2096. She wrote,
"Change sometimes require force. A vision of freedom fighters. A world of warriors for good. My thanks to @AmericaFerrera, @AishaHinds, @HenryGSanders and WRINKLE IN TIME's very own @StormReid for answering the call to fight. #FamilyFeudFilm"
Next is a scene that social media can't seem to get enough of — one that involves what the director calls the Founding Mothers of the future, who get together to rewrite the Constitution. The all-star lineup of women features Constance Wu, Niecy Nash, Rashida Jones, Brie Larson, Janet Mock, and Mindy Kaling, among others. But the scene-stealer turns out to be This Is Us star Susan Kelechi Watson, who plays Blue Ivy as the group's future president.
DuVernay finished up the thread with a few photos of JAY-Z, Beyonce, and Blue Ivy filming in a church, praising the family for being their "brilliant, black, brave, bold selves."
"Family Feud" generated a ton of buzz online since its release, and it was all for the right reasons, of course. The 8-minute short film's inclusion of endless girl power, diversity, and social consciousness proves that the Carters have once again outdone themselves in creating another visual masterpiece. With all this background information from DuVernay in mind, don't be surprised if you wind up watching the video a bunch more times before the weekend ends.