Beyoncé's 'Lemonade' Took Home Another Major Honor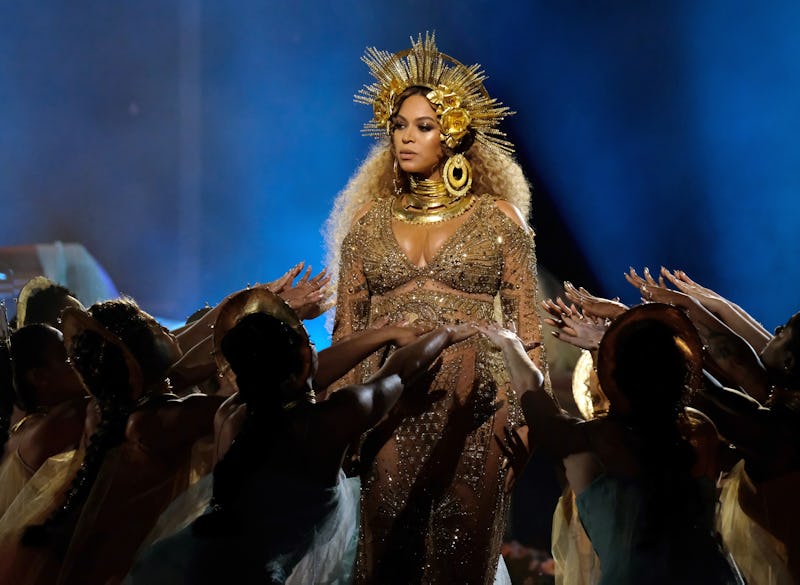 Larry Busacca/Getty Images Entertainment/Getty Images
It's shaping up to be the year of Beyoncé — although, really, isn't every year the year of Queen Bey? She's ready to bring two more perfect angels into the world, gave everyone life with her gravity-defying, celestial performance at the Grammy Awards, and if you thought it couldn't get any better, hold up, because on Thursday, Beyoncé's visual album Lemonade won a Peabody Award. It almost makes up for her still confusing snub for Album of the Year at the Grammy Awards (the operating word being almost; the Beyhive won't soon forget). The prestigious accolade also makes that snub look even more glaring and tone-deaf.
The Peabody Awards Board of Jurors released the seven winners in the entertainment category on Thursday, and shared the reason Lemonade social was bestowed the honor as follows:
Lemonade draws from the prolific literary, musical, cinematic, and aesthetic sensibilities of black cultural producers to create a rich tapestry of poetic innovation. The audacity of its reach and fierceness of its vision challenges our cultural imagination, while crafting a stunning and sublime masterpiece about the lives of women of color and the bonds of friendship seldom seen or heard in American popular culture.
That's right: The Peabodys are justly honoring Beyoncé's celebration of black womanhood that runs so fiercely through Lemonade.
The accolade is a confirmation of the cultural legacy of the visual album. Not only a stunning work of art, but a paragon of black feminism. Among the honors that Beyoncé has already received for the work are three BET awards, 11 MTV Music Award nominations and eight wins, and four Emmy nominations. She also took home five NAACP awards, including Outstanding Female Artist and Outstanding Album.
And then, of course, there was the 2017 Grammy Awards, with perhaps one of the most egregious snubs in awards show history: not giving Lemonade the biggest trophy of the night for Album of the Year, which went to Adele for her album 25. Yes, Adele's 25 was a great album and sold extremely well, but Lemonade was singular and revolutionary.
Even Adele, in her acceptance speech, was overwhelmed and embarrassed to have taken the win over Beyoncé's Lemonade. "I can't possibly accept this award. I'm very humbled and I'm very grateful and gracious, but my artist of my life is Beyoncé," she said. "And this album for me, the Lemonade album, is just so monumental, Beyoncé, so monumental."
Later, backstage, she asked the question that everyone was wondering: "I felt like it was her time to win. What the f*ck does she have to do to win album of the year?"
But the Peabody Awards recognizing the genius of Beyoncé's Lemonade takes the edge off a little — and makes clear just how wrong the Grammys got it. The music and visuals of Lemonade are a cultural touchstone of this moment, and that kind of work deserves all the accolades.