Why We All Wanted Beyoncé To Win At The Grammys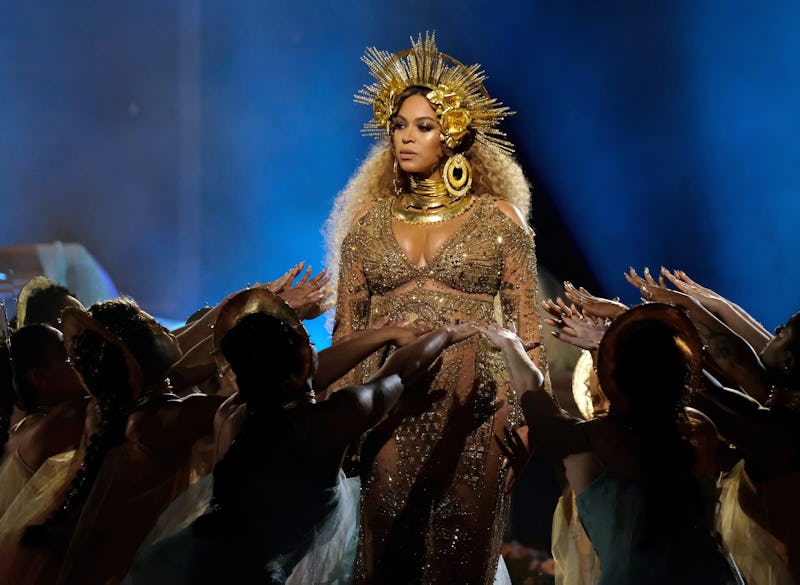 Larry Busacca/Getty Images
On Sunday, February 12, 2017, Beyoncé won a Grammy for Best Urban Contemporary album and stood on the stage with a prepared speech about her intentions with Lemonade: "It's important to me to show images to my children that reflect their beauty, so they can... see themselves and have no doubt that they're beautiful, intelligent, and capable. This is something I want for every child of every race." And it's a good thing she had this prepared, because that was to be Beyoncé's last award of the night. When the time came to bestow the prestigious Album of the Year and Record of the Year, both went to Adele's 25 — something even Adele didn't understand. "The Lemonade album was just so monumental, Beyoncé," she said on the stage, before reportedly adding backstage, "I thought it was her year. What the f*ck does she have to do to win Album of the Year?"
Adele's response underscores the point of this piece, which is that Lemonade should have won Album of the Year. On some level, I can understand why Adele won Album of the Year. 25 was a good addition to the artist's discography, and, as we all know, it was released too late in 2015 to be eligible for the 2016 Grammy Awards. Lemonade may have been the album of 2016, but 25, as late as it came, was the album of 2015. However, when it comes to a lasting legacy, an album that changed the world, and an artist that changed the game with the release of that album, 25 pales in comparison to Lemonade. In the words of Adele herself, "It was so monumental and well thought-out and beautiful and soul-bearing." But those are just the words of a white woman. Let me break down in part what Lemonade meant to me as a black woman.
From the film to the album itself, Lemonade was a work of art celebrating Southern black culture. Symbolically, visually, lyrically, and musically, Beyoncé transcended the lane she had previously been in as a mainstream pop singer. On the surface, Lemonade told a story of infidelity, the worthlessness, anger, depression, and helplessness left behind, underscored by the words of poet Warsan Shire. It then ended on a note of redemption, hopefulness, love, forgiveness, and empowerment, making it clear that black women are not made weaker for our suffering, our pain, no matter the form.
But, as the film made clear, the themes of the album went far beyond simple infidelity. Every stylistic choice that Beyoncé made in how she, and the other women who appeared in the film, were portrayed was clear; their outfits, their hair, their range of brown skin tones and ages, all of it spoke to or reflected African-American culture, families, and standards of beauty. The film celebrated and represented that culture, those families, that beauty, in a way that mainstream pop never does, and thus did Lemonade came to manifest the definition of #BlackGirlMagic. "Formation" declared pride in our African features that are so different from the European standards of beauty with the line: "I like my baby heir with baby hair and afros. I like my negro nose with Jackson Five nostrils."
Mind you, wearing our hair in an afro or dreadlocks can get us fired from our jobs, or make us a source of scorn and perceived unprofessionalism. But Beyoncé devoted a song, an entire film, to declaring with pride that the way black women wear their hair is beautiful, powerful, and empowering. She spoke directly to us about our experience and made a platinum album out of it, driving white people insane with the idea that all music might not be about them.
But it wasn't just about celebrating the beauty of our culture. Lemonade represented a full shift into politics for Beyoncé, who would go on later that year to support Hillary Clinton's presidential campaign and who had previously performed at the MTV Video Music Awards against a giant sign reading FEMINIST.
Several parts of the Lemonade film featured Madewood Plantation House and Destrehan Plantation, addressing America's history of slavery with an album that featured the lyrically powerful song "Freedom." You know, that little song that contained the rallying cry, "I break chains all by myself, won't let my freedom rot in hell. I'mma keep running 'cause a winner don't quit on themselves"? Yeah. The film also highlighted police brutality with shots of a black boy holding his hands up in front of the police, of Beyoncé sitting on a police car amidst a flood, and of the mothers of many of the sons lost to police brutality holding up pictures of their lost kin with tears in their eyes.
And these intersectional politics came at a perfect time. Debuting at the height of the ongoing #BlackLivesMatter movement — many protests would occur throughout the rest of the year — and months ahead of the 2016 presidential debates, Beyoncé bringing visibility to the issues affecting black people made this a presidential race that could not hope to ignore the racial tension in the country. And, when the highest office in our country eventually went to a man who based at least part of his platform on xenophobic and racist policies against Muslims and Mexicans, Lemonade even inspired signs at the Women's March since it is, as Billboard reported in 2016, a "revolutionary work of black feminism."
On top of that, it changed lives and inspired marginalized voices in a way that hasn't been done since Kendrick Lamar's politically-charged To Pimp A Butterfly. In fact, it may have inspired even more people just for the sheer fact that Beyoncé reaches a wider and more mainstream audience than Lamar did when the 2015 album dropped. And, no, I'm not just talking about the effect Lemonade unquestionably had on pop culture.
The album inspired numerous think pieces about the role of black women in America. It paved the way for Alicia Keys' Here, and Solange's A Seat At The Table, both examinations of the black identity, a black woman's place in society, and issues unique to women of color in general that came out in the wake of Beyoncé's Lemonade. It inspired parodies, sparked controversies, and crossed genres, resulting in Beyoncé becoming the most musically diverse artist at the 2017 Grammys; she was nominated for Rap, R&B, Pop, Rock, Music Video/Film & General Fields for the same damn album.
As Solange would reveal in an interview with Beyoncé in February 2017, "You and I were raised being told not to take the first thing that came our way, to build our own platforms, our own spaces, if they weren't available to us." That's exactly what Beyoncé did with Lemonade. She built her own platform, her own space, that wasn't available to her. She proved that you can make music that isn't about white people or necessarily relatable to white people and still sell millions of copies. She inspired and empowered women of color to tell their own stories, to tell their own experiences, and to feel validated in their fight for equal treatment in every aspect of their lives. Through her music, through her film, through her performances, and through the critical response to those performances, Beyoncé showed black women that we can succeed — even excel — just by being ourselves.
For that alone, Beyoncé's Lemonade didn't just deserve Album of the Year. It deserved to singlehandedly cement her status as the most important artist in America. And even Adele knows it.