Beyoncé's Pregnancy Pics Let Her Control Her Story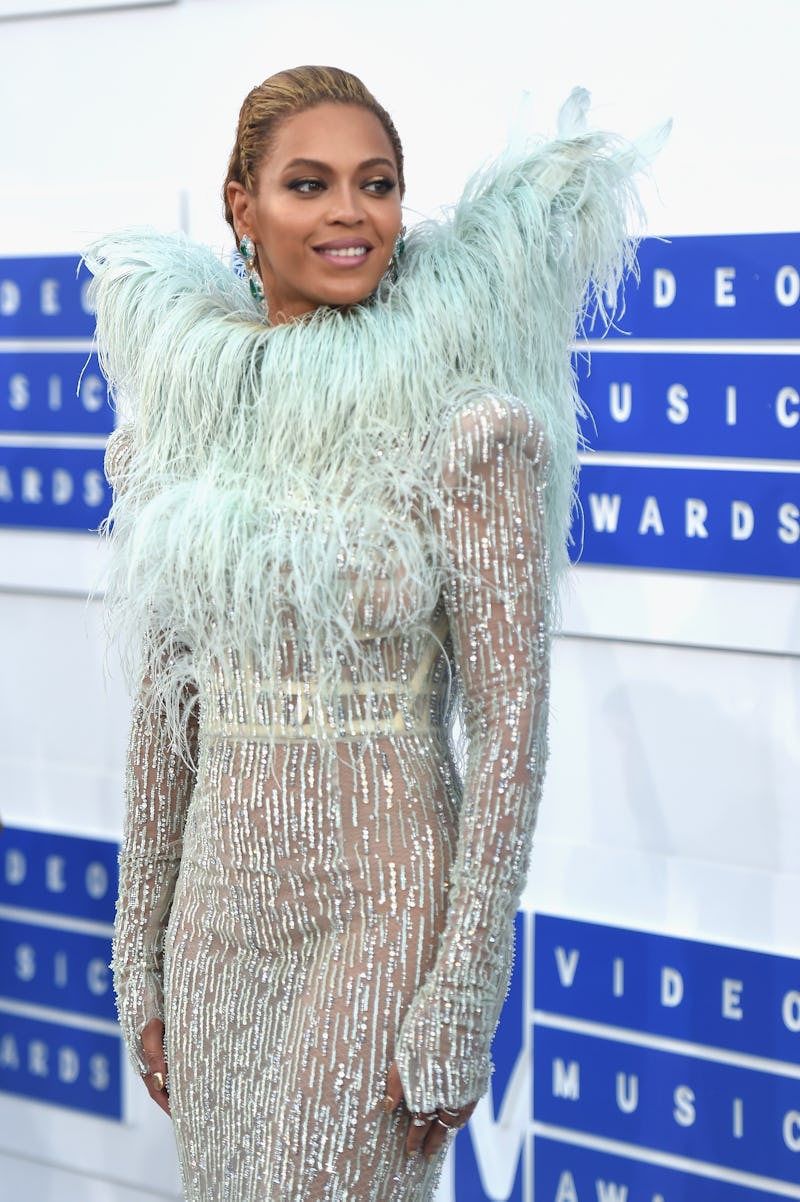 Jamie McCarthy/Getty Images Entertainment/Getty Images
After literally years of rumors that the Queen is expecting her second child, it's finally happening. On Wednesday, Beyoncé announced that she's pregnant — not just with one little sibling for Blue Ivy, but two. She announced the big news on Instagram with one of the most epic maternity shots ever taken, and if you liked that one, you're going to love what she blessed us with less than 24 hours later. Thursday morning, Beyoncé shared more maternity photos on her website, but they're more than just pretty pictures to obsess over. Beyoncé's photos are actually a way for her to control the narrative of this pregnancy from the beginning, and they make an important statement about what she wants the world (and her fans) to know.
Something I've always loved about Beyoncé is the mystique she carries with her. She doesn't make herself as available to fans and the media as many other celebrities do, and that means the details of her personal life are often one big question mark. But now, she's letting us in just a little, and it's about more than just celebrating her pregnancy — it's also her way of remaining in charge of her own story. Oh, and the photos are gorgeous, but that goes without saying.
Take it back to 2011, when Beyoncé was still pregnant with the baby who would become Blue Ivy Carter. Rumors were rampant that the musical legend wasn't actually carrying her own baby; conspiracy theories everywhere accused her of wearing a fake baby bump and hiring a surrogate to carry her baby instead. Of course, no woman should be judged for the way she brings a child into the world, even celebrities, but this time, there's no way that can happen. These photos are evidence that Beyoncé is, without a doubt, definitely pregnant.
And if you were wondering, yes, she did carry Blue Ivy herself, because now, she's sharing more photos from that pregnancy, too.
Bey is the queen of a lot of things, but in her more recent history, she's become the queen of her own public image. When Lemonade premiered on HBO last year, no one saw it coming, but it quickly became all anyone could talk about. Nothing got leaked; no one could have guessed what would happen. To me, her second pregnancy has been revealed the same way.
Rumors happen all the time to everyone who chooses to live in the spotlight, and especially to Beyoncé. She shares so little that we're forced to make guesses about what's happening in her life, but maybe that's exactly why she does it. This time, though, she got ahead of the rumors. Out of the blue, she announced this incredible, huge news herself, and shared the first photos from her pregnancy herself. It wasn't through paparazzi photos in a tabloid, it was all Beyoncé — when and how she chose to announce it.
When her Instagram post went live, I was astonished — and not just because one of my favorite artists and celebrities is expecting again. Somehow, Beyoncé, one of the biggest stars on the planet, is not only pregnant with twins but visibly pregnant with twins, and no one knew until she was ready for them to know. I don't know how she pulled it off, but it's awesome that she did. Having a baby is such a personal thing, and for the Carter family, it's hard (or maybe even impossible) to keep it as private as they might want. But it's just one more example of how savvy Beyoncé has become with her own image, and I'm looking forward to her surprising us in the future, too.
Here's hoping that after the babies are born, another shoot like this one is coming our way — and only when Beyoncé decides it's the right time. For as crazy as the world went over Blue Ivy, I can't imagine how quickly we will all lose our minds when the twins arrive!