Beyoncé Opened Up About JAY-Z's "Evolution As A Man" & How Much He's Supported Her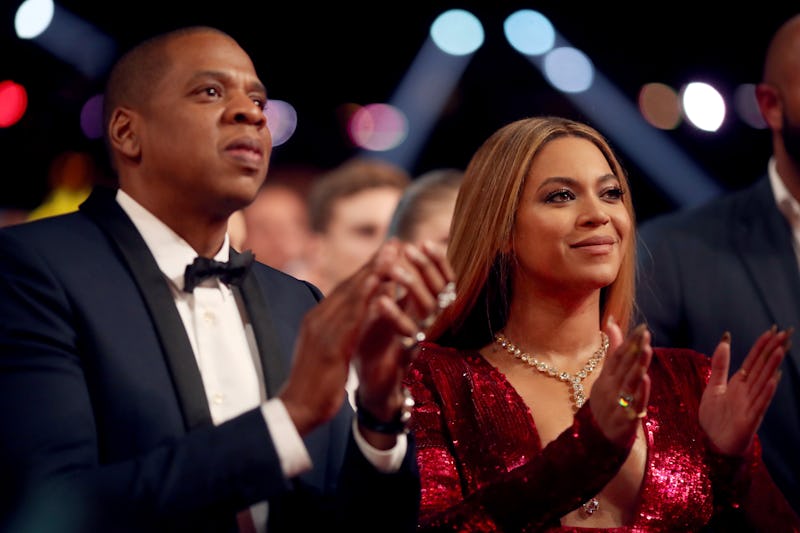 Christopher Polk/Getty Images Entertainment/Getty Images
Beyoncé's new Vogue feature is about as flawless as you'd expect. In addition to the stunning cover, the superstar also gave an incredibly revealing interview on everything from her Coachella performance to family's legacy. Additionally, Beyoncé opened up about JAY-Z and his personal growth and "evolution." And she may have touched upon a very trying time during the couple's marriage.
The "Partition" singer first got super honest about the delivery of her twins, Sir and Rumi. She revealed that after experiencing toxemia and being on bed rest, she had to undergo an emergency C-section for the sake of her own health and the wellbeing of her twins. During the scary situation, JAY-Z was right by her side throughout it all. She said, "My husband was a soldier and such a strong support system for me."
Beyoncé continued to say, "I am proud to have been a witness to his strength and evolution as a man, a best friend, and a father." Now, it's not as though she's directly acknowledging JAY-Z's past cheating drama exactly. However, her wording here, particularly in regard to his "evolution as a man," definitely sounds as though it could be a reference to his changed ways after his indiscretion.
If that is indeed the case, this would serve as the first time that Beyoncé has discussed this cheating ordeal (aside from Lemonade and Everything is Love, of course). Whether it is an intentional reference to the scandal or not, it's certainly still a sweet comment. It's also one that is indicative of the great place that Bey and JAY's relationship is currently in.
Of course, this wouldn't be the first time that one of the Carters has opened up about past drama. As you might remember, JAY-Z confirmed that he had been unfaithful in a revealing New York Times interview with Dean Baquet in November 2017. The rapper revealed that he had been to therapy, where he realized that he, and other men who had grown up in similar situations to him, are wary about sharing their pain with others. He related that this is partly what caused him to cheat. He said,
"You have to survive. So you go into survival mode, and when you go into survival mode what happen? You shut down all emotions. So even with women, you gonna shut down emotionally, so you can't connect ... And then all the things happen from there: infidelity."
Elsewhere in his interview, JAY-Z discussed his own evolution as a person, as heard in his music. He also openly talked about going to therapy even further. The 4:44 singer described that therapy was an amazing experience. He said, "I grew so much from the experience. But I think the most important thing I got is that everything is connected. Every emotion is connected and it comes from somewhere. And just being aware of it."
It's clear that JAY-Z has been dedicated to growing as a person, especially in light of his previous infidelity. And based on Beyoncé's latest statements in Vogue, her husband's "evolution as a man" is one that has helped their bond grown even stronger.