Beyonce's Second Coachella Performance Is Going To Be SO Different Than The First One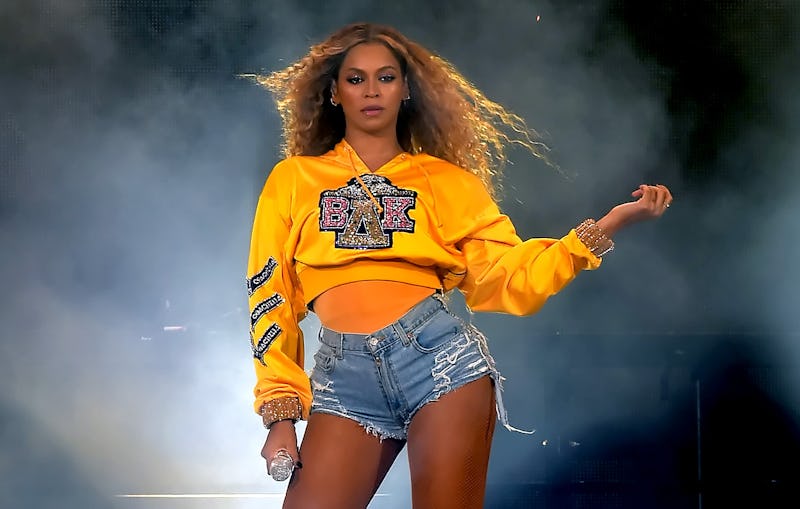 Kevin Winter/Getty Images Entertainment/Getty Images
After Beyoncé completely dominated the Coachella stage during week one, fans haven't been able to stop talking about the many possible changes she might make during the festival's second weekend. And just in case you thought for a moment that weekend two would be a complete replica of weekend one, one of her dancers just confirmed to Variety on Thursday, April 19, that Beyoncé's second Coachella 2018 performance will have several changes.
During the festival's first weekend, Beyoncé made history as the first black woman to headline the festival within its decades long existence, and the entertainer definitely delivered a hard-hitting act to match the accolade. Her homage to the historically black college and university experience, black Greek organizations, and just black culture overall, went over extremely well with fans. And #Beychella has been the main topic of discussion all over the web — leaving many fans to wonder whether or not Bey's stellar weekend two performance will reflect any of the beloved themes from weekend one.
According to one of her male Coachella dancers, Jo'Artis Mijo Ratti, Bey is definitely going to give fans a taste of something new during the festival's second weekend. While talking to Variety about his experience with working with Bey and his personal connection to her unapologetically black Coachella set, Ratti also dropped a hint as to what fans can expect during Bey's Saturday performance, saying:
"Yeah, we're switching up a couple things, so there could still be a wow factor."
Longtime Bey Hive members know that performing the same exact show twice rarely ever happens for the superstar, so hearing that Beyoncé has a few surprises in store for the second Coachella weekend should, honestly, come as no surprise.
Just one YouTube search for clips from Bey's world tours will totally prove this to be true as well. But if you need more convincing that the two Coachella appearances will differ in some form or fashion, Beyoncé posted a photo to her official website hinting that she may have a different set list in mind for weekend two, as well.
There were quite a few popular songs that didn't make the cut during her April 13 show. But seriously... with a musical catalogue expanding over 20 years, there was no way the queen was going to be able to fit in every single hit she's garnered between her time as a lead singer for Destiny's Child and her über successful solo career. And luckily for fans, however, the photo of Beyoncé's potential new set list, posted on April 15, featured a number of Beyoncé's hits that were left out of her previous set — such as "Upgrade U," "End of Time," "Ego," "Bills, Bills, Bills," and "Cater to You."
Aside from making history on the performance end, Beyoncé's April 14 show also brought in over 458,000 live streaming views, giving her the award for the most streamed Coachella performance of all time. And those who were lucky enough catch Bey's performance can attest to the fact that this accolade was certainly warranted. With any show, Beyoncé is known for always bringing her A-game, and her 2018 Coachella appearance was of no exception.
Unfortunately for those expecting to tune in from home, however, weekend two performances won't be streamed by Coachella or YouTube. So, fans will definitely have to depend on those in attendance to share deets about what actually went down after Bey hits the stage. But seriously, with all of the hype surrounding Beyoncé's stellar weekend one show, there's no doubt that folks won't be eager to share clips of her next show — flooding social media with all-things Mrs. Carter for the second weekend in a row.