Bill Hader's Impression Of Anthony Scaramucci On 'SNL Weekend Update' Is Perfection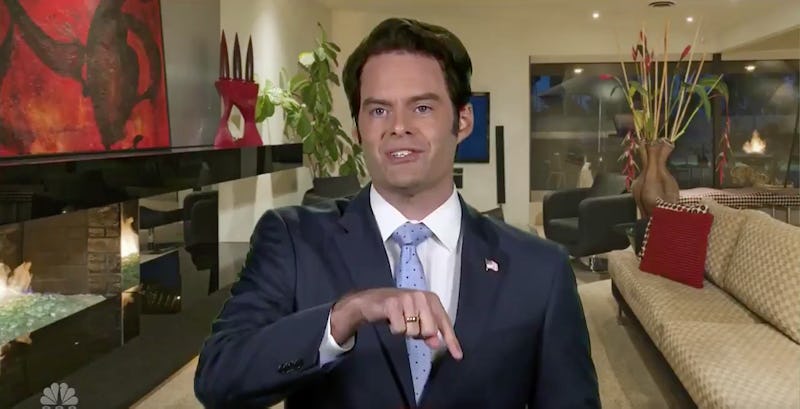 'SNL Weekend Update'
Here's a sentence that probably sounds paradoxical: On Thursday, NBC's Saturday Night Live debuted its new summer miniseries, featuring the beloved Weekend Update team. On the first weekday installment, actor and comedian Bill Hader played Anthony Scaramucci, taking on the much-anticipated role of the former White House communications director.
Scaramucci — aka "The Mooch" — was fired by President Trump last month, just days into his unbelievably brief tenure as the administration's communications director. Scaramucci departed the West Wing shortly after The New Yorker published a profane interview, in which the then-communications director made negative comments about former White House Chief of Staff Reince Priebus and strategist Steve Bannon. Scaramucci's comments revealed supposed infighting at some of the highest levels of government.
Although SNL is officially off for the summer, it seems the cast couldn't let all the recent headlines slip by without any of the show's signature wit. NBC revealed recently that SNL: Weekend Update would air four half-hour segments during the off-season.
"SNL is having its best season in a quarter of a century — how many shows can say that?! — so we didn't want them to take the summer off," said Robert Greenblatt, chairman of NBC Entertainment.
The first segment aired Thursday, featuring Hader as Scaramucci.
During the segment, the fictional Scaramucci called in via FaceTime. Hader referenced the communications director's brief time in office, saying, "You got a little bump of me." He also called the Mooch "human cocaine."
You know how you miss me, I'm like human cocaine. ... You got a little bump of me, I made you feel excited, but I was out of your system too quick. And now that I'm gone you're all depressed, you're edgy, and you're trying to figure out how to score some more Scara-mooch!
Hader's appearance wasn't the only jab at the former communications director. Weekend Update co-host Colin Jost poked fun at the irony behind the timing of SNL's summer break. "How did we at SNL miss Scaramucci? He was like Christmas in July," Jost said.
Hader's cameo on SNL finally answered the question many Americans have pondered since Scaramucci's stint at the White House podium came to an end in July. After Melissa McCarthy's epic run as former White House Press Secretary Sean Spicer, Scaramucci's saga immediately begged the question of who would play him on the late-night comedy show. Hader, an SNL veteran who previously spent eight seasons with the show, lived up to the hype.