Billie Lourd's Comments On How 'AHS' Helped Her Grieve Her Mom Will Make You Cry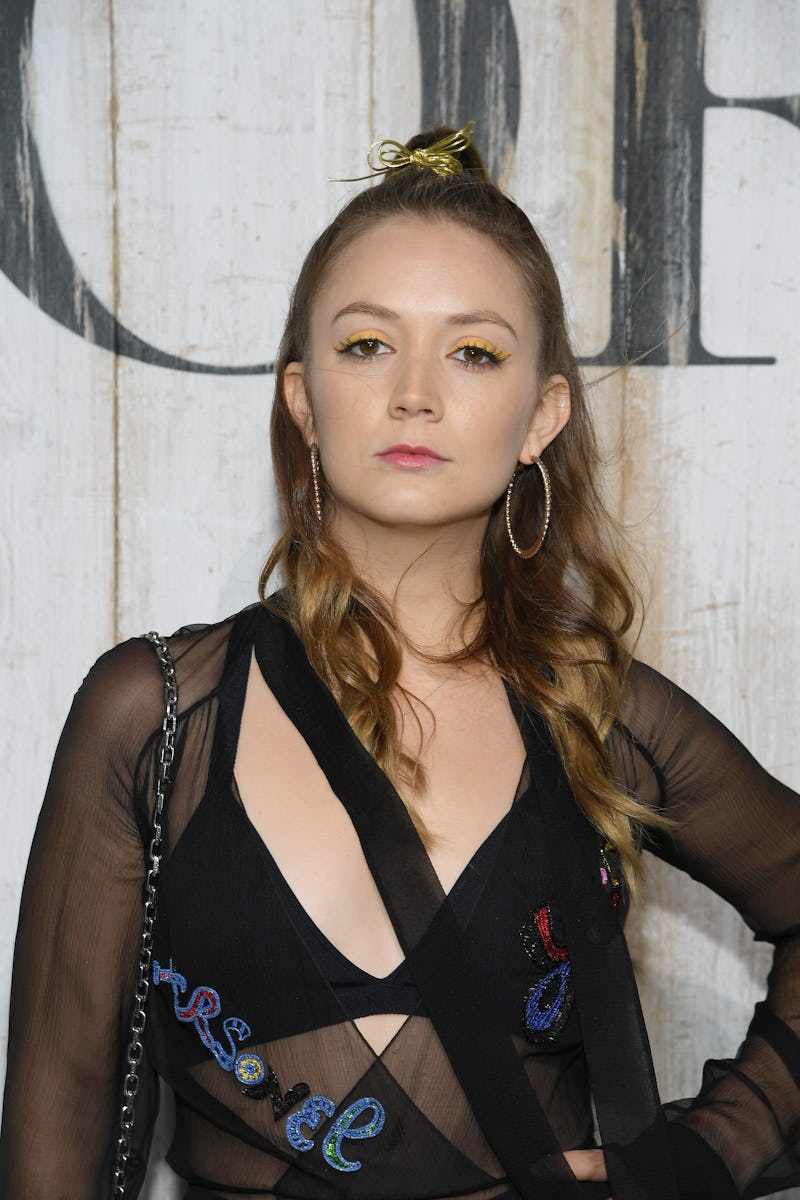 Pascal Le Segretain/Getty Images Entertainment/Getty Images
With American Horror Story: Apocalypse recently coming to close, Billie Lourd is talking about how AHS helped her grieve the deaths of her mother, Carrie Fisher, and her grandmother, Debbie Reynolds. In a recent interview with Entertainment Tonight Lourd opened up about her healing process, and the special role AHS creator-Ryan Murphy has played in it.
Lourd, who has appeared in both, American Horror Story: Cult and American Horror Story: Apocalypse, shared just how her characters from the show have helped her navigate the grieving process. She told ET, "When Ryan offered me Cult, it was just a few months after my mom passed, and it honestly helped me process all of my emotions through these characters."
Referring to her role in Season 7 of the AHS horror anthology series and how its helped her to heal, the 26-year-old explained:
"Being able to cry for Winter helped me cry for myself. And it's been really healing and cathartic in an amazing way, and getting to be around all the incredible people on set, they've become like a family to me, and I cannot thank Ryan enough. Honestly, it kind of saved my life."
Lourd's role as Mallory in Apocalypse is one that has proven to be an interesting character for her to explore. During a recent chat with E! News, she explained just how pivotal of a person Mallory would become throughout the season. She shared,
"Ryan [Murphy] came to me one day and said, 'You know you're the f*cking Supreme.' And then I figured it out after Episode 3, during that interview scene, I was like, 'OK, this is going somewhere. But I always kind of have that sense when I sign on to these shows: that the character's never what it seems to be in the beginning."
She added that playing Mallory has shown her a sense of "kindness and empathy" in herself that she she described as "really rewarding."
While her overall experience with AHS has seemingly been extremely fulfilling, Lourd revealed that it has also been quite an emotional rollercoaster for her while filming on set. She told ET, "It is heavy. We spend like, 14 hours a day crying, and sometimes I go home and I will cry in my car for no reason, because it's like peeing. Once you break the seal, you can't stop."
All-in-all, it appears that the show has offered her an outlet that allows her an opportunity to showcase her talent while simultaneously moving through her grief. Speaking with ET, she continued,
"I love doing this show. It is so much fun and so challenging and has taught me so much. I would do as many seasons as they would offer me. I mean, obviously I would like to do, like, a sweet romantic comedy on the side too, but, like, this is my jam. I love this show so much. And I would do anything Ryan asked me to do. I trust him with all of my heart."
With the huge loss and tragedy of losing both her mother in grandmother at the same time, it seems that Billie Lourd has learned to push through the pain by immersing herself in her craft.