Billy Eichner Geeks Out Over Sarah Paulson (And, Honestly, Same)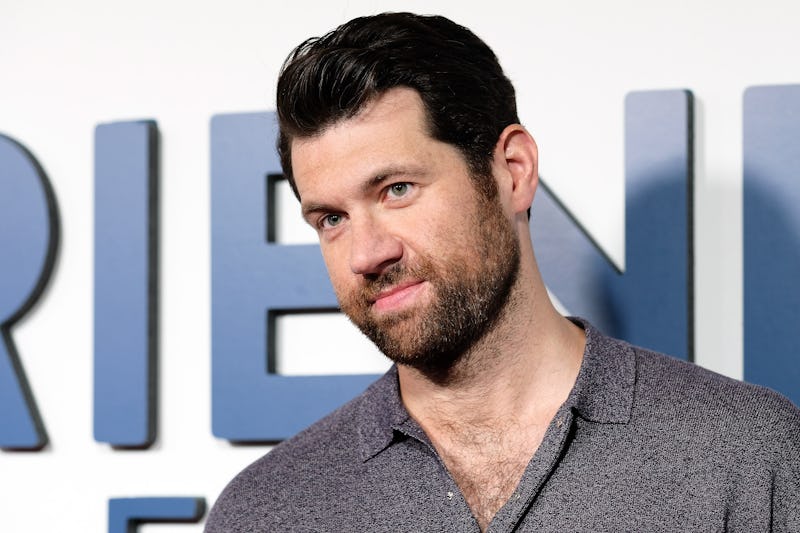 Dia Dipasupil/Getty Images Entertainment/Getty Images
The world still may have no idea who he is playing, but that doesn't dull the excitement that Billy Eichner is in American Horror Story Season 7. At the June 26 New York City premiere of the Netflix show Friends from College, which Eichner costars in, the comedian and actor of Billy on the Street fame reveals Bustle what it's like to join Ryan Murphy's well-established TV series. And how sometimes that includes being distracted by the immense talents of the one and only Sarah Paulson.
"They're seven seasons in, so in some ways, it's a very well-oiled machine. And it's a beautiful production," Eichner says of his time on set of American Horror Story, which he's currently filming. "You know, you think of it as a gory show, but when you watch it come together, it's actually very beautiful."
It's a good point about Murphy's highly-stylized horror anthology series that typically balances a number of genres in a season, but always manages to freak viewers out. And for the seventh season, the theme is the 2016 presidential election, which is perhaps the most confounding of the themes yet — and that's including Season 6's mystery story-within-a-story Roanoke theme. However, Eichner has been very outspoken about politics on Twitter — so he's definitely a fit for the subject matter.
Yet, it's not always easy being the new kid on the block (or should I say "street"?) when it comes to the people who have been on American Horror Story for all seven seasons. "The actors are great," Eichner says. "I mean Sarah Paulson, Evan Peters — they're so good. They're really good."
And while the FX series is notoriously stingy when it comes to plot details or clues, Eichner does reveal that he will be in some of the same scenes as those AHS regulars. "I'm in scenes with them and I'm trying to stay in the moment, but there's another voice that's like, 'Man, Sarah Paulson's good,'" Eichner says. "When you see [her acting] up close it's really amazing."
For those who first fell in love with Eichner on his confrontational game show Billy on the Street (in which he actually discussed AHS and Murphy in the Season 5 premiere), it's been a joy seeing how his career has grown over the years. From a supporting role in Parks and Recreation's later seasons to starring in Hulu's Difficult People with Julie Klausner, Eichner has been doing more than his game show host persona. Friends from College is even a bigger departure for him as he plays the buttoned-up doctor Felix, who is dating Fred Savage's character. But while Friends from College, which premieres July 14, will show a new side to Eichner, expect to see him as you never have before when American Horror Story Season 7 premieres in fall 2017.
"American Horror Story is a whole different ballgame. A whole different genre. I'm learning a lot, I think, and I hope I'm doing a good job. And it's challenging," Eichner says. "I love being a part of it and hopefully, I won't ruin it."
Knowing how engaging Eichner is, I'm fairly confident that there's no chance of that happening.