OK, This Latest Move Means B.J. Novak & Mindy Kaling Are Just Playing Games With Our Hearts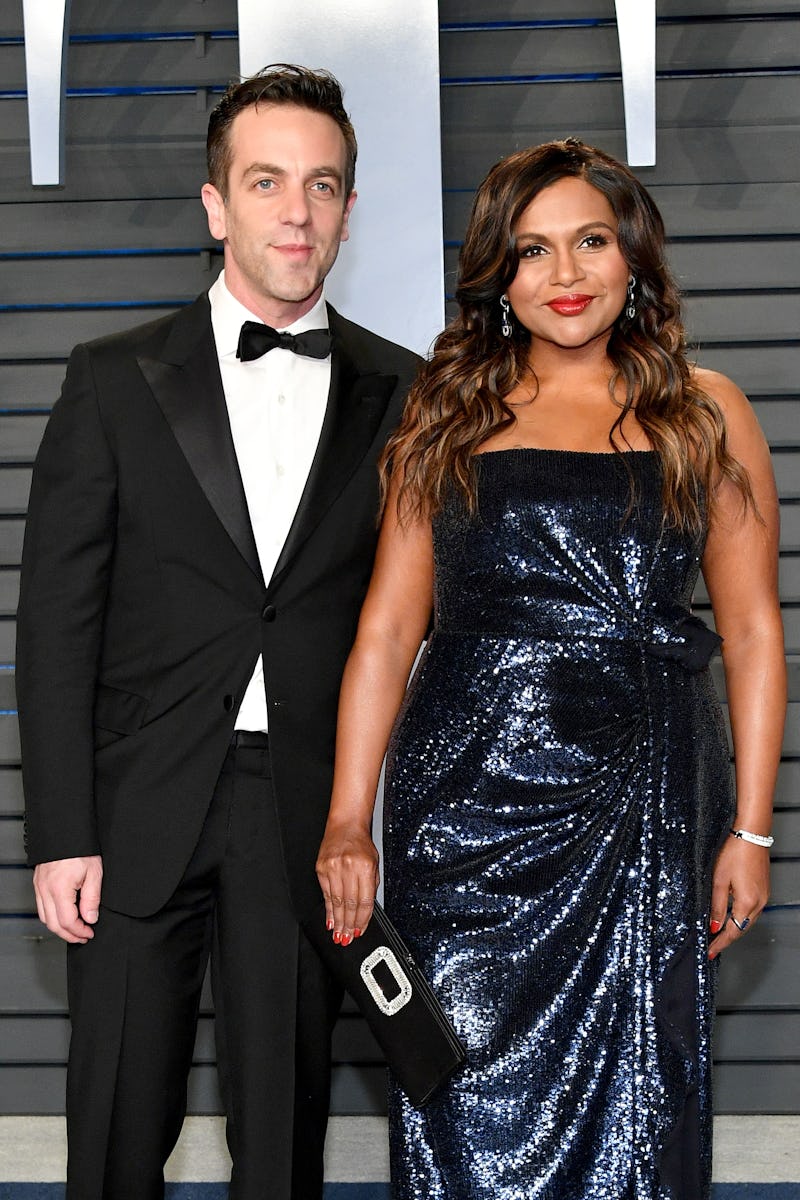 Dia Dipasupil/Getty Images Entertainment/Getty Images
These two need to pull a Ryan Howard and Kelly Kapoor and run away together already. B.J. Novak sent Mindy Kaling flowers on the set of her new movie, Late Night, with Emma Thompson. The Champions creator shared a photo of the gorgeous white roses gifted to her by Novak on her Instagram story Tuesday. "The prettiest flowers from @picturesoftext," she captioned the post. "White flowers are very classy for me. I'm sorry; white fleurs." She also added a sticker with the words "still friends". Her former The Office co-star even attached a note reading: "Congrats on Day 1. 'Love' 'B'".
This is a lot to absorb. Fans have wanted Kaling and Novak to date for some time now. That's right, they are simply just friends, according to the both actors. At one point in their lives, they dated, but, currently, they maintain a close friendship — and that's it, apparently.
But they've both admitted their relationship is strange. As Kaling told InStyle in 2015, "I will freely admit: My relationship with B.J. Novak is weird as hell. He is not my boyfriend, but he is not my best friend. I guess you could describe our relationship as a 'romantically charged camaraderie with loud arguments,' but I don't think Facebook would accept this as a new status."
Novak opened up to People in 2014 about how their relationship should be defined. He said, "A really complicated person and a really complicated friendship, but I wouldn't trade it for anything in the world."
OK... so maybe they haven't given fans the details they want, but what remains clear is how much they love and support each other.
However, when Novak does something extremely sweet like send Kaling a beautiful bouquet of roses celebrating the first day of filming her movie, well, it's almost like they enjoy messing with the hearts of their 'shippers. Fans seriously can't take their adorableness anymore. After seeing the flowers he sent The Mindy Project star, fans took to Twitter expressing how much they want Kaling and Novak to be a couple. Novak probably didn't think sending flowers would be such a big deal, but thanks to Kaling sharing his gesture on social media, fans can't and won't ignore it.
They're Pam & Jim IRL
Which means they'll end up together eventually, right?
Everyone Is On Board
They need to make it happen already.
The Investment Is Real
This tweet says it all.
They Love Messing With Fans
Like the Backstreet Boys sing, quit playing games with our hearts.
It's True Love
Come. On.
Things Are Getting Deep
They are causing these kinds of thoughts.
This isn't the first time Novak has been his adorable self with Kaling — and put fans into a tizzy. In March, The Founder actor shared a tweet praising Kaling's film, A Wrinkle in Time. Next to a poster of her character, Mrs. Who, in the movie, he wrote "When I met @mindykaling she lived in a small apartment on Fairfax Ave. This is what's in front of that building today. Congrats Mindy and a future congrats to all those who see you in it and are inspired to do great things. @WrinkleInTime".
Kaling replied on Twitter, "Oh my god I'm like full crying. I will never be mad at you again." She actually ended up crying — on TV — over his tweet. During an April appearance on Today, Hoda Kotb referenced Novak's post. "That actually makes me wanna tear up," Kaling said about it. "That's really moving. When I was coming up there was no one who looked like me on TV or film and that was such a nice thing that he remembered that." The next thing Kaling knew she was tearing up. "I'm legit crying," she said. "Hoda, this happened so quickly. I was so moved by that."
Who wouldn't be moved? Basically anything Novak does for Kaling is enough to cause a lot of emotions.