Trump's Policies Could Seriously Change How Black Friday Looks In 2019 — Here's How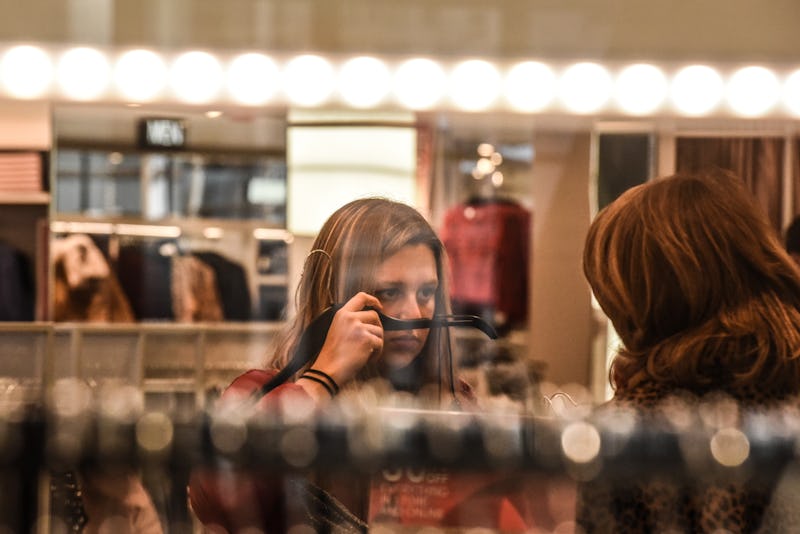 Stephanie Keith/Getty Images News/Getty Images
Millions of Americans are currently out hitting the Black Friday deals, enjoying a tradition nearly as hallowed as turkey and cranberry sauce on Thanksgiving Day. This is one tradition that could change thanks to the Trump administration, however. Black Friday deals could look much different if Trump's trade policies with China don't change before next fall.
Tariffs, or import taxes, may seem like an esoteric issue without much influence on people's everyday lives, but Black Friday presents a stark example of how this isn't the case, according to CNN Business. While the companies offering goods for sale this year set their prices before the tariffs went into effect, there are numerous common gifts for the holiday season that are now subject to a 10 percent import tax.
Tech products are one area where the tariffs could have an especially marked effect, with items like bluetooth headphones and wireless devices expected to jump in price. Apple spoke out fiercely against the tariffs in September, as its products included numerous components on the initial list of tariffs. The administration later promised that the tariffs would not make iPhones any more expensive, but that exemption might not apply to all Apple products. For example, the letter that Apple sent to the Trump administration mentioned the Apple Watch, Airpods, and other pieces that make up MacBooks as elements that the tariffs could potentially affect.
As things stand right now, there's a 10 percent tariff on almost 6,000 products coming from China, but that tariff will go up to 25 percent in January 2019, according to Business Insider. Much has been made of how Trump's trade war is negatively affecting American soybean farmers, for example, but on Black Friday, the trade war's effects will be more visible in the increased prices of products like perfumes, wallets, and handbags, Business Insider wrote.
The list of products doesn't stop there, though, according to Fortune. Toys, pet gear, kitchen appliances, and even mittens, hats, and other outdoor winter gear could end up being much more expensive in 2019. If the tariffs remain in place, the producers of these products simply won't be able to deliver the same low prices consumers have come to expect out of Black Friday without taking a significant hit to their bottom lines.
As companies pay more on import taxes, then, consumers will end up paying more to make up the difference. These price increases will disproportionately affect people who already have to budget carefully in order to buy all of their Christmas gifts, because a 10 or 25 percent increase could look pretty significant.
Trump and Chinese leader Xi Jinping are expected to discuss trade on the sidelines of the upcoming G20 meeting in Argentina, Bloomberg reported. However, experts don't expect an agreement that would actually put an end to the manufactured trade war, according to CNBC.
"We don't think this deal will be engineering a long-term truce between the two countries," wrote Bo Zhuang, chief economist and China expert at TS Lombard, in an interview with CNBC. He told CNBC that observers could expect to see a "photo op" and a "mock deal," but without any progress underneath. This, according to Zhuang, could lead to "temporary market-positive feedback" — but that likely wouldn't be enough to keep Black Friday 2019 deals where they are now.