Blake Posted A Perfect #TBT From One Of His Most Memorable 'Bachelorette' Moments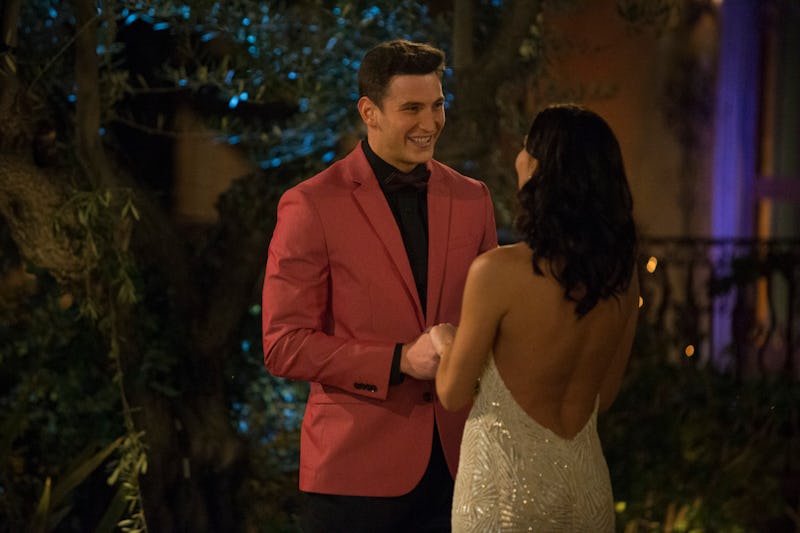 ABC/Paul Hebert
Blake Horstmann from The Bachelorette definitely gave Becca Kufrin one of the most iconic first impressions of the season — before the season even started. He came onto the scene with an actual horse during The Bachelor's After the Final Rose special. On Thursday, Blake shared a throwback to the fun Bachelorette moment on Instagram, and his caption is sure to bring a smile to any Bach fan's face.
The recent contestant introduced the world (again) to Bradley, the horse that helped him make such a good impression on ATFR. Blake wrote, alongside a photo of him leading the horse,
"Here is a fun little throwback...who has been here since Bradley? This is me during rehearsal trying to decide if he would trample the crowd or not."
He then got pretty honest about he was feeling on the night of his first meeting with Becca. "I will never forget how nervous I was standing back stage waiting to go last, holding this beast," Blake wrote, "So many things could have gone wrong that night, but so many things ended up going right."
It's nice to hear that the reality contestant has some fond memories from the night, despite having some, very understandable, nerves about handling a large animal on a live TV program. Based on his caption, and the #falloffthehorse and #iguessimgonnahavetogetbackon hashtags, it also appears as though Blake is taking a glass-half-full approach to his time on his series after experiencing a bit of heartbreak.
This "getting back up again" mindset mirrors the same advice Blake told Becca when they first met. In case you missed it, he arrived on the ATFR rose stage in March like a straight-up Disney prince with Bradley in tow. After an adorable introduction, in which Becca notably joked about the perfection of their "B" names, the suitor revealed why he brought the horse. He said, before helping her up on the saddle,
"As the saying goes, when you fall off the horse, you gotta get back up again. So, Becca, I brought you this horse and I wanna be the man who's gonna help you get back up again."
At the time, Blake was referring to her recent, emotional breakup from The Bachelor's Arie Luyendyk Jr., which took place after he had already proposed to her. So, it was a cute way to try to help Becca forget about that unfortunate part of her Bachelor experience. Considering how far he got in the competition (he was one of the last two suitors remaining), it seems like this fun first impression helped him stand out in the Bachelorette's eyes.
Amusingly enough, Bradley wasn't the only animal that Blake employed during his Bachelorette stint. The second time he met up with Becca, Blake arrived on the back of an ox, which led itself to his opening line, "I just want you to know, already, my feelings are as strong as an ox." Gotta say, it was pretty smooth.
It really seems like Blake, penchant for animals and all, is really ready to get back on the saddle following his Bachelorette journey. Based on his recent Instagram, it looks like his old buddy Bradley will be able to help him do that just fine.