Boohoo Have Teamed Up With Disney For A Streetwear Collection That Packs '90s Punch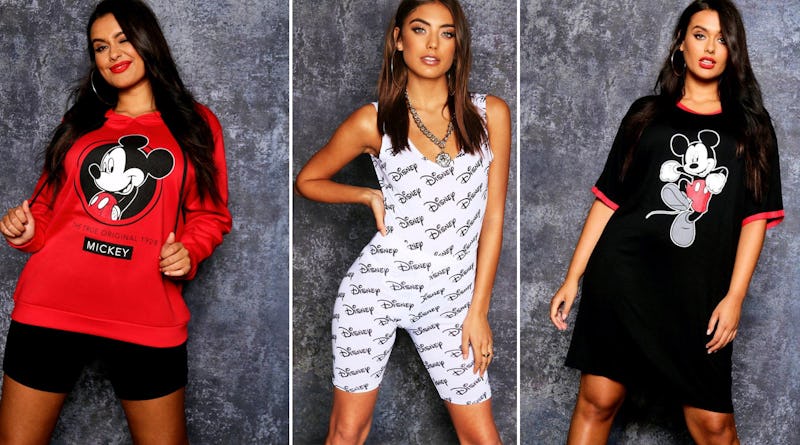 Boohoo
Never has the desire for nostalgic clothing been so great. Brands know that none of us can resist buying a Mickey Mouse-covered jumper or a jacket bearing the Disney logo. And that's exactly why Boohoo and Disney have teamed up.
Seeing as it's the 90th anniversary of your favourite cartoon mouse, it makes sense that the entire 23-piece range heavily features Mickey and Minnie. There's bright red hoodies emblazoned with the animated character along with printed oversized T-shirt dresses and festival-appropriate crop tops.
The influence of streetwear can easily be seen with tracksuits, sweatshirts, and graphic prints popping up here and there. Kim Kardashian also appears to have been an inspiration, as cycling shorts and form-fitting bodysuits in shades of khaki, grey, and taupe also make an appearance.
It's rare to find a Disney clothing range that could work for both day and night. Rather than being too cutesy, Boohoo has ensured that its Disney designs — which come in every size from a UK 6 to a UK 24 — remain on trend and, more importantly, are perfect for today's comfort-first fashion lovers.
You don't have to wait to get your hands on any of the items as some of the collection has already launched online. And with prices starting at just £8 (with the most expensive piece costing only £25), you can spend your bank holiday filling up your virtual shopping cart without worrying about rinsing your entire bank account.
Personally, I'm waiting for the release of all the denim pieces. While jeans printed with a subtle Mickey on the rear are available to buy, an embroidered denim jacket doesn't appear to be online just yet.
Weirdly, this isn't the first Disney collection that Boohoo has released this year. In January, the affordable label launched a range of Mickey Mouse jumpers and dresses.
A quick scroll through the site also reveals Mickey and Minnie-inspired swimsuits, The Little Mermaid pyjamas, and Disney Princess leggings. There really is something for everyone.
Will Disney manage to create more hype than the brand's Paris Hilton range? Who knows if '00s fans will outweigh '90s lovers?
If you have no idea what I'm talking about, I'll fill you in. In June, Boohoo announced a collaboration with Hilton. The 70-piece collection featured hot pink, the star's famous "that's hot" catchphrase, and rhinestones galore.
"What we were seeing coming through with all the trends this year was a throwback to the nineties and the early 2000s," Natalie McGrath, vice president of marketing at Boohoo USA, told WWD. "We wanted to home in on that trend and own it from a collaboration standpoint. What better to follow with an icon from that era, Paris Hilton."
That focus on childhood years may just explain how the nostalgic Disney collection came about. So what else can we expect from the brand? A partnership with the one and only Britney Spears? A Jennifer Lopez-inspired range? A collection referencing Clueless?
One can only hope. Until then, enjoy the Disney range while it lasts.