These Clips Will Pump Fans Up For Bravo's Summer Lineup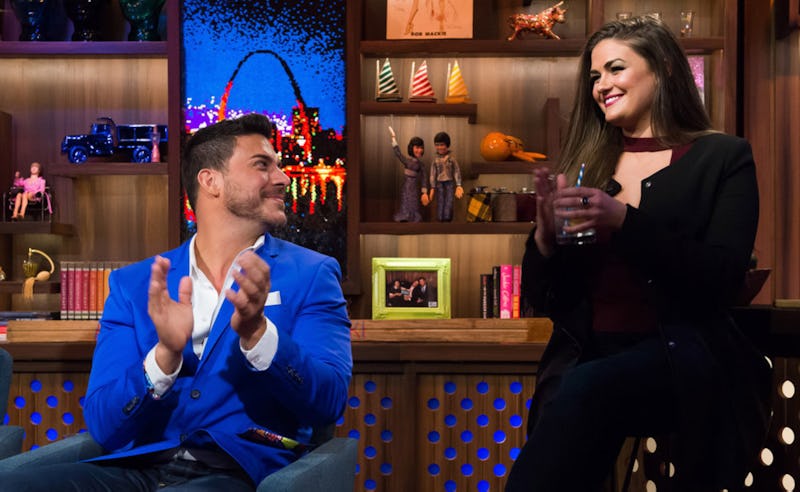 Charles Sykes/Bravo
They're almost here, Bravoheads, so go ahead and celebrate with a tall sippy cup of LVP sangria. Bravo newcomer Sweet Home Oklahoma will come back in July, and Vanderpump Rules: Jax and Brittany Take Kentucky will be here later on this summer. (Really going to make fans wait for that premiere date reveal, aren't ya, Bravo?) On Thursday, Bravo's Facebook page shared a two-for-one promo for Jax and Brittany Take Kentucky and Sweet Home Oklahoma that is about as sunny as a pitcher of Sunny Delight that's perched next to one of those fold-up tanning reflector doohickeys.
In the Sweet Home snippet, Jennifer Welch, Lee Murphy, and Angie "Pumps" Sullivan visit Kasha-Katuwe Tent Rocks National Monument for some outdoorsy activities. And in classic Sweet Home Oklahoma style, there is a prank afoot. And yes, the prank is on Pumps. (Isn't it always?) And when she realizes what's going on, she's about as happy as she was when she received an invitation to Tubbers' birthday party. Thank Giggy that Bravo decided to bring SHO back and air eight more episodes. Would've been a real shame if this scene (and all of the other presumably fantastic scenes) never saw the light of day.
Speaking of Pumps, how about that clip of the Vanderpump Rules spinoff? In the Jax and Brittany Take Kentucky sneak peek, an overall-clad Taylor attempts to chop down an enormous tree on Cartwright's family's property, Cartwright calls Taylor "Lumber-Jax," and her dad lets Lumber-Jax struggle with the hatchet for 30 minutes before bringing out a chainsaw. It's terrific TV.
As if there wasn't enough Bravo goodness already, Shahs of Sunset's Mike Shouhed and Reza Farahan introduce the clips while lounging in a swimming pool. And what do you know? Shahs Season 6 will kick off in July, too. Yes, Sweet Home Oklahoma, Jax and Brittany Take Kentucky and Shahs of Sunset are all about to premiere. Let that sink in like a high SPF sunscreen. Whew, Bravo's summer lineup is the opposite of a bummer.
Keep the shenanigans coming, Sweet Home Oklahoma, Jax and Brittany Take Kentucky, and Shahs of Sunset. And may the shenanigans be as ridiculous as the summer day is long.