Bruno Mars' Response To Cardi B Leaving Their Tour Is Filled With Nothing But Support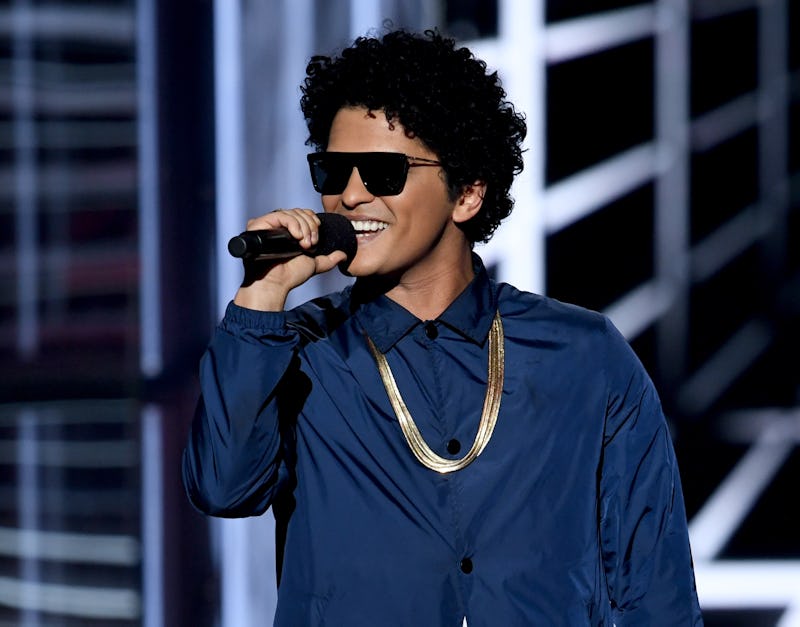 Kevin Winter/Getty Images Entertainment/Getty Images
When Cardi B announced that she'd be pulling out of an upcoming tour with Bruno Mars, fans were upset — but completely empathetic. Her touring buddy officially weighed in on the news, and unsurprisingly, Bruno Mars responded to Cardi B leaving their tour in such an understanding way.
The performer posted a note titled "A Message For Cardi" to his Instagram account just hours after her announcement. "Most important thing is you and your family's health," Mars' message to the rapper began, "I know the fans will understand." (So true.) The note continued:
"You are absolutely doing the right thing. I also know we'll share the stage when the time is right. We love you Cardi and we will play 'Bodak Yellow' every night in your honor."
Can you imagine an all-Bruno Mars and band cover of "Bodak Yellow" done as a tribute to Cardi B? Every night, on the road? Unbelievable. But his post was not over yet. This is the part you might want a tissue nearby for — just in case you need to dab your eyes for something totally unrelated. He wrote,
"Please give your baby girl a hug from me and a hug on behalf of everyone on the 24K Magic tour. "
That is so many hugs. He then signed it, "Love, Bruno," and everyone's heart grew three sizes that day.
On July 26, Cardi B had announced that she would not be touring with Bruno Mars, so she could spend more time with her baby girl Kulture, whom she recently welcomed with husband Offset. "I thought that after giving birth to my daughter that 6 weeks would be enough time for me to recover mentally and physically," the rapper wrote on social media, "I also thought that I'd be able to bring her with me on tour, but I think I underestimated this whole mommy thing!"
She continued:
"Not only am I just not ready physically, I'm not ready to leave my baby behind since the doctors explained it's not healthy for her to be on the road. I hope you guys understand that this decision has been the hardest to make but I have to do what's best for myself and my baby! Thank you Bruno for being so supportive and understanding."
Obviously, this was the best decision to make, both for her health and her newborn's. Cardi B is happily adjusting to the new mom life, too, tweeting jokes about how her baby never sleeps and answering questions about motherhood from fans. One Twitter user asked her how being a new mom felt, to which she responded:
"Really hard to explain . Its beautiful how fast mother instinct kicks in ...never wanna leave my baby side ."
Bruno Mars will continue his 24K Magic tour without Cardi B, but it's evident that she'll be in his thoughts — as well as those of fans. Hopefully, they'll be able to connect for a tour some day. Or at least, a handful of concerts. Her remix of "Finesse" is just so good. It's what the world needs right now. But Kulture needs her mom, and that's all that matters for now.