Burt Reynolds' Family Released A Heartfelt Statement About His Passing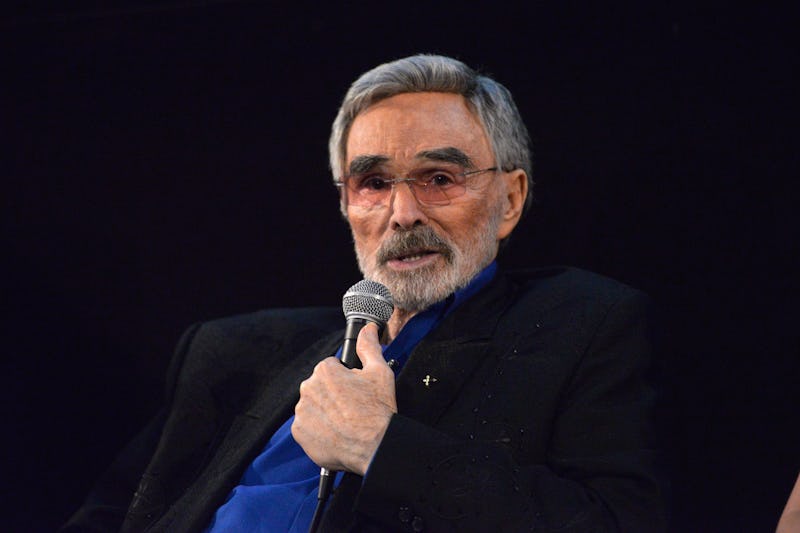 Michael Tullberg/Getty Images Entertainment/Getty Images
As Hollywood mourns the loss of an acting legend, Burt Reynolds' family released a statement following the 82-year-old's shocking death on Thursday, Sept. 6. The top-grossing movie star from 1978 through 1982 may have been known to the public for his starring roles in 1974's The Longest Yard, 1977's Smokey and the Bandit, or his Oscar-nominated Boogie Nights performance in 1997, but to those who knew him best, he made his mark as a friend, father, teacher, and uncle.
Reynolds' niece Nancy Lee Hess issued the following statement to Bustle:
It is with a broken heart that I said goodbye to my uncle today.
My uncle was not just a movie icon; he was a generous, passionate and sensitive man, who was dedicated to his family, friends, fans and acting students.
He has had health issues, however, this was totally unexpected. He was tough. Anyone who breaks their tail bone on a river and finishes the movie is tough. And that's who he was. My uncle was looking forward to working with Quentin Tarantino, and the amazing cast that was assembled.
So many people have already contacted me, to tell me how they benefitted professionally and personally from my uncles kindness.
I want to thank all of his amazing fans who have always supported and cheered him on, through all of the hills and valleys of his life and career.
My family and I appreciate the outpouring of love for my uncle, and I ask that everyone please respect our family's privacy at this very difficult time.
As she mentioned, Reynolds had been cast to appear in Quentin Tarantino's upcoming film Once Upon a Time in Hollywood. Although the 2019 dramatic thriller — which will also star Brad Pitt, Leonardo DiCaprio, Al Pacino, and Margot Robbie as late actress Sharon Tate — is currently in production in Los Angeles, Reynolds was not scheduled to begin filming until the end of September, per The Hollywood Reporter.
Set in 1969 Los Angeles at the height of the infamous Manson Family murders, the movie "follows a TV actor and his stunt double, who embark on an odyssey to make a name for themselves in the film industry during the Helter Skelter reign of terror," according to Variety. Reynolds would have played George Spahn, a blind ranch owner who Charles Manson convinced to allow him and his followers to live on his property "in the months before they murdered Tate and six others."
In the family's statement, Hess also referenced a time when her uncle broke his tailbone on a river while filming another movie. While promoting his 2015 memoir, But Enough About Me, Reynolds also reflected on the stunt gone wrong on the set of the 1972 Academy Award-nominated thriller, Deliverance, in which he starred as Lewis Medlock.
Asked by THR about his most memorable stunt, Reynolds, who shares 30-year-old son Quinton with ex-wife Loni Anderson, recalled director John Boorman wanting to use a dummy for a scene in which his character goes over a waterfall. "I said, 'I can go over the falls ... absolutely,'" Reynolds reflected. After stepping in to shoot the scene himself, filmmakers released the water from a dam upriver while he stood clinging to a large rock with a stake driven into it.
"They let the water go and I heard this sound — I dream sometimes of the water coming — I looked around and there was a tidal wave coming at me," he said. "I went over the falls and the first thing that happened, I hit a rock and cracked my tailbone, and to this day it hurts."
Still, the retelling of the accident wasn't delivered without some of the actor's trademark humor. "I went down to the water below and it was a whirlpool," he added. "They said later that they saw this 30-year-old guy in costume go over the waterfall and then about 15 minutes later they saw this nude man come out. It had torn everything — my boots and everything — off."
Memories such as these — and those that the family will recall privately — are among the many reasons why Reynolds' legacy will live on long after his surprising death.