'Call Me By Your Name's Director Wore An Elio Shirt To The Oscars & It's Every Fan's Dream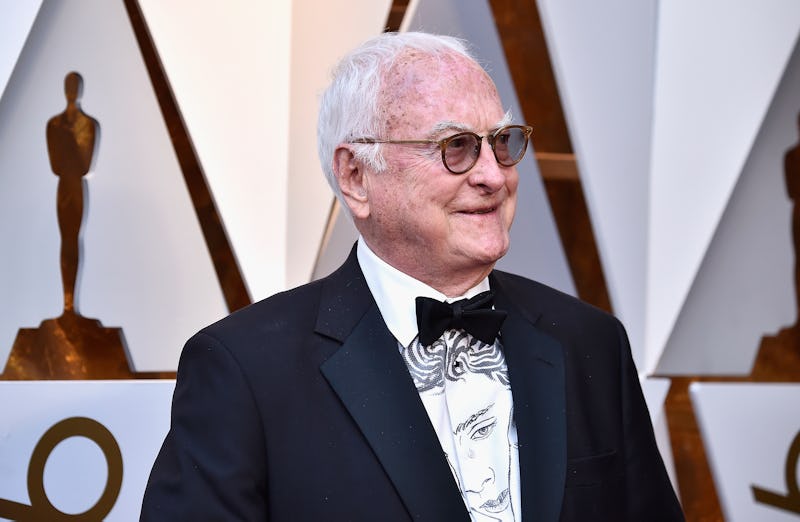 Frazer Harrison/Getty Images Entertainment/Getty Images
When it comes to the Oscars red carpet, very rarely do we get many surprises in the tux department. Sometimes there's an interesting color here, or a cool bowtie there. But usually, the wow factors tend to be found amongst the gowns and pantsuits of the evening. So it makes sense why Oscar fans around the world immediately noticed that James Ivory's shirt had Elio on it. Not only did it stand out amongst the sea of tuxes on the carpet. But also hello. It's Elio.
In case you haven't caught up on all the Oscar nominated movies, Elio is Timothée Chalamet's beloved character from Call Me By Your Name, which also stars Armie Hammer as Oliver. The two men have been winning the hearts of film lovers everywhere, not only because the story was amazing, but because the two actors are lovely people IRL.
But, as the man behind the movie, nobody knows that more than Ivory himself. He wrote the screenplay based on the novel by André Aciman, and was even nominated for an Oscar for Best Writing Adapted Screenplay for his work. Ivory brought the characters to life for the big screen, and I'm assuming he's had the pleasure of meeting Chalamet and Hammer. And now, clearly, he's a major Chalamet fan as well.
To support his film and express his love, Ivory wore this gorgeous shirt, which features what appears to be a line drawing of Chalamet as Elio. You can see the character's pensive face peeking out from behind Ivory's lapels, with his thoughtful eyes, curly hair, and chin resting in his palm.
In the movie, Chalamet did a lot of pensive staring, so the shirt really captured the character perfectly. But this is also a reference to one scene in particular. As Alyssa Coscarelli noted on Refinery29, "In one of the last scenes in CMBYN, Chalamet's character Elio Perlman wears a shirt sporting dozens of hand-drawn faces ... Ivory's button-down of a line drawing of Chalamet's mug is a clear (black-tie-appropriate) homage to that."
Of course, the rest of Ivory's look was great as well, with his slick suit and shades. But the drawing on his shirt? That really took the cake. It was such a classy way to stand out, but also to honor the movie.
If you're a fan of all things Elio, Chalamet, and CMBYN, then you might be wondering if you can get your paws on a similar shirt. But sadly, you'd have no such luck. Apparently, this one was custom made for Ivory for the Oscars.
It does, however, come with a sweet story. According to Stacey Lambe on ETOnline, "Ivory, who adapted the film from André Aciman's novel of the same name, could make history if he wins his category, becoming the oldest Oscar winner ever at 89 years old. Meanwhile, if Chalamet wins, he'll become the youngest winner ever, at 22, of the Best Actor award." Ivory also said he planned to give Chalamet the shirt, once the Oscars were over.
So while Chalamet gets the amazing shirt (and possibly the Oscar, too), the rest of us will have to make do with some cool CMBYN merch online. Take this sweatshirt for example, which you can snag on Redbubble.com for $45. It features a black and white snapshot of Chalamet, making a similar expression to the line drawing above.
There's also this comfy looking baby blue T-shirt, which goes for a cool $25. Both have a similar essence. And both will help you show your love for Call Me By Your Name.
We can't all have button up shirts featuring line drawings of Elio. But we can can get pretty darn close.