If You're Wondering Whether Princess Eugenie Can Drink At Her Wedding, Here's Your Answer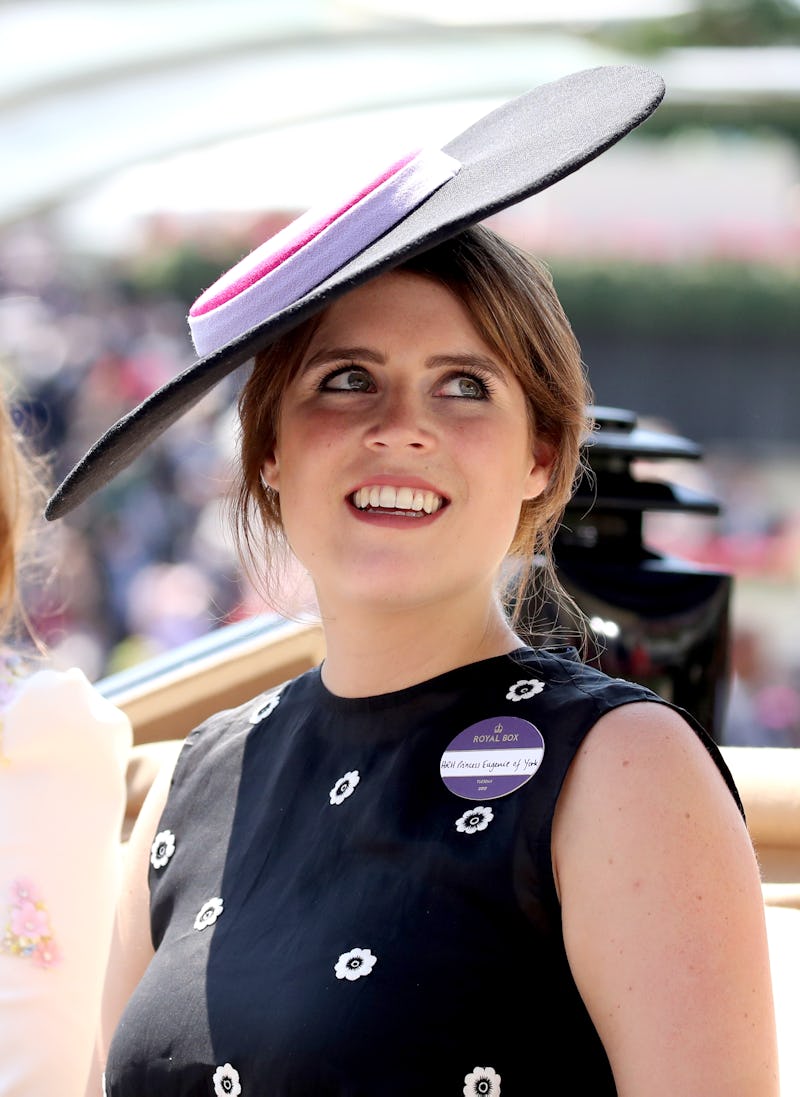 Chris Jackson/Getty Images Entertainment/Getty Images
Another royal wedding is coming up this fall, and global royal family watchers everywhere are speculating about the upcoming nuptials between Princess Eugenie of York, and her longtime boyfriend, and now-fiance, Jack Brooksbank on Oct. 12, 2018. A royal wedding is a fun feast for the imagination, especially during a news cycle that can be rather frustrating more often than not. So, while many wonder about Eugenie's dress, the jewels, the royal wedding venue, and who will be invited, some of us wonder about other, more pressing things; such as, can Princess Eugenie drink at her wedding? As it turns out, the royal code of etiquette is a bit sensitive, so the official wedding protocol is kind of a delicate thing.
Princess Eugenie is the second and youngest child of Prince Andrew and Sarah Ferguson, The Duchess of York. Eugenie is also ninth in line to the throne, and is one of Queen Elizabeth's eight grandchildren. According to Elite Daily, since Princess Eugenie is not a working royal (meaning that neither she or her sister, Princess Beatrice, are responsible for public royal duties), and instead works as director of the London-based art gallery, Hauser & Wirth, per Hello magazine, the rules for her upcoming wedding are less strict than say, those that Meghan Markle, now Duchess of Sussex had to follow for her wedding to Prince Harry last spring.
So, how about that post-ceremony champagne toast then? According to The Evening Standard, royal wedding rules are no small thing, and can include details such as the dress color (traditional white, of course) and the flowers a royal bride is expected to carry, down to the dress code expected of guests. That said, Elite Daily further reports, however, that the rules for Eugenie's wedding are likely to be far less strict that they were for Meghan Markle, who did opt in for working royal status.
Eugenie is no stranger when it comes to breaking ranks with royal codes of etiquette — she does have her very own personal Instagram account, after all — but the official royal wedding etiquette doesn't actually have a rule about drinking for either the soon-to-be newlyweds or the guests. There's really no reason to think that Eugenie and Jack won't enjoy a drink or two at their reception.
After all, royal weddings typically include a selection of wines and cocktails on the menu, and since Princess Eugenie and her husband-to-be have an even more relaxed set of rules and standards than other royals are expected to follow, there's really no reason why they shouldn't enjoy some bubbly post-ceremony.
That said, it's definitely understood that, royal family members are expected to conduct themselves with decorum at all times while in the public eye, working royal or not (and getting married or not). So, while the royal couple and guests are likely to enjoy themselves and have a good time — and as well they should — it's not likely that things will get too out of hand.