Everyone Loves Chloe Kim's Team USA Hat — And Here's How You Can Steal The Look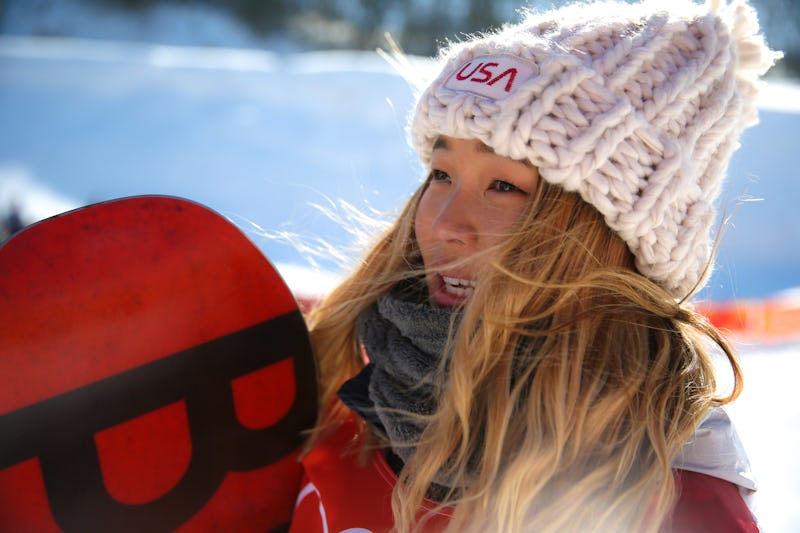 Laurent Salino/Agence Zoom/Getty Images Sport/Getty Images
When she's not tweeting about ice cream or busy keeping her eyeliner on point, this athlete is creating fashion trends. Twitter is obsessed with Chloe Kim's knitted hat at the 2018 PyeongChang Olympics. The Burton Team USA design might now be available to readily to purchase, but there are tons of different ways to rock the trend.
The Olympics are wholeheartedly about the talent, but the fashion this year is on-point. Brands like Ralph Lauren and Under Armour have gotten together to create some outstanding looks for Team USA, but it's the accessories that are getting notices the most. Like Kim's Burton-designed hat that she wore on the podium to receive her gold medal.
The Burton design is a chunky knit top with fringe hanging off the top, rather than your average pom pom. After seeing it, you won't feel so bad about Punxsutawney Phil saw his shadow, because it will give you enough time to snag one and rock it yourself.
The exact Burton design isn't available on the brand's website, but there are some look-a-likes. Unfortunately, once they're gone, they're gone for good though.
"We do not generally restock seasonal items as each season is unique for colors and prints, especially Coalition products," Burton Guide Mike Cole tells Bustle. "If this item comes back into stock, it would have to be through a return from another customer, so it's pretty unlikely at this point."
According to previous Bustle coverage, the Burton Snowboarding uniforms were designed to look like space suits. The team was going for a nostalgic feel for the 2018 event. I don't think anyone realized that it would be the accessories getting most of the attention though.
People are freaking out over the hat on Twitter. In fact, it's so popular that some knitters have already grabbed their needles and come up with a pattern for the look. Other people have been quick to find look-a-likes on Etsy already. Either way, the hype for this winter accessory is real.
Maybe if we start begging everyone, someone will replicate it.
Kim is a gold medalist. I think it's okay to copy her.
Because when you feel good, you snowboard good — or something like that.
The hat might not be available to readily purchase, but there is still a way to rock the trend. From Burton to Etsy, there are plenty of online shops that have similar styles. These might not have the same official "USA" stamp on them, but they're pretty darn close to the look.
1. Burton Beanie
Women's Burton Kismet Beanie, $40, Burton
This one is just a fluffy and actually from the exact same brand. It even comes in white — the color that everyone is obsessed with.
2. Blue Oversized Pom
Women's Burton Katie Joe Beanie, $30, Burton
Okay, so this isn't exactly along the same lines of the white fluffy one. But red, white, and blue are all team colors. There's a good chance that you might even like this one better.
3. The Double-Pom
Chunky Yarn Beanie with Pom Poms, $12, Etsy
If you can rock the exact look that Kim did, you might as well make the look your own. This double-pom design is perfect for getting the feel and comfort plus a little more style.
4. Fuzzy Pom
Nadine Glitter Knit Pom Pom Beanie, $9, Boohoo
If you're just looking to be inspired by the knit but not commit, this is the look for you. It's got just enough of the design to be inspired, but way more modern.
5. Fast Fashion Find
Chunky Cable Knit Beanie, $13, Forever 21
Just when you think that the Team USA design can't get any better, this little scalloped beauty pops up.
Style inspiration is everywhere — even at the Olympics.
Additional reporting by Summer Arlexis