Here's Every Single Team USA Olympic Uniform You'll See At The Winter Games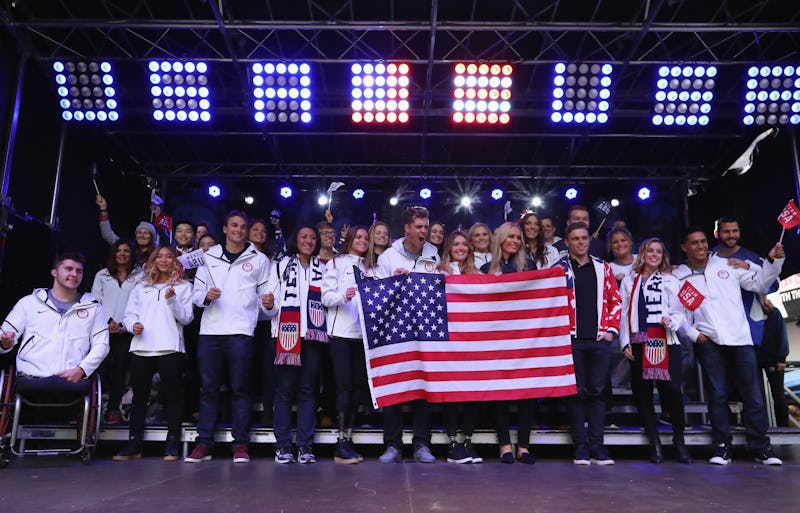 Abbie Parr/Getty Images Sport/Getty Images
Team USA is stylish. From those all white medal stand jackets to their heated Ralph Lauren opening ceremony attire, they've got some serious fashion. But who designed the Team USA uniforms? From figure skating to curling, there are a lot of winter sports which means there are a lot of Team USA uniforms. They've all got to look good, right? Sure, athleticism is the reigning monarch of the Olympic Games, but it's hard to deny that these athletes are carting around some serious style alongside that mind blowing talent.
Of course, some sports don't require all teammates to have matching uniforms — here's looking at your figure skating and ice dancing. Others, however, have their Olympic gear designed for them. Each team from each sport will be wearing a different uniform, and they're special. Every single sport will have a different uniform designed by a different designer because let's be honest they all deserve special treatment for their accomplishments, right?
From astronaut-themed suits to some seriously cool details hidden inside jackets, the Team USA athletes are all going to look killer once their hit their respective ice or snow.
What do each of the team uniforms look like and who designed them?
Team USA Snowboarding
Burton Snowboards are the brains behind the 2018 Team USA Snowboarding uniforms, and they are out of this world cool. Like, really. The uniforms are designed to look like astronauts' suits.
With their all-white color and puffy design, they're perfect for Pyeongchang.
Team USA Figure Skating
Team USA Figure Skating is a different type of Winter Olympics animal. The sport is divided into the men's and women's teams, ice dancing, and pairs. For each team, however, there is no single costume. Instead, skaters get to chose their own looks as long as they fall within the rules of the International Skating Union.
When watching the sport, you'll see designs from high-end designers like Vera Wang and incredible creations from skaters' moms. These moms may just deserve a medal of their own, honestly.
Team USA Freestyle Ski Uniform
The Freestyle Ski team's uniforms are basically the definition of sleek, and they come courtesy of Columbia Sportswear. Yes, the company that created that rain jacket you love crafted Team USA Freestyle Ski's uniforms, and they snuck up an ultra cool detail.
Hello to serious cool gold lining. The symbol in the center with "Climb To Glory" at the bottom is basically like wearing an inspirational speech in your jacket.
Team USA Skiing
While the Freestyle Ski team has uniforms from Columbia Sportswear, the rest of Team USA Ski has uniforms designed by Spyder Active. According to CBS, the designs are based on a range from Spyder modeled after Olympic skier Tommy Moe. Having Spyder design the uniforms for the team actually seemed to be a given considering that the brand has been the official partner of the team for 29 years.
Team USA Bobsled & Skeleton
The USA Men's and Women's Bobsled and Skeleton team uniforms are exactly what you'd expect: sleek and patriotic. The fast paced sport pretty much demands no frills, but these uniforms by Under Armour are certainly sleek.
Team USA Curling
For the USA Curling Team, Nike seems to have been in charge. Their solid printed pants and patriotically hued shirts feature the classic Nike check. For these teams, Nike will have designed both their competition uniforms and their medal stand uniforms.
Team USA Ice Hockey
Nike has been very busy this Olympics season. They're also the brains behind the men's and women's hockey jerseys. The predominantly blue and white jerseys are some of the brightest ever made for the Olympic games according to the official website, and they certainly look good.
Plus, there's a bit of a hidden message in these uniforms. In the neck of the jersey, athletes will find "Land of the free, home of the brave," inscribed. It's a little inspiration message for the athletes as they play for a medal.
Team USA Speedskating
Team USA's Speedskating team may have the most crucial uniforms. According to the Washington Post, during the 2014 Sochi Olympics, the former Team USA uniforms were ultimately blamed for the team's failure to medal. This year, they've teamed up with Under Armour again to design uniforms with athlete input for a suit that's technologically sound.
Luge
As for the Team USA Luge competitions the origins of their uniforms are much more ambiguous. One thing is for sure, though, they've definitely got some of the most obviously patriotic outfits considering that they predominantly feature all three colors of the US flag.
Clearly, Team USA is in good hands when it comes to their attire. From moms crafting costumes to major athletic brands like Nike and Under Armour supporting different teams, there's a unique uniform for each sport. Now it's time to see them in action.