Here Are Captain Sandy's 'Below Deck Mediterranean' Season 3 MVPs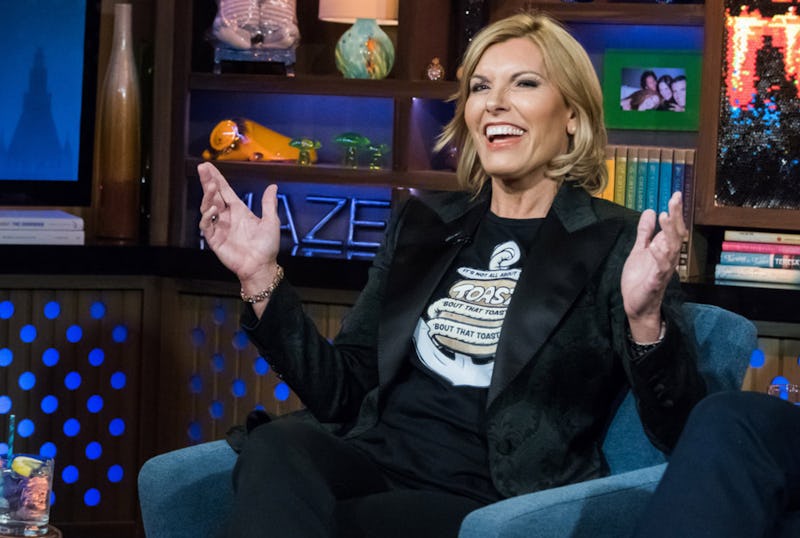 Charles Sykes/Bravo
As the sun begins to set on the fantastic third season of Below Deck Mediterranean, the twinkling stars that are the cast's post-season comments can really shine. When the Bravolebri-yachties got together earlier this month to tape the Season 3 reunion, Bravo asked Captain Sandy Yawn to name Below Deck Med's MVP of the season as she got ready for the post-season special backstage. And whew, she minced nary a word.
Captain Sandy replied,
"Brooke for sure. Kasey … Her attitude was, 'I'm going to do this.' She fought. She tried. She couldn't help that she was never taught to do laundry, it's not her fault. Colin did a great job. João was the only deck crew that asked me for advice. Joāo was the only guy that I ever saw work really hard."
Oh, man. If anyone else said, "She couldn't help that she was never taught to do laundry, it's not her fault" about their employee who was brought on primarily to do laundry, it'd come off as snarky. But when it's Captain Sandy? It's as understanding as can be. (OK, and maybe it's a little snarky, too.)
And as for the Season 3 yachties that did not quite live up to Captain Sandy's expectations? Her answer is about as shocking as a drunk charter guest barreling into the galley and demanding a martini at 10:30 p.m.
Captain Sandy said,
"Conrad and Hannah. They're the two people who were supposed to be in charge of their departments, that's the scary part."
It's no secret that Captain Sandy felt Conrad Empson and Hannah Ferrier's boat-mance hindered their productivity this season. On the July 31 episode of Bravo's The Daily Dish podcast, Captain Sandy recalled,
"All I saw was João working constantly. I never did see [João and Conrad's] arguments but I didn't see Conrad working; I saw Conrad walking to the bow with Hannah smoking. [When] we were docking the boat, where was Conrad? Lying on the dock ... Hannah's his demise and it's not Hannah's fault ... It's Conrad's responsibility to take care of his job and if he wants to be a leader, then lead."
So, there it is, Below Deck heads. Captain Sandy was impressed by João Franco, Brooke Laughton, Colin Macy-O'Toole, and Kasey Cohen, but none too pleased with Conrad and Hannah.
Wait a second. What about Jamie Jason and Adam Glick? Based on their interactions with Captain Sandy both during and after Season 3, it seems fairly safe to assume the chef and the deckhand are still in her good graces. For example, when Captain Sandy was on Watch What Happens Live with Andy Cohen in June, she said Adam redeemed himself this season; the chef's days of putting onions in a primary's dish out of spite seem to be over.
And as for Jamie? Well, in August, she tweeted that the deckhand is a "Future captain!!!" Oh, and please behold this delightful tweet:
All in all, she seemed pretty happy with their work. So why didn't Adam or Jamie come up during Captain Sandy's MVP rundown? Eh, it was probably nothing more than a harmless oversight. Or, you know, maybe Adam and Jamie tricked everyone into trying onion and Nesquik smoothies right before the reunion. That'd be some very un-MVP behavior.