Cardi B And Chance The Rapper Will Be On A New, Must-See Music Series On Netflix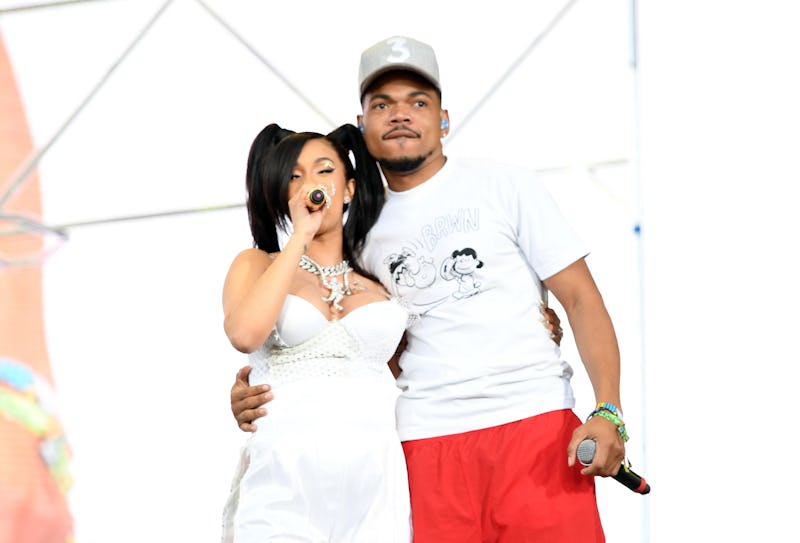 Larry Busacca/Getty Images Entertainment/Getty Images
Two of the music world's brightest rising stars, Cardi B and Chance the Rapper, have been tapped to judge a Netflix reality series that will showcase the true competitiveness of the hip-hop industry. With shows like The Voice, American Idol and The Four making their marks at major cable television networks, Deadline reports that Netflix is now joining the arena with a hip-hop infused series titled, Rhythm + Flow — and there's no doubt that this show is going to be in an universe all its own.
Although competitive reality TV has been around for decades, there have only been a handful of rap reality competitions to make way over the years including: Making The Band 2, The Road to Stardom With Missy Elliott, The (White) Rapper Show, Miss Rap Supreme, as well as Queen Latifah and Jermaine Dupri's The Rap Game, which will soon enter its fifth season on the Lifetime Network in January 2019.
Rhythm + Flow, which, per Deadline, is being brought forth by John Legend, Jesse Collins and Jeff Gaspin seeks to change the game, bringing the hip-hop genre to the major leagues of reality TV with its star-studded lineup of judges and talent.
In its first season, Rhythm + Flow will feature Cardi and Chance, along with T.I., as three main judges on the ten-episode series as it attempts to find and develop undiscovered hip-hop talent in various cities around the country. Although there has been no exact premiere date set, Billboard notes that the project has been in development at Netflix for over a year and will reportedly debut sometime in Fall 2019. The outlet reveals that auditions for the series will take place this fall in various cities throughout the country, including the judges hometowns of New York City, Chicago and Atlanta, and shares that each city will also feature other established rappers from each respective location as guest judges.
As one of the hardest working people in entertainment, it's a wonder that Cardi even had the time to participate in the series. Despite giving birth to her daughter Kulture in July 2018, Cardi has remained a major presence on the album charts, releasing music and performing seemingly nonstop since July 2017. However, it seems that the new series has been in her plans all along. An insider for Variety reveals that the rapper has been in talks with Netflix for "quite some time" about being a part of the show and will be getting a "seven-figure paycheck" for her participation in the ten hour-long episodes. The source went on to tell the outlet that Cardi's involvement was made possible because of the show's "relatively quick shooting schedule."
Meanwhile, Chance has also had a pretty tightly-packed schedule as of late. After celebrating his engagement to longtime girlfriend Kirsten Corley last month, the Illinois rapper has dedicated much of his time to social activism, particularly within his hometown of Chicago. He most recently pledged $1 million to mental health services in the city during a summit for his SocialWorks nonprofit.
The organization, which strives to empower the children in the Chicago community through art, education, and civic engagements, will join forces with companies like Google to distribute $2 million among 20 schools in the city overall, according to Pitchfork. Along with his commitment to community, Chance has also been expanding his talents in the entertainment world, stepping into the role of co-producer for Hope, an upcoming musical movie that will follow "a group of Chicago teenagers that band together to turn art into action within their community," per Deadline.
For his part, veteran rapper T.I. released his tenth studio album, Dime Trap in early October and also recently made his return to reality TV with T.I. & Tiny: Friends and Family Hustle airing on VH1 late last month.
It remains unclear whether or not Legend will make an appearance during the show's first season. However, Variety shares that a host has not yet been named. The newly-minted EGOT winner will notably serve as a coach for The Voice's upcoming Season 16, which will give him plenty of practice should he decide to join the on-camera cast for the Netflix series.
With Cardi, Chance, and T.I. as judges, it goes without saying that Rhythm + Flow is going to be hugely popular with fans of hip-hop and beyond.