Cardi B Opened Up About Post-Pregnancy Life In A Vulnerable & Honest New Interview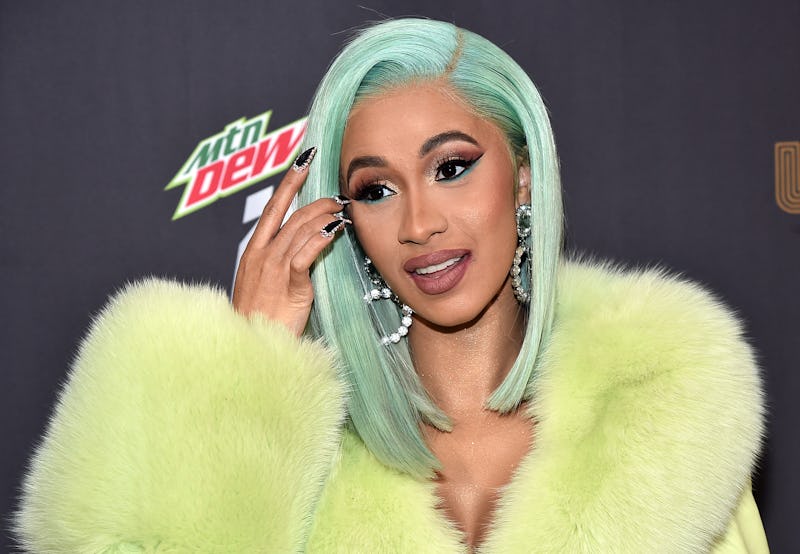 Theo Wargo/Getty Images Entertainment/Getty Images
If you're at least semi-aware of Cardi B, you probably know that the Bronx-born rapper doesn't hold back. Her social media accounts are filled with brash, confident admissions about every aspect of her life, but fans rarely get to see her more sensitive side — until now. Cardi B opened up about post-pregnancy life in a new interview with W Magazine, and her emotional comments are just as raw and real as you might expect.
Back in July, Cardi gave birth to a little girl named Kulture, her first child with husband Offset. Since then, she's clearly been embracing that new-mom life, but she's faced her fair share of struggles with it, too. While speaking to W, the rapper opened up about what really goes down after you give birth — the good, the bad, and the pretty unpleasant — and shed light on several post-pregnancy issues that are rarely discussed.
In terms of the more physical side of things, Cardi explained,
"People don't really talk about what you go through after pregnancy. Like, they don't tell you that you get stitches down there or that your first two weeks you're constipated. Or that you get contractions because of breastfeeding. I wasn't expecting that."
Of course, there's another side to post-pregnancy life, too, and for Cardi, it was kind of an emotional overload. "When Kulture was born, I felt like I was a kid again; everything was making me cry, and I needed a lot of love," she told the publication. "I be feeling like, do babies know who's they mom? I feel like babies love whoever is giving them the milk, and I want to give the milk the whole time. I want her to know me."
Now, though, it's been around 3 months since her daughter was born, and even though she said she's starting to "feel better," sometimes she still "[feels] so vulnerable," she admitted to W, "like I'm not ready for the world yet. It's weird."
Cardi's insecurities about being a new mom first bubbled up when she learned she was pregnant. Her career was taking off at break-neck speed, and she worried that having a baby might derail her success. "When I got pregnant, I was f*cking freaking out," the rapper revealed. "Everybody around me was like, 'No, this never happened before. Every artist that had a baby, they already put in years in the game. This is your first year. You're going to mess it up. How are you going to make it?'"
Of course, Cardi was able to do way more than just "make it" — she's been straight-up killing it and shows no signs of slowing. At the end of September, she became the first female rapper to have three number-one hits on the Billboard Hot 100 Chart, according to Chart Data. She's started performing again, too, and is reportedly working on tracks for a new album.
Despite any initial hesitations or concerns, Cardi B has continued to prove that she's the ultimate multi-tasking mom. That doesn't mean it's been easy, of course, but her vulnerability about post-pregnancy life definitely makes the chart-topping star a little bit more relatable.