Cardi B Is Coming Back To The Stage For Her First Post-Baby Performance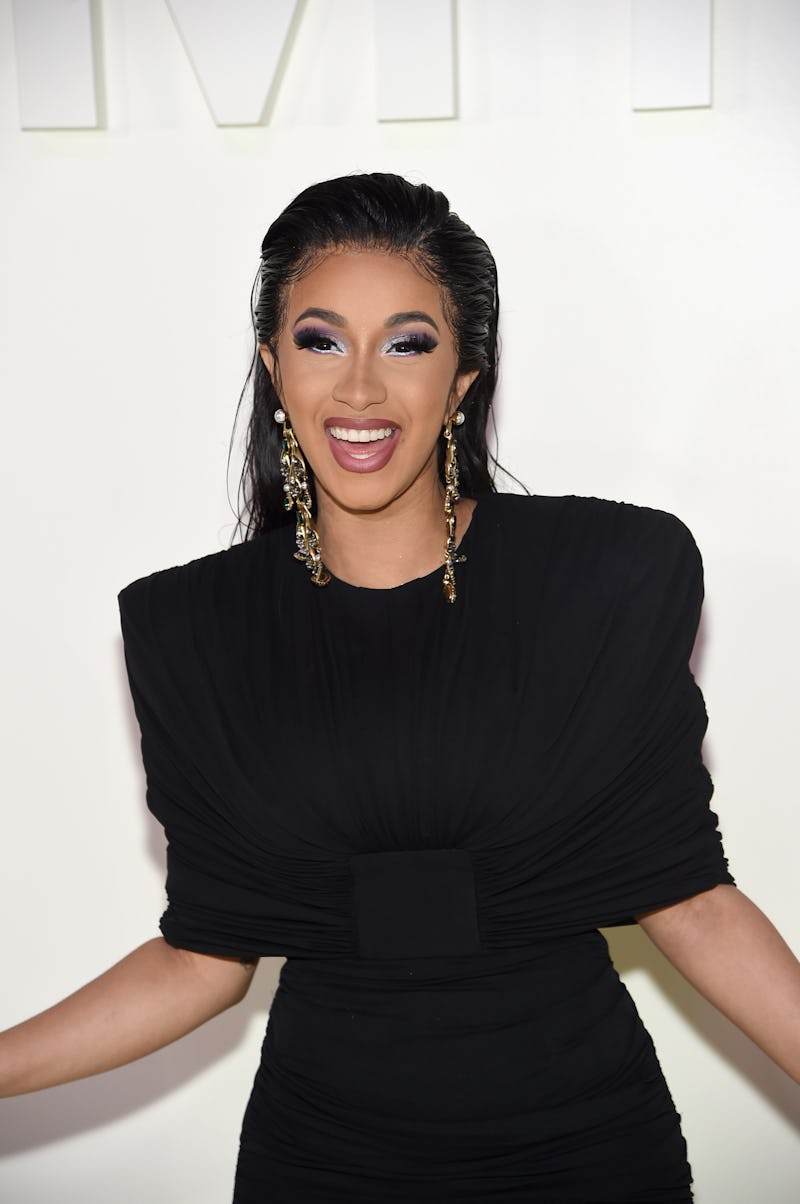 Jamie McCarthy/Getty Images Entertainment/Getty Images
She's made numerous appearances since the birth of her child, but Cardi B's first televised post-baby performance will be at the American Music Awards on Oct. 9. It's been a long wait for fans who have been eager for their idol's return after she gave birth to her first daughter Kulture Kiari Cephus in July. (Although, truly, they haven't been waiting that long — not when you factor in the fact that Cardi B literally brought a child onto the planet just three short months ago.) But, the AMAs will be her first official return to the stage, at least for all those watching at home, and the rapper couldn't have picked a better occasion for her onstage comeback.
The announcement was made via a press release on Wednesday, Sep. 26, that revealed the platinum-selling artist will be taking the stage flanked by Bad Bunny and J Balvin. The trio will perform their hit "I Like It," which is just one of the songs that has vaulted Cardi B into the history books. It was her second No. 1 on the Billboard Hot 100 chart — after "Bodak Yellow" — making her the first female rapper in the chart's history ever to hit that milestone. She also promptly broke her own record just months later by notching a third number one with a feature on Maroon 5's "Girls Like You," which hit No. 1 on Monday, Sep. 24.
So it's safe to say that things are going pretty well for Cardi B at the moment, and they have the potential to get even better thanks to the AMAs. The 25-year-old's return to the stage at the October ceremony is particularly fitting because she also happens to lead the pack as far as nominations.
As the press release noted, Cardi B is tied as the most-nominated AMA artist of the year, with a total of eight nominations that include top honors like New Artist of the Year and Favorite Artist — Rap/Hip-Hop. Pretty impressive when you consider that this is also the Invasion of Privacy artist's first year nominated, as well as her first appearance on the AMA stage. Her career is still fairly young, but she's already done a lot.
And the shine on this performance isn't just for Cardi B, either. "I Like It" was also the first No. 1 for multi-platinum Latin singers Bad Bunny and J Balvin, and their performance at the ceremony will mark their debuts on the AMA stage as well. J Balvin even racked up a nomination of his own, in the category of Favorite Artist — Latin. The three of them will be performing alongside previously-announced AMA acts like benny blanco with Halsey and Khalid, Mariah Carey, Post Malone featuring Ty Dolla $ign, and Carrie Underwood. Also performing, though in a different way, is Tracee Ellis Ross, who has been tasked with hosting duties for the night.
All in all, it's setting itself up to be quite a night for Cardi B, what with the nominations, the performance of the record-breaking single, and the first performance since creating a human life. All of the artist's hard work right now is paying off, as everything that Cardi B touches has been turning to gold. So, the Oct. 9 ceremony should be a solid opportunity for the star to take back the spotlight and bask in her impressive achievements.
Editor's note: This post has been updated to specify that this will be Cardi B's first televised performance since giving birth.