Cardi B Might Star In A Movie & Here's Everything We Know So Far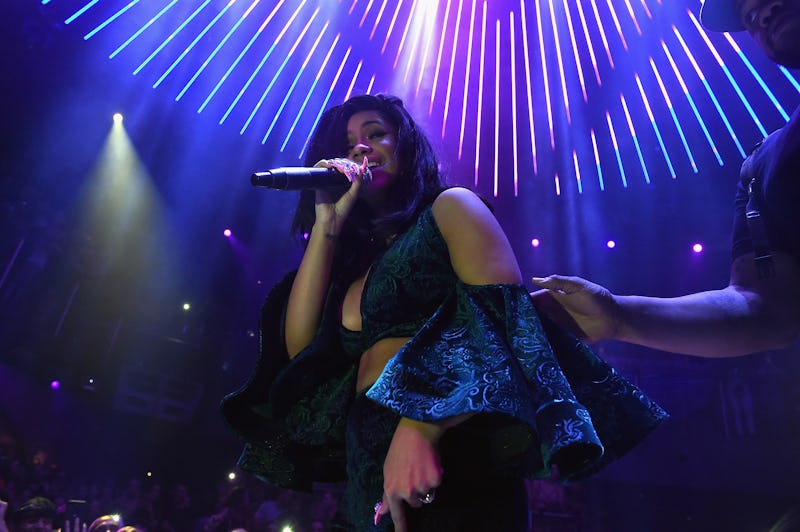 Gustavo Caballero/Getty Images Entertainment/Getty Images
On Thursday, Jan. 18, TMZ broke the news that Cardi B signed a movie deal. The reported deal is the first ever for the performer, which begs the question: Is there anything Cardi B can't do? She reportedly begins filming in March, but firm details are scarce and confirmation from the artist is nonexistent. Fans still don't know the director she'll work with, the part she'll play, or how significant her role will be in the story. Bustle has reached out to her rep for comment, but did not receive an immediate response.
Even so, this is amazing news. Cardi B is an incredible performer, a record-breaking musician, a style icon and a social media inspiration. She's hilarious and brash, and 2018 is posed to be her second insanely successful year if the movie deal is big as it sounds. Per TMZ, she had other unknown offers for March that she turned down in favor of the movie role. The celebrity news site reports that said unknown gigs would have paid her a sizable amount of money — as in, six figures minimum — so the movie role is either super juicy, or Cardi's part in it is huge.
When the details of Cardi B's reported film deal are revealed, it's likely we'll hear them from the rapper. She's extraordinarily open with her fans — Cardi B has recorded thank-you videos in her bra and no makeup and often talks about her finances — and this doesn't seem like a secret she'd keep for too long, if it's true.
2017 was a breakout year for the star. She built up a following for herself on social media and increased her fanbase by appearing on VH1's Love & Hip-Hop: New York. Once she released her first single, "Bodak Yellow," Cardi B really took off. She became the first female rapper to reach #1 on the Billboard Hot 100 since Lauryn Hill, collaborated with 21 Savage for the ingenious track "Bartier Cardi," and got engaged to Migos' Offset onstage in Philadelphia. It's only been a few weeks into 2018, but she's already leveled up; Cardi's remix of Bruno Mars' "Finesse" is a delight, and the '90s In Living Color-inspired music video is literally perfect. Also, Cardi B has racked up some 2018 Grammy Award nominations.
As TMZ points out, and Billboard confirms, Cardi recently became "the first woman with five top 10 hits on the Hot R&B/Hip-Hop Songs chart in a single week ever." This means she had to unseat the previous owner of this record, which wasn't easy; the last female performer with four top 10 hits on the same chart was Beyoncé. If 2017 was Cardi B's breakout year, 2018 is already shaping up to be the year of her total domination. After success in music — without a full-length album to her name — and television, and now a movie deal, what's next for the performer? A full-on film career? A documentary special? A makeup line? A memoir of her early life? The world demands more Cardi, and she's happy to oblige.
Since the details of the film deal are unknown, it leaves the Bardi Gang salivating for any indication of her first role on the silver screen. Plus, if she begins filming as early as March, what does that mean for a forthcoming album? Or a Cardi B tour? How much time will a film role take, exactly? These are the things the Bardi Gang needs answered.
Even without answers, though, it's obvious this would be an incredible (and incredibly lucrative) opportunity for Cardi B, and fans will likely be fully supportive of it. The best thing to do is keep an eye on her social media, too. She frequently posts Instagram stories with direct messages to her fans, so here's hoping she breaks her own movie deal news — and soon.