Cardi B Has To Go Pick Her Niece Up From School For The Funniest Reason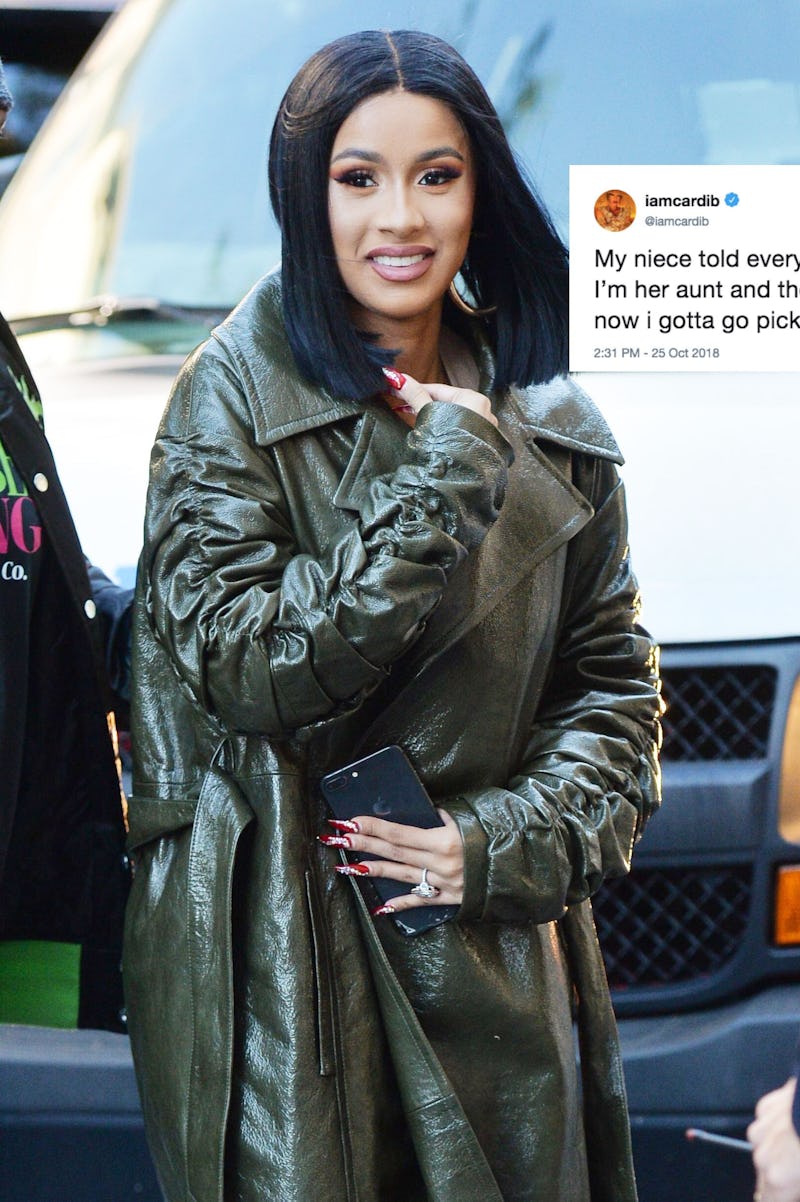 Erik Pendzich/Shutterstock; Cardi B/Twitter
Belcalis Almanzar loves to flex, and it runs in the family apparently. On Thursday, Cardi B tweeted that her niece was bragging to her classmates about her. Of course, no one believed her, so it looks like Cardi B is going to have to pick her niece up from school. And she will do it too, because that's just the Cardi B way. Members of the Bardi gang were trying to pull the same move as her niece, sparking some pretty hilarious responses.
It all began when Aunt Cardi tweeted:
"My niece told everybody in her school that I'm her aunt and they think she lying...now i gotta go pick her up."
Not just her class — her whole school. Naturally, followers wondered if she really was going to go ahead with the playground pick-up, and Cardi B responded to one person, "I have no choice." And obviously, fans wanted in on the game, claiming all sorts of Cardi connections: "Can you pick me up from work? I told everybody you my best friend," another tweeted. She was also claimed as a sister, as a cousin, and apparently, she is Aunty to all her followers who want her to come pick them up.
And unsurprisingly, the little smug Cardi baby picture meme made a reappearance. That's exactly how Cardi's niece will look when she proves the whole disbelieving school wrong as they learn she does, in fact, have an Aunt Cardi and an Uncle Offset. Lots of replies requested that Cardi stream the big reveal when she pulls up to the school, because you know it'll be incredible.
A bunch of screaming kids seeing Cardi B pulling up to a school in her Lamborghini for afternoon pick-up — probably with snacks like string cheese and orange slices — is the pure content the world needs right now.
But the internet may not get to see the epic moment that Cardi B orchestrates for her niece; she's very private about the babies in her life. New mom Cardi hasn't shown pictures of baby Kulture anywhere on social media yet, and she told Ebro Darden on Apple Music that she has been offered a ton of cash for baby pictures: "Me and my husband... We just don't wanna show our baby right now. I got offered seven figures [for baby pictures]."
Even if the schoolyard pick-up isn't streamed on Instagram Live, you know that she's definitely going to do it. Cardi is all for the people. Just last Thursday, she handed out tons of free coats and boots at a public housing complex in Brooklyn. And even though she's one of the world's biggest rappers right now, she was still surprised by the major turnout.
Maybe she's won't be as surprised when she goes to pick her niece up, though, because she must know that little kids love her. As one young girl told ABC News last week while waiting for Cardi B to arrive, "I love her music and she's a hero to me, and she's the one who inspired me to music. She cares about the community."
And that includes helping members of her family too. Her niece is gonna rule the school until she graduates, thanks to Aunty Cardi B.